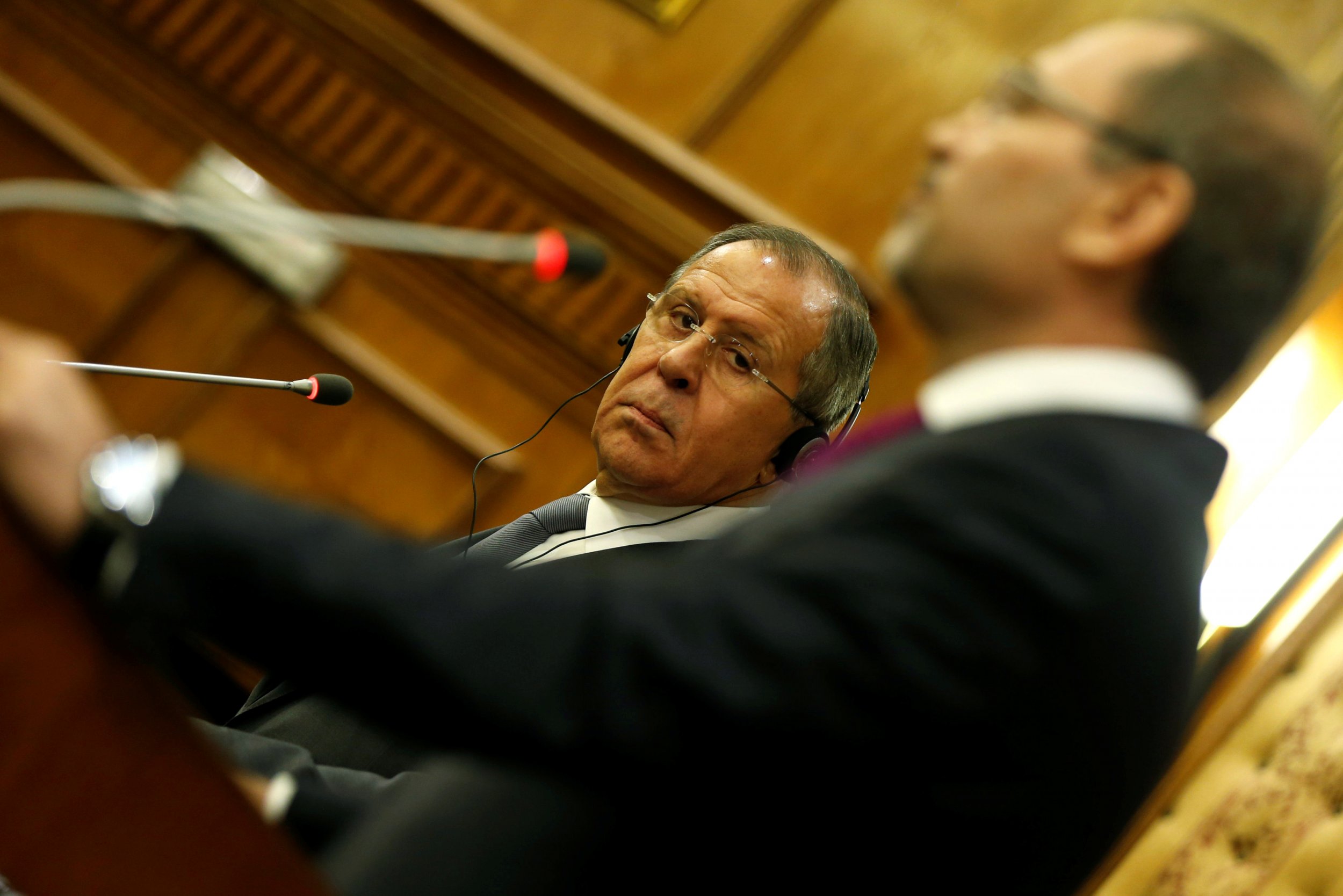 The Kremlin is devising a plan that could slash the size of U.S. Embassy or diplomatic mission operations in Russia, in the latest twist in a sanctions saga dating back to December. Russian Foreign Minister Sergei Lavrov made the announcement that Moscow will seek further actions to equalize the terms of diplomatic work with the U.S., which it considers unfair, on Monday during a press conference in Jordan.
Moscow's top diplomat said Russia is looking into a punitive response against the U.S. mission, which was already reduced its staff to 455, and could potentially drop further as Russian President Vladimir Putin recently estimated that Russia actually had fewer diplomats than that in its Washington Embassy and consulates—300.
"If they take parity as a criterion then we are now looking at the conditions in which U.S. overseas agencies are working in Russia, as well as the Russian ones in the U.S. and we will bring in these conditions in total correspondence with this so-called parity," Lavrov said in a conference broadcast live on the ministry's Facebook.
The U.S. first began reducing Russian Embassy numbers after all U.S. intelligence agencies concluded that Russian hackers were behind infamous cyberattacks on last year's presidential election. The White House asked 35 staffers to leave in a bid to reduce intelligence personnel allegedly implicated in the attack and block access to upscale property in upstate New York.
After a brief period of waiting to see if the new U.S. administration would reverse the staff cut, Russia announced it is shrinking the U.S. Embassy in Moscow by 755 staffers in July. This would bring the total size of the U.S. mission to the total number of Russian diplomats in the U.S. Within a month, the U.S. opted to respond by closing Russia's consulate in San Francisco—one of four operated by Russia in the U.S.
According to Lavrov, Russia had been generous with its first cut as Moscow has 455 diplomats in the U.S. By Putin's estimations last month, 155 of Russia's 455 diplomatic staffers in the U.S. are actually part of Russia's mission to the U.N. The U.N. General Assembly happens to be on U.S. soil—in New York—but their work has no direct analog to any U.S. staff in Russia. Lavrov said counting this figure in the 455 was an act of "goodwill" on Russia's part earlier this summer and a literal tit-for-tat cut would have been even more substantial.
"The U.S. tried to take our kind gesture and said 'If the Russians want parity, then they should close one of their four consulates because we only have three consulates in Russia'," Lavrov said.
Last week, Putin hinted that Russia reserves "the right to further reduce" the number of U.S. diplomats in Russia and Lavrov's deputy, Sergei Ryabkov compared the closure and search of the consulate to an "occupation." Lavrov did not give an indication of when any cuts to the mission would be finalized.
Multiple Russian diplomatic sources told the Kommersant newspaper on condition of anonymity that reducing the size of the U.S. mission again is not off the table. However several other, less severe ways of punishing the U.S. diplomatic deployment to Russia are part of Moscow's considerations, including limiting travel rights of certain diplomats or rescinding parking privileges to embassy and consulate staff.