Russia Says It Does Not Know What Donald Trump Means When He Said Moscow Should Do Something 'Good' for U.S.
Russia has scrutinized a supposed offer by President Donald Trump for lifting U.S. sanctions on Moscow, saying it still does not understand what such a deal would entail.
In an interview with Reuters, Trump said Monday that he was "not considering" lifting economic restrictions intended to punish Russian officials for a perceived adversarial foreign policy, but he said he may do so "if they do something that would be good for us" and mentioned Syria and Ukraine as potential talking points. Kremlin spokesman Dmitry Peskov responded the following day, saying that Russia appreciated any effort to find common ground, but could not find any concrete proposals in Trump's words.
"We need to understand what conditions [for removing sanctions] are meant specifically," Peskov told reporters Tuesday, according to the state-run Tass Russian News Agency.
"Of course, we welcome statements, which confirm willingness to cooperate. However, we would welcome any specific actions even more," Peskov added.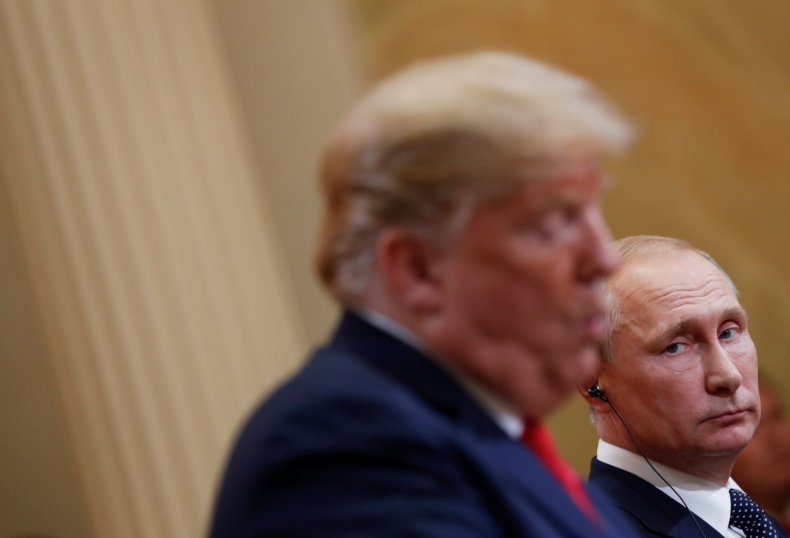 The relationship between Trump and Russian President Vladimir Putin has been the subject of much controversy since allegations emerged suggesting the Republican leader colluded with the Kremlin in an attempt to influence the 2016 U.S. presidential election in his favor. Trump has denied playing any role in a series of hacks that U.S. intelligence agencies have attributed to Russia and expressed deep skepticism that his Russian counterpart was involved, either. Trump has sought to mend the frayed ties between Washington and Moscow throughout his administration.
U.S.-Russia relations largely fell out under Trump's predecessor, former President Barack Obama. Obama voiced deep opposition to Moscow's 2014 annexation of the Crimean Peninsula amid a political uprising in neighboring Ukraine and military intervention in support of Syrian President Bashar al-Assad. The U.S. and its allies had accused Assad of war crimes and sponsored efforts to oust him in the wake of a 2011 uprising by rebels and jihadis. Washington and London have also indicted Russia in the poisoning of an ex-Soviet spy in the U.K. and, joined by Western allies, they have hit Russia with mounting sanctions, some of which Trump has criticized.
Russia has defended its record abroad and has accused the West and the U.S., especially, of destabilizing actions, most of all by expanding its massive military presence abroad. Speaking on Syria, according to Tass, Peskov said on Tuesday, "No other country in the world makes such a contribution to the political and diplomatic settlement, efforts to bring life back to normal and create conditions for refugees' active return as Russia does." Peskov added, "So, of course, it is necessary to understand what is meant [in Trump's proposal]."
Trump appeared to agree to coordinate with Russia on resettling Syrian refugees during his first bilateral summit alongside Putin in Helsinki last month. But U.S. officials have expressed hesitation, prompting the Kremlin to warn that working with Moscow and Damascus were the only way to make the U.S. mission in Syria legal.
Trump has remained adamant about refusing to recognize Crimea as part of Russia, a topic both leaders discussed in Helsinki. Peskov blamed Ukrainian authorities for failing to reach a resolution with eastern separatist insurgents, whom Moscow has denied backing, and said Tuesday that this highlighted why "it is also necessary to specify what is expected from Russia in terms of Ukrainian affairs and why nothing is expected from the authorities in Kiev."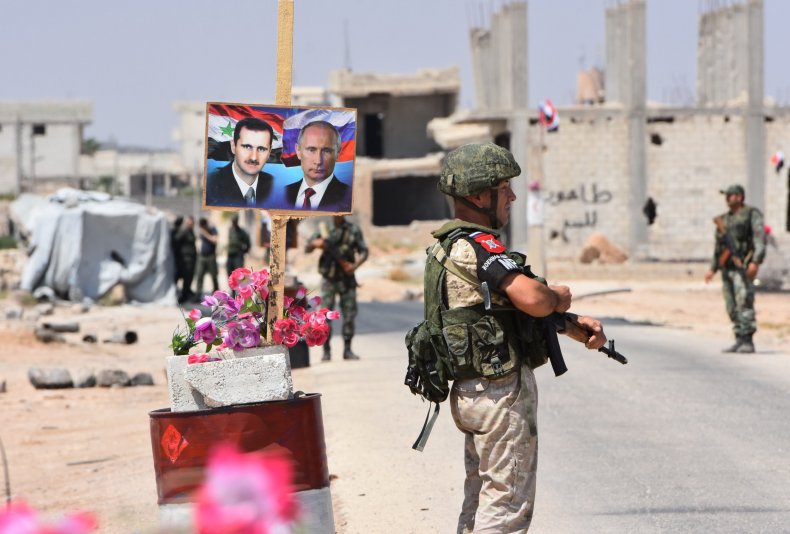 Russian Foreign Minister Sergey Lavrov also commented on Trump's remarks. Responding to media questions during a press conference Tuesday, Lavrov said, "The problems with the Syrian and Ukrainian settlement do not at all stem from the position of the Russian Federation, but in the unwillingness of certain circles in Syria and around it to comply with U.N. Security Council Resolution 2254—and in relation to Ukraine—the inability of the Ukrainian leadership to fulfill its obligations under the Minsk Agreements," according to the Russian Foreign Ministry.
"Everyone understands that sanctions against Russia have been introduced not because of Syria, Ukraine, Crimea or whatever, but because of the desire to use methods of unfair competition, to promote an absolutely hopeless policy of containing the Russian Federation," he added.
When asked by Reuters if Putin had asked him to lift U.S. sanctions on Russia during their meeting in Helsinki, Trump said, "No, he did not. He never brought it up."