Assad to Get Free S-300 Missile Systems From Russia, Sending Strong Message to Israel
Moscow will equip Syria's armed forces with S-300 anti-aircraft missile systems, Russian officials have reportedly said, raising the prospect of fresh tensions in the region.
The Kremlin, which in previous years had bowed to Israeli pressure to not supply the systems to Damascus, has threatened to change its stance after U.S. and U.K.-led attacks on Syria earlier this month, in reaction to an alleged chemical weapons attack in Douma.
Military officials told the newspaper Kommersant that Russia would give air defense systems to Syrian leader Bashar al-Assad free of charge, adding that Israel would suffer "catastrophic consequences" if it targeted them.
If the sources are correct, Syria will get the S-300 PMU-2 version, which gives long-range protection from high altitude missiles and aircraft and has the potential to upset the balance of the power in the region—where Israel holds air superiority.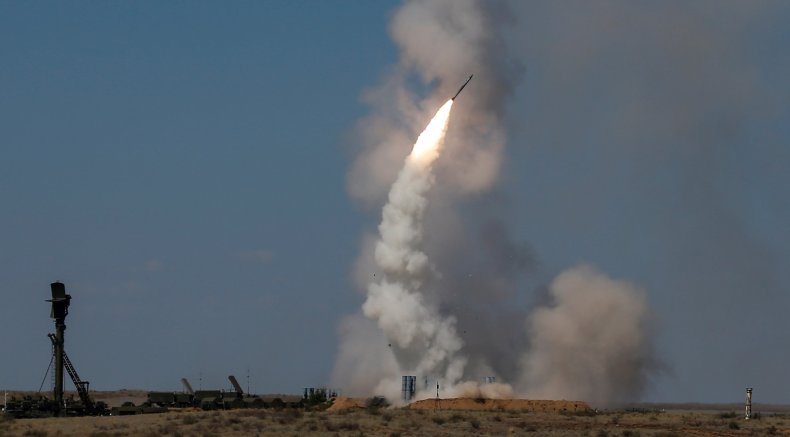 Two military sources told Kommersant that the S-300 PMU-2 versions of the systems will be given to Syria very soon and that Moscow was expecting Israel to respond rapidly by bombing the area where the missile systems would be deployed.
"It is assumed that components of the S-300 [radar stations, transport-loading machines, control posts, launchers, etc.] will soon be delivered to the [Syrian] republic either by air transport aircraft or by the Russian Navy," the newspaper reported.
Russian Foreign Minister Sergey Lavrov denied the Kremlin had made any final decision. On a visit to China Monday, according to the TASS news agency, he said: "We'll have to wait to see what specific decisions the Russian leadership and representatives of Syria will take".
Israeli military analyst and journalist Ron Ben-Yishai said there are risks for Russia's reputation in supplying Syria with the S-300s because it may take a long time to train Syrians to operate them.
"It's a large system that cannot be easily hidden or moved. So although the Russians have upgraded the system several times in recent years, it is no longer seen as a threat that cannot be overcome, as it was more than 10 years ago.
"The Americans' intimate knowledge of the system's features, and likely the Israelis' knowledge too, has made it possible for Western countries to develop ways of disrupting and neutralizing the system's abilities," he wrote in Ynet News.
It comes amid a spike in bellicose rhetoric on all sides in the conflict. Last week, the commander-in-chief of Iran's Revolutionary Guards, Brigadier General Hossein Salami, said his country was ready to retaliate if Israel attacked Iran and its allies in Syria.