Russia Says It Has More Tanks Than Any Other Nation in the World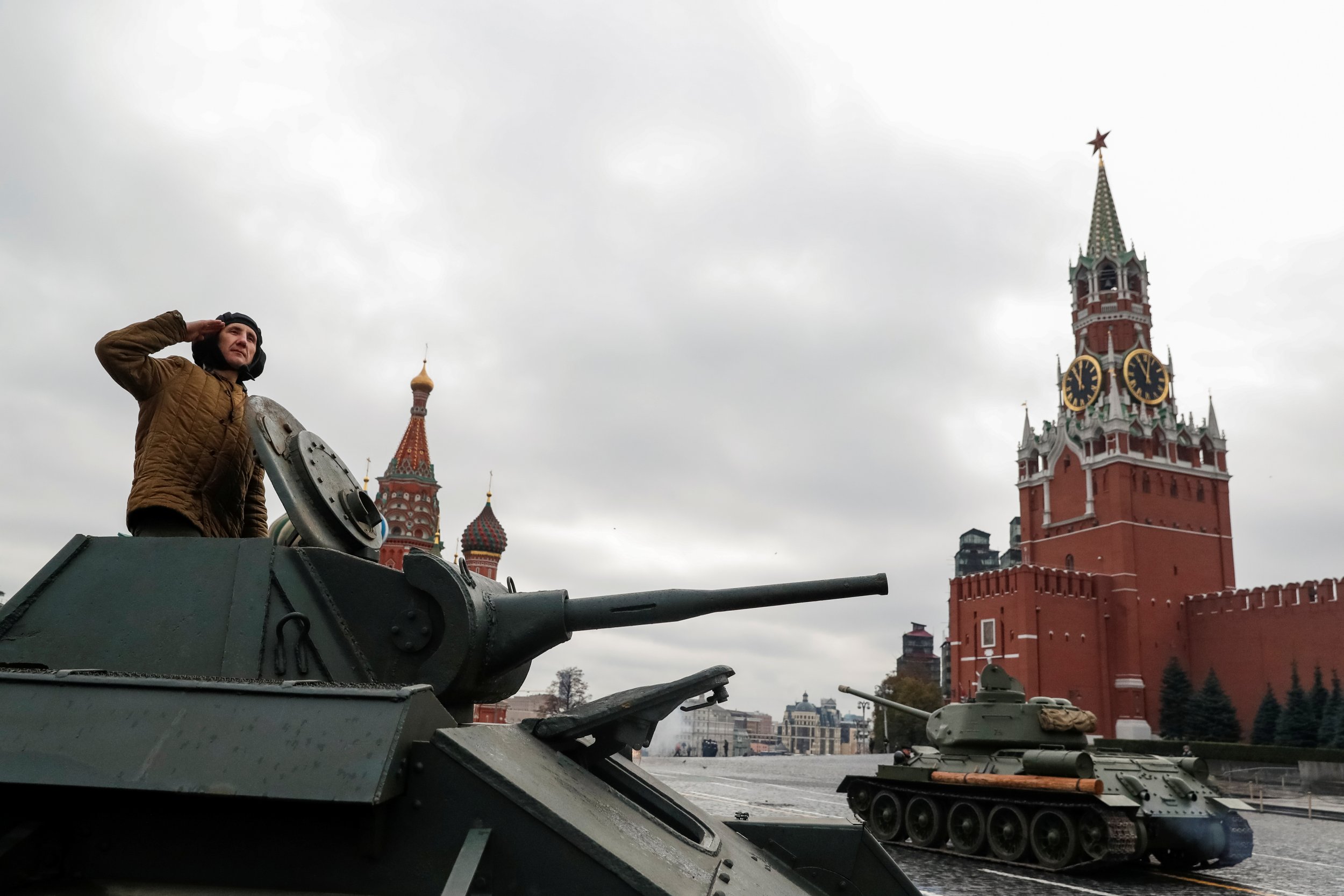 Russia has boosted its arsenal of tanks and armored vehicles by more than 25,000 over the last half a decade, one of its deputy defense ministers boasted on Wednesday.
Russia's Deputy Minister of Defense and Army General Dmitry Bulgakov told army newspaper Krasnaya Zvezda: "Over the five years between 2012 and 2017, the army has received more than 25,000 units of new armored tank and automobile kit, as well as 4,000 modern items of rocket and artillery weaponry."
This reinforcement has "allowed the Russian Federation to claim first place in the world by number of tanks, armored personnel carriers and multiple launch rocket systems" he said.
Since Russian President Vladimir Putin's return to the Kremlin in 2012 after a brief hiatus as prime minister, Moscow has pushed to expand military prowess wherever possible. After annexing Crimea from Ukraine in 2014 and stoking an insurgency in its neighbor's east, Russia has presented its reinforcement as a defense measure for any aggressive response to its actions.
Russia's tank army is already extensive, numbering over 20,000 units according to military analytics site Global Firepower. This is far ahead of China which has just under 6,500 and the U.S., which ranks third with almost 6,000.
The Kremlin has made its intentions of retaining its primacy with regards to tanks, developing its new battle tank, the T-14, the manufacturer of which claims is invulnerable to anti-tank weapons.
More generally, the use of tanks has fallen out of fashion in countries that do not have vast, flat, borderlands such as Russia. Russian military analyst Pavel Felgenhauer lamented earlier this week that "national resources are being squandered" on padding out high tank numbers for a political purpose not strategic need.
"[It] seems to be a wasteful investment — but the same thing happened during the Cold War as the Soviet Union secretly amassed 100,000 tanks to face NATO's 30,000," he wrote for the Moscow Times. "Most of that armor never saw any real action like the grand battleship "dreadnaught" fleets, built before World War I and scrapped after."
None of Russia's vast tank armies in operation feature the T-14, most are refurbished T-90A ot T-72B3. Russian defense analyst Igor Sutyagin wrote in a piece for Newsweek last year that tanks are not preferred in a defensive military strategy, but effective in attack.
Bulgakov's comments were published as the NATO alliance defense ministers gathered in Belgium to discuss challenges their own tanks and troops will meet if they need to deploy across the continent quickly.
The meeting focused on tweaking infrastructure rather than major military deployments. Most countries in Europe have not seen combat on their territory since World War II and NATO's top diplomat stressed that ease of transport for troops must be addressed.
"NATO has military requirements for civilian infrastructure," the alliance's Secretary General Jens Stoltenberg said on Wednesday, the Stars and Stripes newspaper reports. "We also need to ensure roads and bridges are strong enough to take our largest vehicles."