Russia Says It Sanctioned 398 US Lawmakers 'On the Basis of Reciprocity'
In retaliation to the Biden administration issuing sanctions on 328 members of the Russian State Duma, Moscow announced sanctions against 398 members of the U.S. House of Representatives.
On Wednesday, the Russian Foreign Ministry announced "tit-for-tat restrictions" against the U.S. lawmakers, including entry bans to Moscow. Russia didn't explain how it chose names for the list but noted the decision was "on the basis of reciprocity."
"The individuals in question, including top officials and committee chairpersons in the lower house of the US Congress, have been blacklisted by Russia permanently," the Russian Foreign Ministry said in a statement. "Together with other incumbent lawmakers, who, like House Speaker Nancy Pelosi, were barred from entering Russia earlier, all members of the US Congress have been blacklisted on the basis of reciprocity."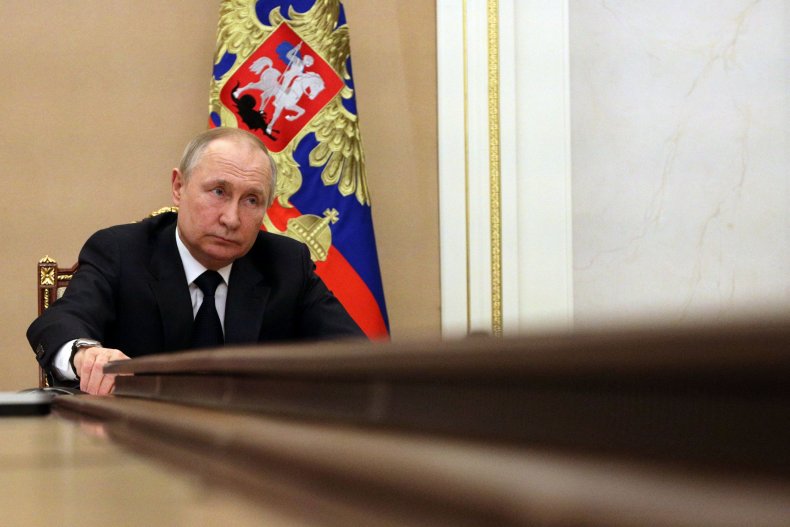 There has been confusion regarding why certain lawmakers have been sanctioned. Several representatives on the list, including Marjorie Taylor Greene of Georgia, Matt Gaetz of Florida and Madison Cawthorn of North Carolina have been sympathetic toward Russia and President Vladimir Putin.
"President Biden should not have a blank check to sanction whoever he deems a "human rights violator," Gaetz tweeted. "Thus, I voted against legislation today intended to punish Russia and Belarus, but which actually gives the Biden Administration troubling, sweeping powers."
On the other hand, Adam Kinzinger and Raja Krishnamoorthi both representing Illinois and Eric Swalwell of California have all been vocal about their opposition to Russia's invasion of Ukraine but were not on the list of those sanctioned.
"We are witnessing a level of wickedness—inflicted by Putin—never seen in most of our lifetimes," Swalwell tweeted. "This may be far away but it's not going away. And it's more likely to come our way eventually than not."
Without knowing the exact reasoning, the Russian Foreign Ministry announced more retaliation measures for U.S. lawmakers would be coming soon, particularly expanding the blacklist, as well as other steps.
Newsweek reached out to the Russian Foreign Ministry, Gaetz and Swalwell for comment.
Newsweek compiled a list of U.S. House Representatives who were not sanctioned by Russia. Please note there is a discrepancy in the number of representatives in total.
Andy Barr - Kentucky (R)
Gus Bilirakis - Florida (R)
Kevin Brady - Texas (R)
David Cicilline - Rhode Island (D)
Steve Cohen - Tennessee (D)
Gerry Connolly - Virginia (D)
Warren Davidson - Ohio (R)
Rosa DeLauro - Connecticut (D)
Ted Deutch - Florida (D)
Anna Eshoo - California (D)
Brian Fitzpatrick - Pennsylvania (R)
Steny Hoyer - Maryland (D)
Richard Hudson - North Carolina (R)
Sheila Lee Jackson - Texas (D)
Marcy Kaptur - Ohio (D)
William Keating - Massachusetts (D)
Adam Kinzinger - Illinois (R)
Raja Krishnamoorthi - Illinois (D)
Ted Lieu - California (D)
Tom Malinowski - New Jersey (D)
Kevin McCarthy - California (R)
Michael McCaul - Texas (R)
James McGovern - Massachusetts (D)
Gregory Meeks - New York (D)
Gwen Moore - Wisconsin (D)
Jerrold Nadler - New York (D)
Frank Pallone - New Jersey (D)
Mike Rogers - Alabama (R)
Adam Schiff - California (D)
Bradley Schneider - Illinois (D)
Brad Sherman - California (D)
Albio Sires - New Jersey (D)
Chris Smith - New Jersey (D)
Jackie Speier - California (D)
Eric Swalwell - California (D)
Michael Turner - Ohio (R)
Maxine Waters - California (D)
Randy Weber - Texas (R)
Joe Wilson - South Carolina (R)
Correction 4/15/22, 11:30 a.m. ET: The list of representatives not sanctioned by Russia was adjusted to remove Mike Johnson and David Trone, who were sanctioned.