Russia Says It Will Do More to Protect Civilians in Syria Than U.S. Did in Iraq
Russia has defended its efforts to protect civilians ahead of an anticipated Syrian military campaign, and maintained that it would exceed measures taken during U.S. military offensives in Iraq and Syria.
Russian Foreign Minister Sergey Lavrov denied widespread reports suggesting that an operation conducted by his country's armed forces and those of Syria in Idlib—the last province under the control of an Islamist-led insurgency—was imminent during a press conference alongside his German counterpart in Berlin. He said Moscow was working alongside Turkey to negotiate the surrender of armed opposition fighters not aligned with jihadi groups, such as the Hayat Tahrir al-Sham coalition, and establish humanitarian corridors allowing civilians to flee any impending violence.
While the diplomat said he did "not want to make any comparisons," he claimed the U.S. did not go to such lengths to safeguard civilians during its offensives to defeat the Islamic State militant group (ISIS) in the jihadi strongholds of Iraq's Mosul and Raqqa in Syria between 2016 and 2017.
"I will remind you that no one has even attempted to create local reconciliations, security corridors or humanitarian corridors when the air forces of the American coalition bombed Raqqa and Mosul," Lavrov told reporters. "What happened and continues to happen in Raqqa is a humanitarian catastrophe."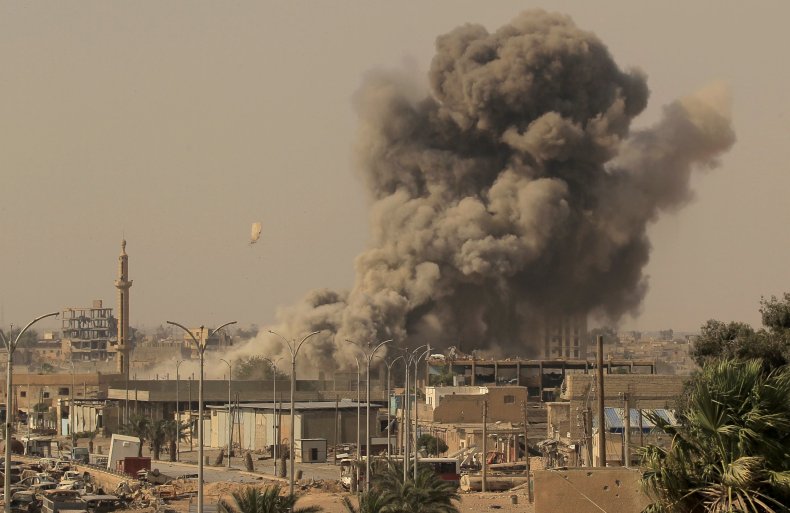 The U.S. and Russia have both accused one another of human rights abuses, including the killing of civilians, during their rival campaigns in Syria. The U.S. initially sponsored the opposition fighting to oust Syrian President Bashar al-Assad, who the West accused of human rights abuses in the wake of a 2011 rebel and jihadi uprising, but the insurgency's growing Islamist tendencies and the spread of ISIS across Iraq and Syria shifted Washington's priorities.
In 2014, the U.S formed a coalition to begin bombing ISIS, which evolved out of the Sunni Muslim insurgency that followed the 2003 U.S. invasion of Iraq—an event that would result in at least tens of thousands of civilian casualties. This multinational coalition partnered with government and Kurdish forces in Iraq and, the following year, with a mostly Kurdish alliance of fighters known as the Syrian Democratic Forces in Syria. Also in 2015, Russia entered the battle in Syria on behalf of Assad and helped the embattled leader reclaim most of the country in a parallel campaign against ISIS militants as well as rebel groups, who were mostly cut off from U.S. funding.
The intensity of the U.S.-led war on ISIS crescendoed with the battles to retake Mosul, Iraq's second city, and Raqqa, the de facto capital of ISIS' self-proclaimed caliphate. Victory in these two cities last year came only after massive aerial bombardments, supported by partnered forces on the ground. The U.S.-led coalition told Newsweek last August that "not since World War II has there been an urban assault on a city like Mosul" and "never in the history of warfare has a city been held by such an evil and brutal enemy."
Before and during these battles, the U.S.-led coalition has maintained that it aimed for "zero civilian casualties" and published a list of cases in which it believes it unintentionally killed civilians. Watchdogs, however, such as Amnesty International and Airwars have accused the coalition of significantly underestimating its civilian death tolls, especially in Raqqa.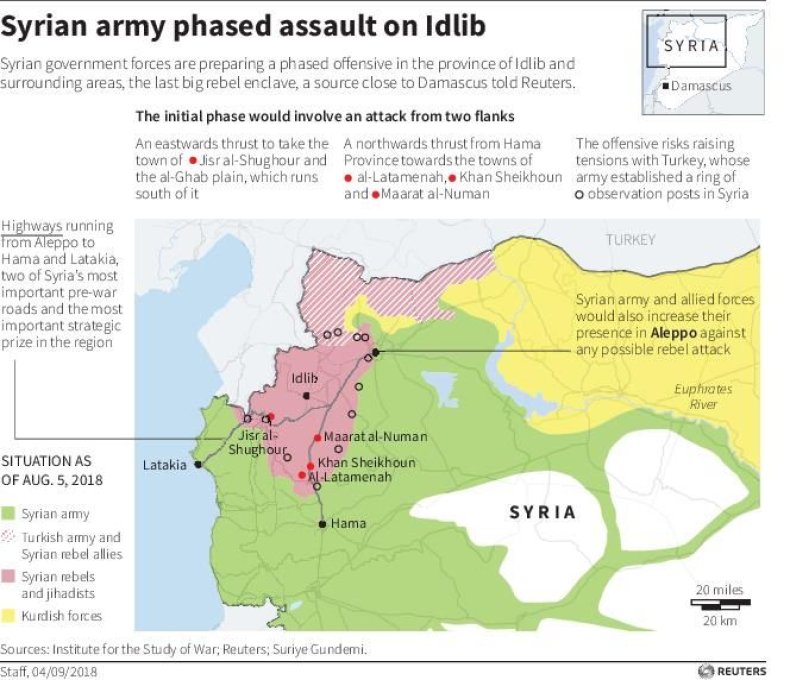 These monitors have also deeply criticized Russia's air campaign in Syria, where Moscow helped the Syrian military and its allies—including Iran-backed militias—wrest heavily populated towns and cities from insurgent and jihadis. Russia has set up humanitarian crossings and brokered reconciliation deals between rebels and the government, but Moscow and Damascus have also been accused of targeting civilian infrastructure with their warplanes, leading to deadly results. With most of the country back under government control, the Syrian military has sent reinforcements to the last bastion of opposition influence in Idlib.
Western powers have warned that such an offensive could result in a humanitarian crisis in the northwestern province that now hosts up to 3 million people. The U.S. has threatened to take military action alongside France and the U.K. in response, especially if chemical weapons were used. Turkey, which backs the anti-government Free Syrian Army north of Idlib and reportedly other groups within the province, has attempted to establish a ceasefire in talks with Russia and Iran.