Russia Says Man Who Drove Through Embassy Gates Used 'Terrorist' Tactic
The Russian Ministry of Foreign Affairs is demanding an apology from the Irish government after a Monday protest outside the Russian Embassy in Dublin, Ireland, ended with a man backing a large truck through the closed gate in front of the building.
The ministry said in a statement that the crowd outside of the embassy, including the man who drove the truck through the gate, used "tactics widely used by terrorists" during the protests, and demanded the Irish government apologize and compensate the embassy for the damage caused to the gate.
Russia's invasion of Ukraine has sparked protests around the globe, including at the embassy where the truck incident took place as well as in Russia, where thousands of protestors have been arrested as authorities crack down on opposition to the invasion.
"The incident is cause of extreme concern," the embassy said in a statement tweeted Monday afternoon. "We believe that no people of sound mind could support such senseless and barbaric actions."
The truck's driver, Desmond Wisley, was arrested and charged regarding the embassy damage, which the Russian government said happened in front of Irish police officers who refused to stop the truck and only stopped and arrested the man after the truck was stopped and the damage had been caused.
"I just done this to create a safe corridor for the Russian ambassador to leave Ireland," Wisely said, according to the Irish Times. "I want the ambassador and his colleagues to leave this country, leave this free country. It's about time we stood up."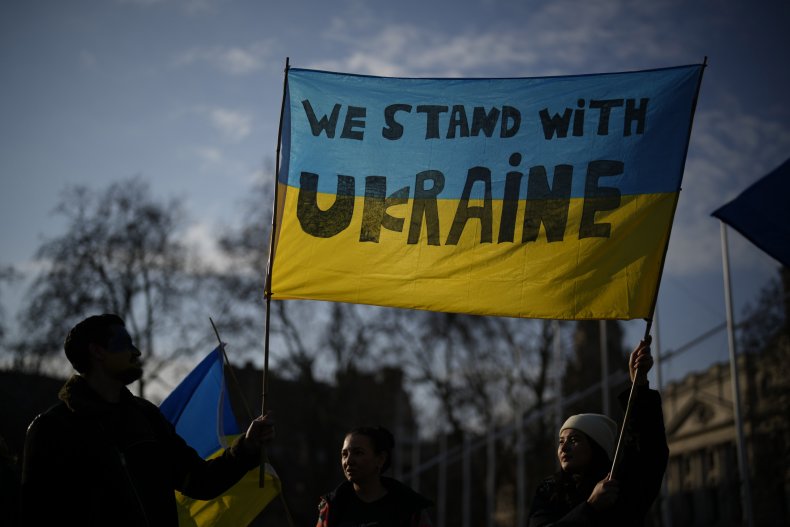 After driving through the gate, Wisley reportedly got out of the truck and handed photos to the crowd of "atrocities" that Russian soldiers were committing in Ukraine that he wanted to bring attention to.
"I've done my bit, lads. It's about time the rest of Ireland done their bit," Wisley said to the crowd as he was taken away by police, the Irish Times reported.
The Irish Times also reported that witnesses said Wisley drove past the embassy initially before putting his truck in reverse.
One protester at the scene said that Wisley made sure everyone was out of his way and informed protesters of his plan to hit the gate so he could make his demonstration safely.
The protests have taken place every day outside the Dublin embassy since Russia's invasion began, with many holding signs, yelling at cars entering the facility to go back to Russia and one incident where red paint, likely a symbol of blood from the conflict, was thrown on the gate outside the embassy.
Update 3/8/22 12:22 p.m. ET: This story has been updated with additional information and context.