Russia Says Strike Left Al-Qaeda Leader in Syria Abu Mohammed Al-Jolani With One Arm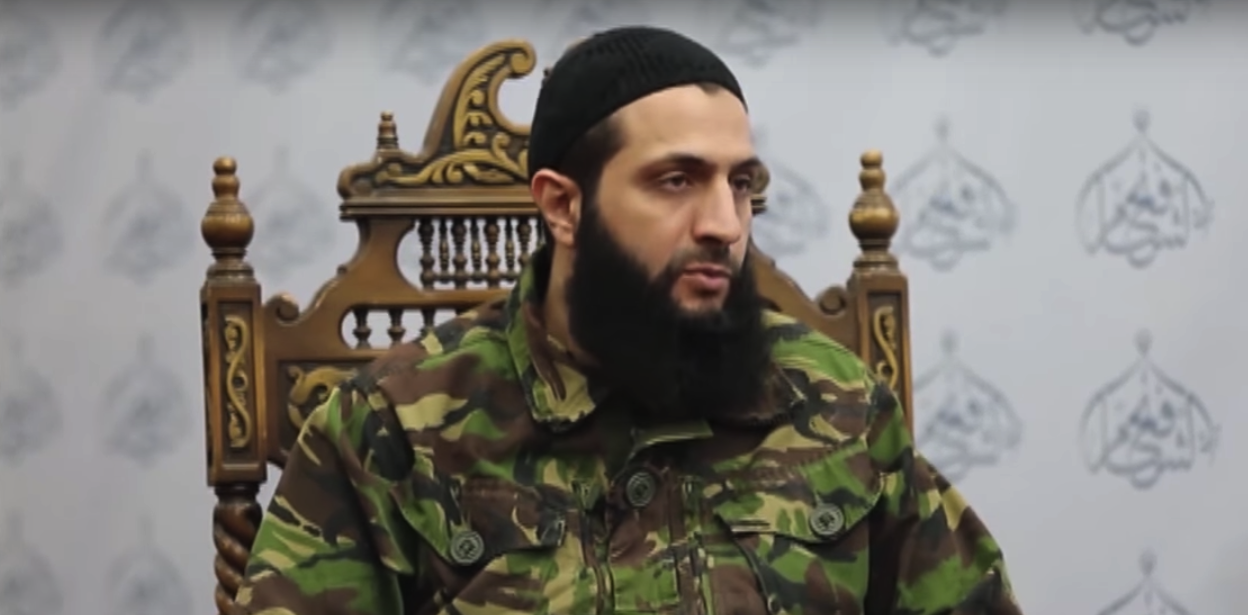 Russia said Wednesday that one of its strikes had left the leader of Al-Qaeda in Syria Abu Mohammed al-Jolani in a "critical condition" and that he had lost an arm.
Russian Defense Ministry spokesperson Igor Konashenkov said the strike killed 12 commanders of the faction Jabhat Fateh al-Sham that claimed to have disbanded from Al-Qaeda last year in a move that Western officials said was only to improve its image internationally. The group is now the predominant force in the jihadist coalition in northern Syria known as Hayat Tahrir al-Sham, or HTS.
Moscow said the closed military aide of Jolani, Ahmad al-Ghizai, was killed in the strike. It added that it had received intelligence of the men's whereabouts on Tuesday and acted when they arrived for a meeting. It did not disclose the precise location of the strike.
"As a result of the strike, the leader of Jabhat al-Nusra Abu Mohammed al-Jolani received multiple serious shrapnel wounds, lost an arm and is in a critical condition, according to several independent sources," Konashenkov said in a statement.
Russian authorities said that the strike, carried out by Sukhoi Su-34 and Su-35 jets, was in retaliation for an attack by jihadists against Russian military police in the northwest Syrian province of Idlib on September 18.
The status of Jolani remains unclear. Neither the Pentagon or the U.S.-led coalition battling the Islamic State militant group (ISIS) in Syria responded to a request for comment.
Jolani is a notorious jihadist figure in Syria. He served as a rival to the Islamic State militant group (ISIS) when Abu Bakr al-Baghdadi tried to merge Syrian and Iraqi Al-Qaeda factions. Jolani reportedly rejected the merger because of ISIS's brutality, and retained a strategy of battling Assad and the Syrian government, and building its influence among local populations in the country. He also appeared on Qatari-based television network Al-Jazeera to spread the group's message.
The U.S. put a $10 million bounty on Jolani's head in May, the first bounty under the U.S.'s "Rewards for Justice Program" offered for a leader of the group formerly known as the Nusra Front. The State Department notice said that under the control of Jolani, the Nusra Front has "carried out multiple terrorist attacks throughout Syria, often targeting civilians." It referred to the April 2015 kidnapping of 300 Kurdish civilians at a checkpoint in Syria—they were later released—and the June 2015 massacre of 20 residents of a Druze village in the northwestern Syrian province of Idlib.
In June, Russia claimed the killing of ISIS leader Abu Bakr al-Baghdadi in a strike near the eastern Syrian city of Raqqa at a military council meeting of ISIS leaders. But last month he appeared in a audio message, calling for renewed attacks on the West and for supporters to continue their fight for ISIS after a series of defeats in Iraq and Syria.
The U.S.-led coalition also said it had no evidence to suggest that Baghdadi was dead, and Kurdish intelligence officials said they were "99 percent" sure that Baghdadi was still alive.
Russia is supporting the regime of Syrian President Bashar al-Assad against rebels and jihadists in the war-ravaged country, conducting bombing raids in support of his forces and Iranian-backed ground troops and militiamen. Moscow has helped the Syrian dictator wrestle back key population centers, such as the northern city of Aleppo.
It is now bombing Idlib and supporting a ground offensive against ISIS in its eastern stronghold of Deir Ezzor, where many of its fighters have retreated to as it loses its grip on Raqqa, where a Kurdish-Arab coalition supported by the U.S. coalition is making significant gains.
On Tuesday, ISIS released a proof of life video of two injured Russian hostages that Moscow had denied being captured. The group shared the video on its self-styled news agency Amaq via the encrypted messaging app Telegram.
The group said the pair were captured in the battle for Deir Ezzor, but Moscow said that no incident had occurred. "All servicemen of the Russian Armed Forces staying in the Syrian Arab Republic are safe and in a good condition and are performing the designated tasks," a Russian spokesperson from the Hmeymim airbase in the western Syrian province of Latakia said, according to state-run Tass Russian News Agency.
Russia Says Strike Left Al-Qaeda Leader in Syria Abu Mohammed Al-Jolani With One Arm | World