Russia Says Syria War 'Nearly Over' and Trump Claims U.S. Will Leave 'Like Very Soon'
Both Russia and the U.S. appeared to suggest Thursday that their missions in war-torn Syria were coming to an end as the Islamic State militant group (ISIS) and other insurgents were mostly defeated. As the Moscow-backed Syrian military and its allies forced rebel and jihadi groups in the Damascus suburbs of eastern Ghouta into reconciliation agreements, Russian Foreign Ministry spokeswoman Maria Zakharova told state-run RIA Novosti that the "counter-terrorist operation" near the Syrian capital was "nearly over," according to Reuters.
Related: Iraq and Syria win wars against ISIS, but U.S. and Turkey will not leave
Meanwhile, a White House reporter for One America News said President Donald Trump had announced he was planning to withdraw U.S. troops from Syria, where the government considered their presence to be illegal. "We'll be coming out of Syria like very soon," Trump said, according to OAN reporter Trey Yingst, who previously helped break the news of Trump's decision to meet North Korean supreme leader Kim Jong Un.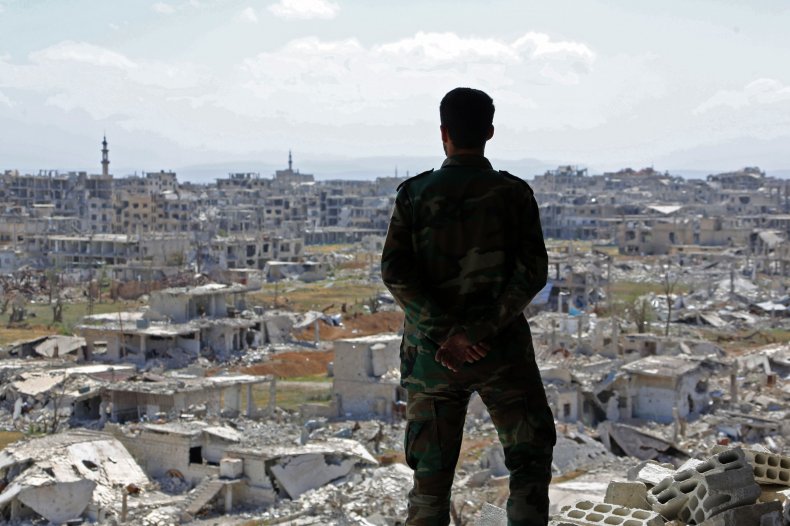 The U.S. and Russia have pursued separate military campaigns with the stated purpose of defeating terrorist groups, mainly ISIS, in Syria. The U.S., however, became involved in Syria's seven-year civil war before the rise of ISIS and supported various insurgent groups trying to topple Syrian President Bashar al-Assad beginning 2011. The covert CIA program to back rebels dwindled as Islamic fundamentalist influence spread throughout the opposition.
ISIS, which grew out of a merger of ultraconservative Sunni Muslim groups following the 2003 U.S. invasion of Iraq, spread to neighboring Syria in 2013 and, by 2014, had taken over half of Iraq and Syria. That same year, the U.S. formed a multinational coalition to begin bombing the militants and swapped support for the largely Arab Sunni Muslim Syrian opposition for Syrian Kurdish groups such as the People's Protection Units (YPG). The Pentagon established the mostly Kurdish Syrian Democratic Forces in 2015.
Around this same time, Russia entered the conflict to help Assad's embattled armed forces fighting alongside a number of Syrian pro-government and Iran-backed militias. The U.S. and Russian campaigns have vastly contributed to the defeat of ISIS in major cities and, with the jihadis largely destroyed, Syria has called on the U.S. and Turkish forces to withdraw immediately.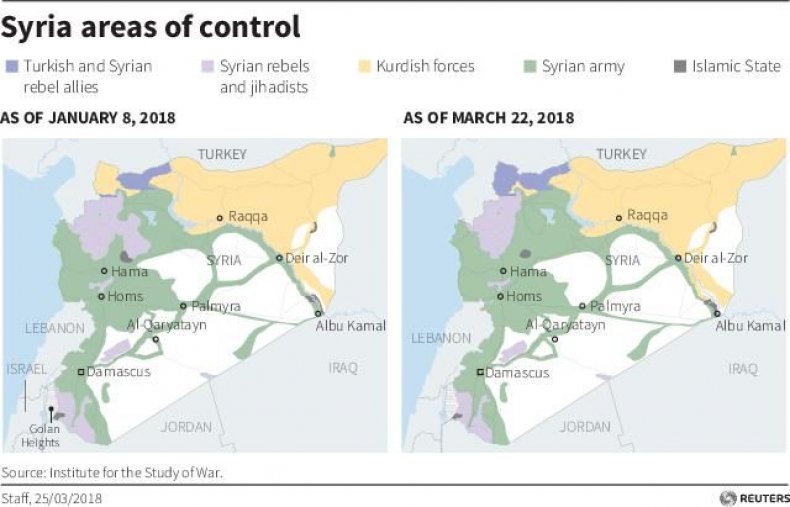 Special Forces Commander Raymond Thomas said last summer that Russia may have the legal capabilities to force the U.S. out of Syria after ISIS was defeated because the Pentagon's sole mandate was to defeat ISIS. After Syria declared victory against ISIS in November and Russia announced it would scale back its own forces the following month, the U.S. has defended its presence by saying the troops were necessary to back local allies against a potential resurgence of ISIS.
The U.S.-led coalition ground offensive against ISIS has recently come to a halt, however, as Syrian Kurdish fighters flee the coalition to battle Turkish and Syrian rebel forces conducting their own self-proclaimed counterterrorism operation against U.S.-backed Kurds whom Ankara believes to be linked to the militant Kurdistan Workers' Party (PKK).
Pro-Syrian government forces, which have allied with Syrian Kurdish fighters battling Turkey and rebels in the northwest, clashed last month with the mostly Arab faction of the Syrian Democratic Forces in the east. Syria, Russia and Iran have accused the U.S. of shielding the remaining ISIS militants in the east, something the U.S.-led coalition has denied.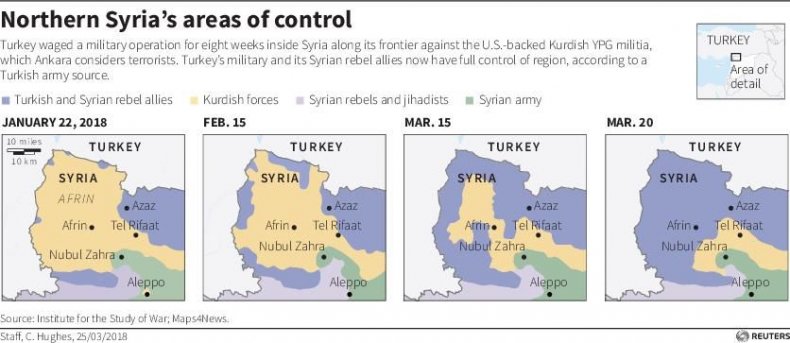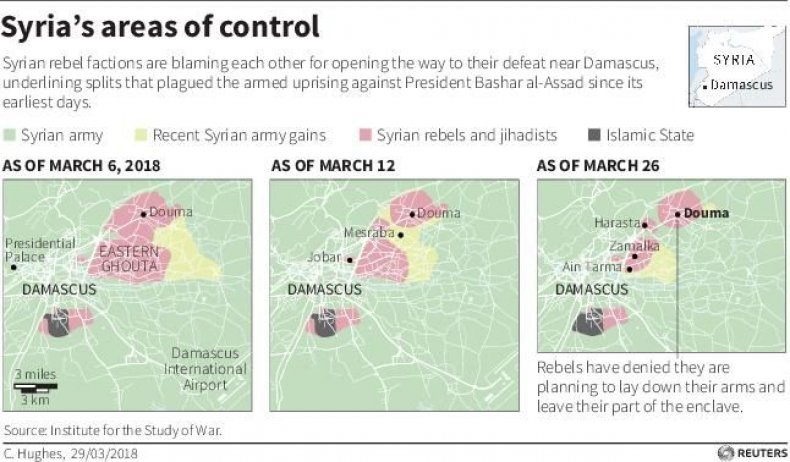 The Syrian military has taken advantage of major ISIS losses to focus on retaking rebel bastions in Idlib and outside of Damascus. The U.S. and its Western allies have blamed Russia, Syria and Iran for mounting civilian casualties in these offensives. After reports emerged of alleged chemical weapons attacks in eastern Ghouta, the U.S. threatened to take unilateral military action, as it did last April when Trump ordered an attack on a Syrian air base following reports of a sarin gas attack conducted by the Syrian military in Idlib.
Russia has denied that the Syrian military possesses or uses chemical weapons and has urged the U.S. not to conduct any further attacks in Syria. In response to the most recent U.S. warning earlier this month, Russia's top general threatened he would strike back if his forces were put in danger.