Russia Says U.K. Must Have a High Opinion of Itself After Call for More Sanctions
Russia has mocked the U.K. for thinking too highly of itself over claims it would push allies to tighten sanctions against Moscow.
Relations between the U.K. and Russia are at their lowest since the end of the Cold War. They first deteriorated after the Kremlin annexed Crimea in 2014, then plummeted further when an ex-Soviet double agent was poisoned, nearly dying in a hospital in Salisbury, England. Britain's new top diplomat, Jeremy Hunt, made his first official visit to the U.S. on Tuesday. In previews of his speech, which appeared in the British press, he called for a stronger international push against Russian transgressions, "wherever they occur."
Hunt's Russian counterpart promptly hit back.
"As far as the actions in Great Britain are concerned, I listened to the statement of the new foreign secretary of the United Kingdom, which, as I understand, is taking place in Washington, and he announced that he will be convincing Donald Trump to increase sanctions against Russia," Sergey Lavrov, Russia's foreign minister, said during a news conference in Moscow on Tuesday. "He would also push for the same in relations with the Europeans, asking them for another strengthening of sanctions linked to the incident in Salisbury," Lavrov added, stating incorrectly that the attack had not been investigated.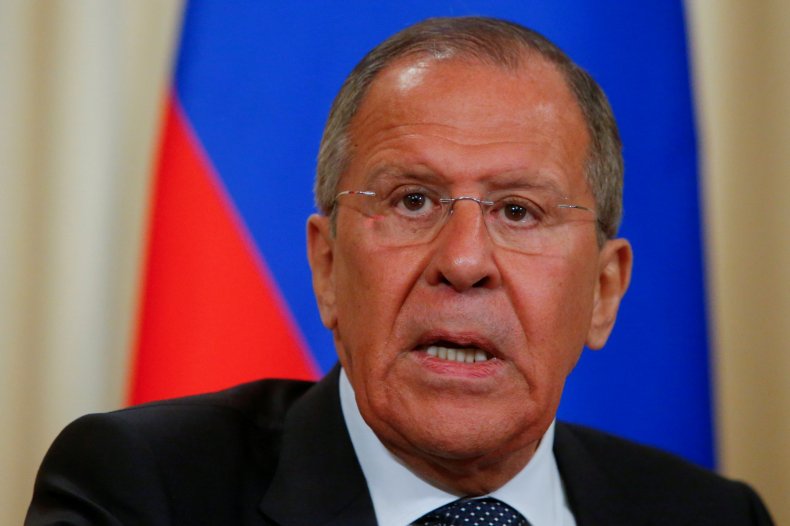 "Our British colleagues generally have quite an elevated view of themselves—a country that is leaving the EU as part of Brexit is trying to dictate the very foreign policy of the EU," Lavrov said, according to a video broadcast of his comments by the Russian Foreign Ministry. "What is more, it appears London wants to dictate the foreign policy of Washington too, with regards to Russia."
Hunt's comments called on the EU and the U.K. to increase sanctions and follow the U.S. example, as he told the BBC before his trip. Speaking on the air he said that Washington was "taking things further" and Europeans must make sure they are "matching" that commitment with respect to handling Russia.
Expert analysis determined that double agent Sergei Skripal and his daughter, Yulia, were likely poisoned by a Soviet-designed chemical weapon. In a seemingly linked but potentially accidental contamination another two local residents became ill, one of whom died. Russia denied ordering the attack, but following the findings, it became the subject of diplomatic sanctions from the U.K., U.S. and other countries.
Read More: What is Putin worth? New sanctions bill in U.S. Senate aims to find that out
The State Department also announced earlier this month that it would place sanctions on sensitive electronic imports from Russia, and Hunt said he wanted to see European allies match the U.S. move.
"So we are not saying we are going to do exactly the same thing, but we have to make sure that our reaction is to stand shoulder to shoulder with America," Hunt told BBC Radio 4's Today program this week. "We need to strengthen and rebuild the Western alliance so that the people who are considering whether to cross red lines actually think again."