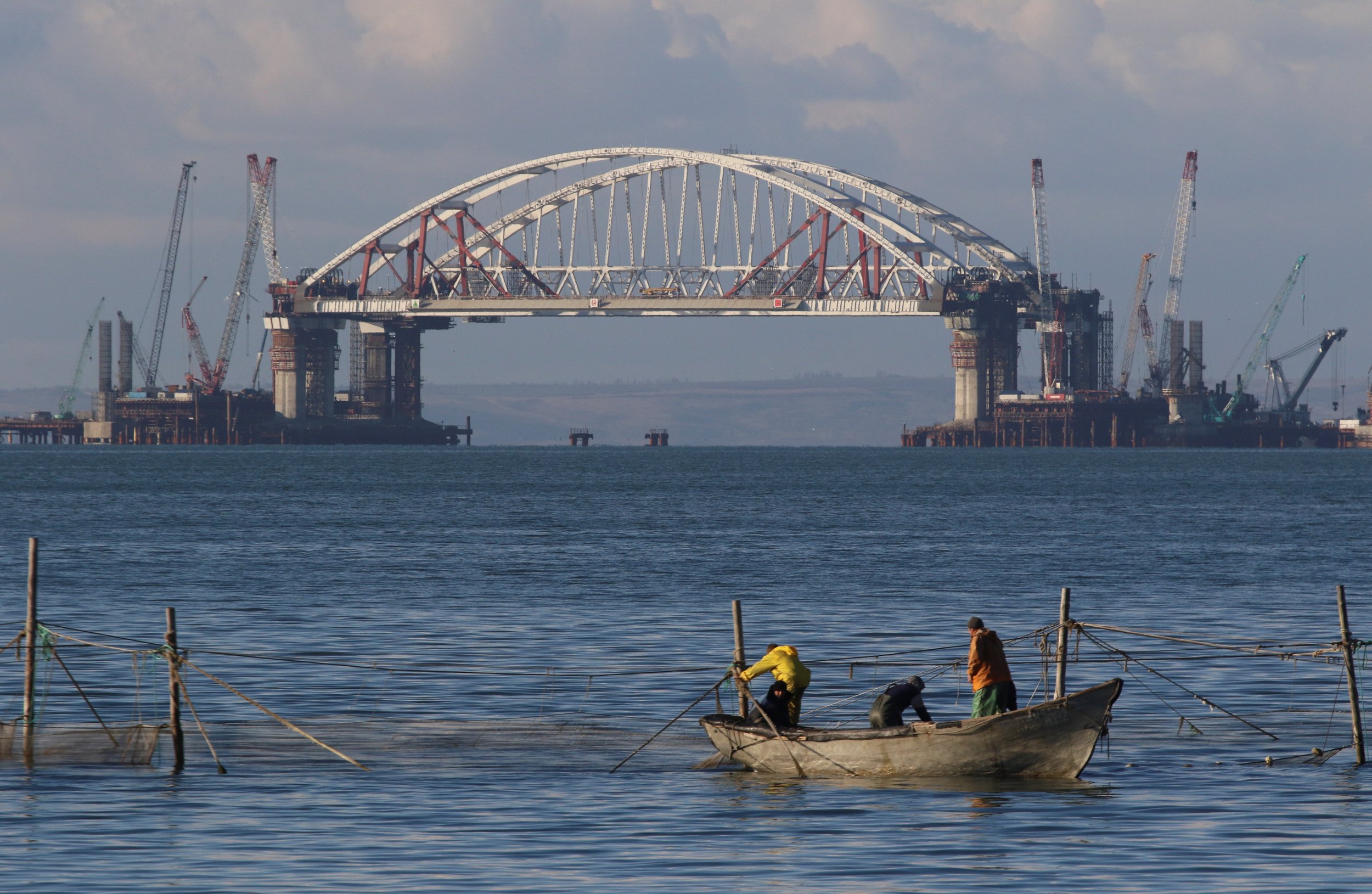 Russia's military has accused the U.S. of sending drones to keep tabs on its Black Sea forces and the construction of its bridge to annexed Crimea—a marquee project that celebrates one of President Vladimir Putin's most contentious policies.
Russia annexed Crimea from Ukraine in 2014 immediately after mass uproar ousted the pro-Russian government in Kiev. Since the territory has no land link with Russia, Moscow promptly commissioned a bridge to link its Krasnodar region with the Ukrainian peninsula, due to open next year.
Crimea is a strategic peninsula in the Black Sea and Russia's fleet in the nearby waters is currently undergoing a series of reinforcement changes. Among them is the construction of a new $1.4 billion port in Novorossiysk.
Speaking to state news agency Itar-Tass on Tuesday, Viktor Sevostianov, lieutenant general for the country's Southern Military District, said Russian forces regularly spot Global Hawk surveillance drones or U.S. observation aircraft in the skies nearby.
"Evidently their main task seems to be data collection on any changes in the deployment of troops and forces in the Southern Military district," he said. "I am not ruling out that foreign reconnaissance agencies are interested in the construction speed of the Crimea bridge."
Related: Why is Russia flying spy planes over the U.S.?
The main flight pattern of these aircraft began from the Black Sea coastline of western Crimea, eastward, nearer to the city of Sochi.
The Black Sea is one Russia shares with three NATO states, as well as Ukraine and Georgia, both of which have debated joining the U.S.-led alliance but currently have Russian troops on parts of their territory and cannot do so.
As relations between the West and Russia have worsened over the annexation of Crimea, military exercises in the region both by Russia and NATO have caused a handful of tense moments.
In February, the U.S. accused Russian jets of buzzing a U.S. ship in an "unsafe and unprofessional" manner, while it was crossing international waters after a drill with NATO allies. Russia has frequently flown jets near its neighbors along its border with Europe, with NATO saying in April that it scrambled to intercept the highest number of Russian military planes in 2016.