Allegations of Russian interference in the U.S. election are false and "make a mockery" out of American democracy, Moscow's top diplomat has claimed.
The U.S. government put 19 individuals and five entities under sanctions earlier this year, linking them to a cyber campaign against the 2016 presidential elections. Among them was Evgeny Prigozhin, who has been indicted and alleged to be behind the infamous Internet Research Agency—the St. Petersburg-based troll farm, that sought to influence the vote. Moscow has backed Prigozhin in denying wrongdoing on his part, as Russia's foreign minister said he thought U.S. defenses would be too robust to be bested by a Russian trolling plot.
"Russian President Putin has already spoken about this publicly," Russian Foreign Minister Sergey Lavrov told Slovak newspaper Pravda on Tuesday. The minister said accusations that Prigozhin, a restaurant millionaire nicknamed "Putin's chef, presided over a deliberate but covert attempt to troll and stoke conflict among Americans during the election, had nothing to do with the Kremlin, but also defended the businessman.
"Secondly, surely nobody seriously believes that a restauranteur from Russia, making some such posts on social media, could influence the elections of such a mighty country such as the United States," Lavrov said, according to a transcript released by his ministry. "The very suggestion of this, in my view, makes a mockery out of the whole U.S. political system, portraying its democracy as a house of cards."
Lavrov repeated his past position that current U.S.-Russia relations are suffering because of the "internal political situation in U.S." Despite the conclusion of the U.S. intelligence community that Russia did engage in election interference aiming to sow disunion and discredit President Donald Trump's opponent Hillary Clinton, the Kremlin has repeatedly pleaded innocence and claimed the attack is blamed on Moscow for political reasons.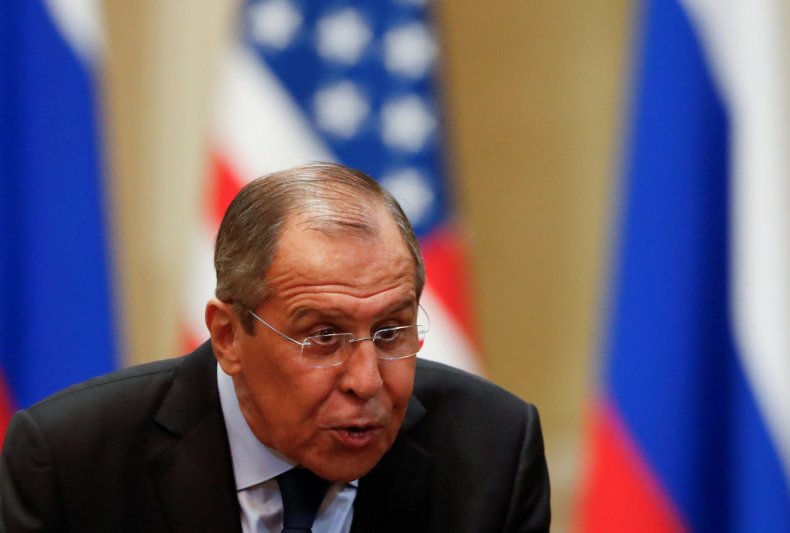 "As I have said before, certain forces in the Washington establishment are spreading Russophobic hysteria and are trying to block any positive moves from bilateral meetings," Lavrov said. "It is no coincidence that immediately after the meeting in Helsinki Trump fell under fire with criticism from opponents and in Congress they took it upon themselves to prepare new initiatives against our country."
Trump's one-on-one meeting with Putin in Helsinki last month triggered a wave of outrage in the U.S., partly because no government department seemed ready to brief the public on what the two leaders discussed and partly because of Trump's controversial press conference afterwards.
The latest batch of U.S. sanctions on Russia have no relation to the meeting in Finland, however. The sanctions on sensitive electronic imports that came into effect this week are a punitive move in response to the poisoning of an ex-Soviet agent on British soil.