Russia Says U.S. Pushing North Korea to 'War' as Photos Show New Nuclear Reactor Activity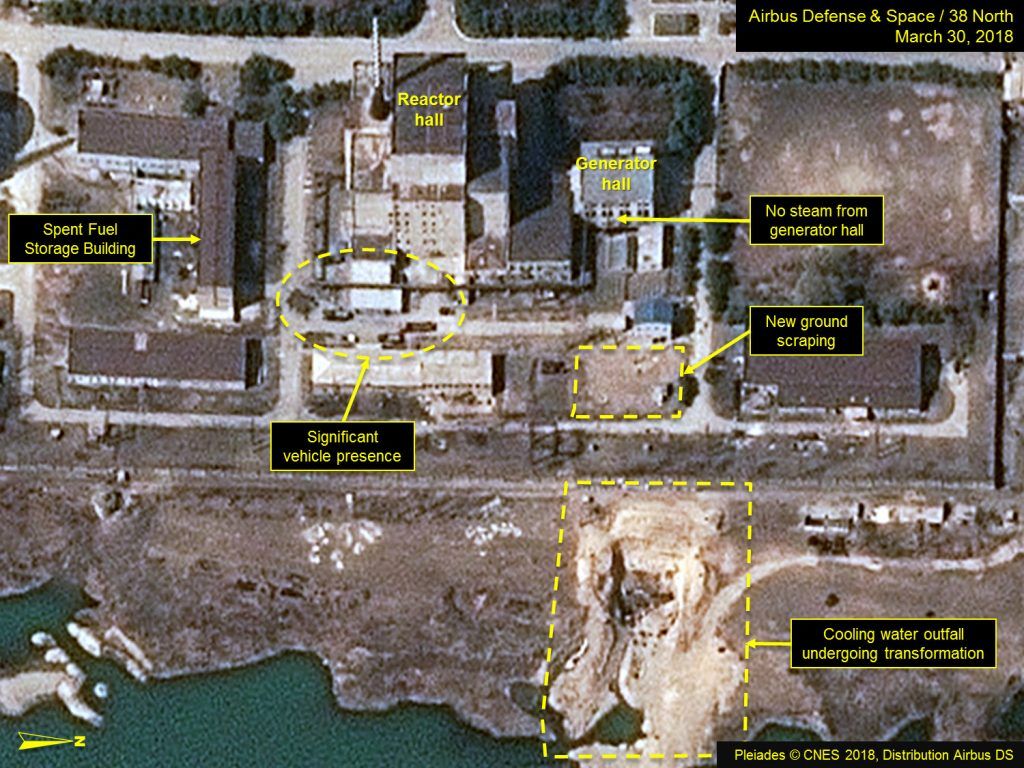 Top Russian military officials have warned that Washington's hardline approach to nuclear-armed North Korea could result in a catastrophic war in East Asia, as satellite imagery revealed new activity at a nuclear reactor site.
Vice-Admiral Igor Kostyukov, first deputy chief for the main directorate of the Russian military's general staff, accused President Donald Trump and his administration Thursday of having escalated the feud between the U.S. and North Korea, which has continued to develop nuclear weapons in spite of multinational sanctions and foreign military pressure.
Related: Why Did Kim Jong Un Go to China? This Is North Korea's Plan to 'Divide and Conquer' U.S. and Its Top Rival in Asia
As Kim Jong Un prepared to become his country's first supreme leader to meet a sitting U.S. president, the Russian military leader told the seventh annual Moscow International Security Conference that the White House's rhetoric and Pentagon's military buildup only served to destabilize peace in the region.
"The situation around the Korean peninsula has long been balancing on the brink of a regional war. The U.S. White House's purposeful attempts to undermine the viability of the Kim Jong Un regime and the demonstration of its readiness for the removal of the North Korean leadership through the use of force are pushing Pyongyang towards adventurist steps, which Washington is using to justify the need to build up its military presence in the Asia-Pacific region and deploy global missile shield elements," Kostyukov said, according to the state-run Tass Russian News Agency.
"As a result of this dangerous U.S. policy, the North Korean authorities that have actually been driven to the corner have achieved considerable progress in improving their missile and nuclear potential," he added.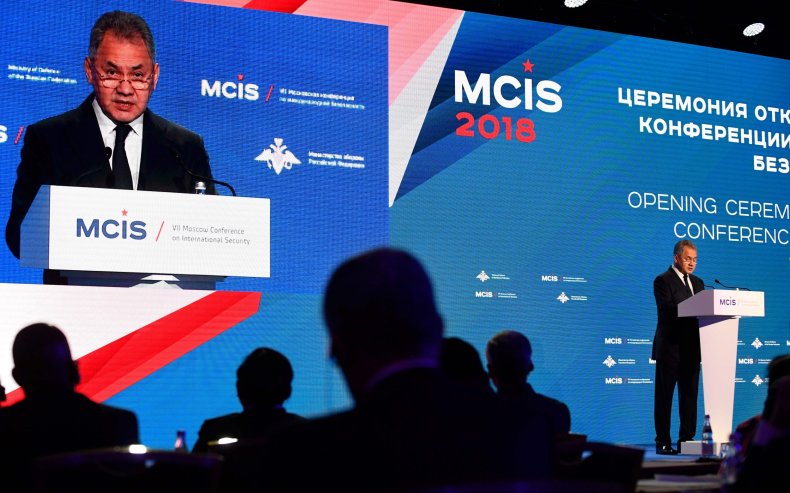 Kostyukov maintained that, like the U.S. and even top North Korean ally China, Russia was opposed to North Korea's possession of weapons of mass destruction, but condemned the U.S. approving major arms sales and installing new weapon systems in the Pacific region. Russia and China, which themselves have sought a greater defense alliance, view U.S.'s expanding military presence as not only a threat to North Korea's national security—but to theirs as well.
Kostyukov argued that "there is no alternative to settling the nuclear problem solely by political and diplomatic means" and "the potential of sanctions measures and stronger pressure has been used up by now." Despite Trump having furthered diplomacy last month by accepting to meet Kim face-to-face by May, his administration has not announced any change in course from the Republican leader's "maximum pressure" strategy, which the vice-admiral said had "disrupted" negotiations until now.
The previous day, Russian Defense Minister Sergey Shoygu also warned of a potential conflict on the Korean Peninsula at the Moscow gathering, which drew delegations from more than 90 countries. He urged the U.S. to embrace peace rather than focusing on military exercises, such as the ongoing "Foal Eagle" drills currently being jointly held with South Korea.
"We believe that there is no military solution to the Korean problem. Pressure and threats are not an effective means of settling the crisis. Moreover, the constant instigation of the situation and the demonstration of the military force may lead to incidents and even an armed conflict whose consequences may affect the entire region," Shoygu said, according to Tass.
He also noted that Russia had been established close ties with its Asian allies, including China, India, Vietnam, Laos and Myanmar, and was seeking new countries including Brunei, Cambodia, Malaysia, Indonesia and the Philippines.
Defending the U.S. "maximum pressure" strategy, Trump's Bureau of East Asian and Pacific Affairs Deputy Assistant Secretary Alex Wong credited the president's approach with accelerating the current inter-Korean peace talks, which have also seen Kim visit China in the young leader's first-ever foreign journey while in power.
"A number of years before President Trump came to office – there really wasn't any movement. There was no diplomatic movement on the ground, and the only movement you saw was the slow, creeping expansion of North Korea's nuclear program. And in that light, I think we're in a pretty good place right now," Wong said during a press conference Monday.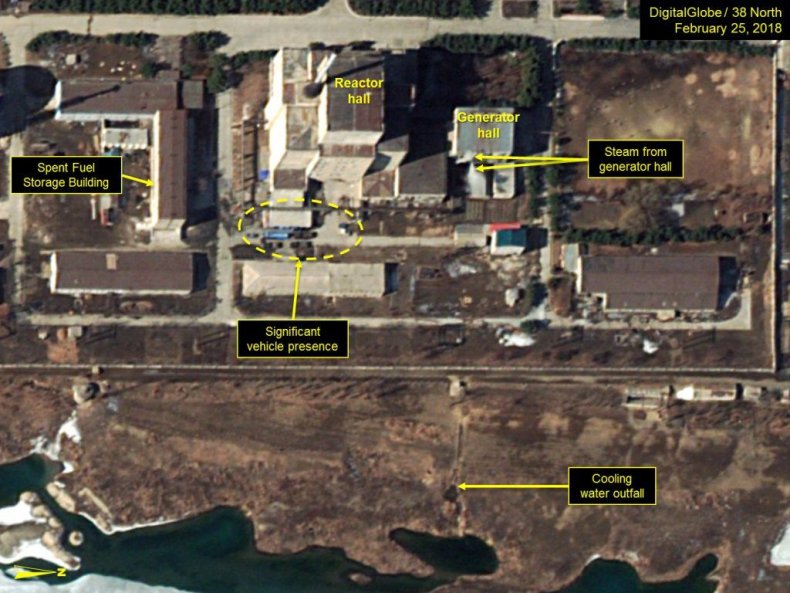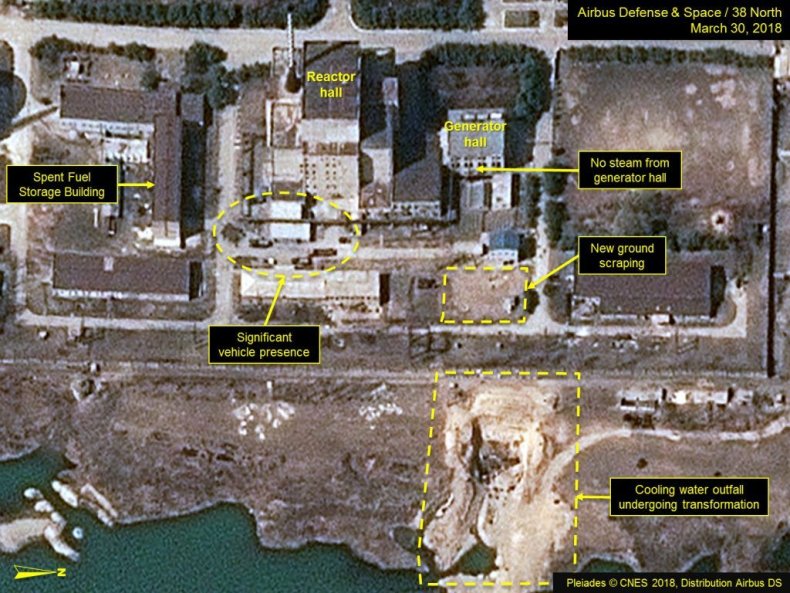 The reports came as a new analysis featured by the 38 North project of the U.S.-Korea Insitute at Johns Hopkins University's School of Advanced International Studies showed a major uptick in activity surrounding the 5-megawatt reactor located at North Korea's Yongbyon Nuclear Research Center. Using satellite imagery, 38 North's experts said North Korea appeared to have begun construction and excavation activities possibly geared toward enhancing the future performance of the plutonium production site, while the reactor itself appeared to have been shut down for the time being.
The report noted that "there was no evidence (as of March 30) of plutonium reprocessing taking place at the Radiochemical Laboratory. However, this development should be monitored closely in the future." The authors also spotted work on a potential new laboratory or engineering support building by the Experimental Light Water Reactor, but said "there are no obvious signs that the reactor is approaching operational status."