Russian Schools Ordered to Buy Grenades, Rifles for 'Military Training'
Schools in St. Petersburg, Russia, have been ordered to buy assault rifles and dummy grenades to be used in class as part of a Soviet-era basic military training course that has been reinstated amidst the war in Ukraine.
A local court in St. Petersburg ruled that local schools must be equipped with an assortment of items that are to be used by teachers and students as part of a so-called "initial military training" program.
The program, which teaches children how to assemble and disassemble firearms, how to provide first aid, and how to respond to a nuclear or chemical attack, was abolished in 1993 and reinstated by Russia's Education Minister Sergey Kravtsov.
The ruling came after the St. Petersburg prosecutor's office conducted inspections in schools, and found that they didn't have the arsenal required to equip classrooms for the course.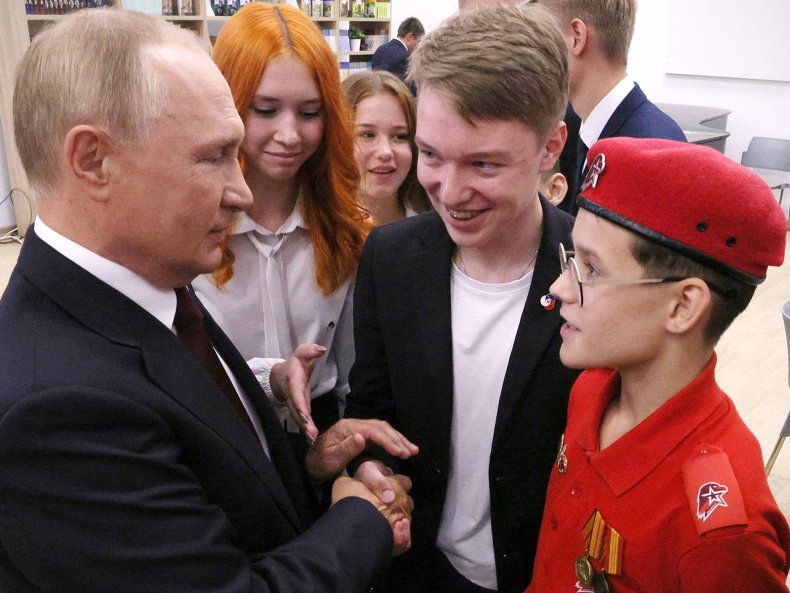 According to the independent Russian newspaper Novaya Gazeta, schools were ordered this month to ensure they have items including gun safes, oxygen and toxic gas analyzers, protective suits, models of F-1 and RGD-5 grenades, shooting simulators, wound and injury simulators for training mannequins, and magazines for Kalashnikov assault rifles with training cartridges.
"The list of equipment from the Ministry of Education is mandatory," the city committee on education told the paper. "Models of grenades and machine guns are also needed since in the near future the subject 'initial military training' will be introduced into the program for 10-11th graders."
One school attempted to argue that grenades and shooting simulators are not necessary for schools, but the court disagreed, local news outlet Fotanka reported.
Lyudmila Sitnikova, a methodologist on the basics of life safety, told Fontanka that children need visual demonstrations and practical exercises with the items.
"It has always been [like this] in Soviet schools. Grenades, I remember myself, we threw [them] all the time. Now all of this is back on track," she said.
Kravtsov said in November that students will learn about personal protective equipment, first aid, weapons and how to handle them, the basics of shooting and the use and construction of hand grenades.
High school students will also learn how to operate in modern combined arms combat, and what a single trench is. They will also study the composition and armament of a motorized rifle squad on an infantry fighting vehicle, and the engineering equipment of a soldier's position, he said at the time.
Fontanka cited local residents as speaking out against the resumption of basic military training in schools.
"We believe that children should be taught humanism, not militarism. You need to be able to negotiate with people, and not show your physical strength and saber-rattling," members of a local social and political movement said. "Initial military training will negatively affect the development of our children—they will think that violence is good and this is the only way out of various situations."
Meanwhile, in January, Viktor Sobolev, a retired lieutenant general and current member of Russia's parliament called for the introduction of mandatory six months' military training for Russian youth.
Do you have a tip on a world news story that Newsweek should be covering? Do you have a question about the Russia-Ukraine war? Let us know via worldnews@newsweek.com.