Russia Sends Flowers to Still-Absent Kim Jong Un While U.S. and South Korea Hold Air Drills
The U.S. and South Korea held joint aerial drills Wednesday as their mutual rival, North Korean supreme leader Kim Jong Un, remains absent from the public eye. Meanwhile, Russia sent flowers to the young ruler amid rumors surrounding his health.
Just over a week after Kim skipped national Day of the Sun celebrations dedicated to his late ruling grandfather on April 15, South Korea's Yonhap News Agency reported Thursday that South Korean F-15K and KF-16 fighter jets along with U.S. F-16s conducted squadron-level, combined exercises expected to run through Friday. The outlet cited a South Korean Air Force official as saying the annual drills were "designed to improve execution of our joint operations" and were "on par with those of previous years."
Such maneuvers, though routine, have typically stirred outrage in North Korea, which considers them provocative. The secretive, militarized state has yet to issue any official warnings, however, as its 36-year-old head of state has not been seen publicly and is on the minds of the international community.
The official Korean Central News Agency reported Thursday that Kim "received a floral basket from the Russian embassy here on the occasion of the first anniversary of his historic visit to the Russian Federation." Kim's trip to Vladivostok last year involved his debut meeting with Russian President Vladimir Putin and marked the last time the young ruler is believed to have left the Korean Peninsula.
"The floral basket was conveyed to an official concerned by the Russian ambassador on April 23," the KCNA reported concluded.
Kim also sent a reply to Syrian President Bashar al-Assad's message for the Day of the Sun on Wednesday. But North Korea's state-run media has yet to address Kim's absence or rumors of an April 12 heart surgery sparked by a largely defector-run website, the South Korea-based Daily NK, which has ties to U.S. Congress and other institutions. That report was based on an anonymous source but followed by a CNN article citing an unnamed U.S. official who said U.S. intelligence was monitoring that Kim was in grave danger after an operation.
Newsweek reported Tuesday that the U.S. Intelligence Community has no definitive evidence that Kim is in grave condition, citing two senior U.S. intelligence officials. One official said at the time that North Korea's "military status remains the same, which is the biggest indicator" that something was awry, but his last proof of life was April 18, so the situation was being monitored.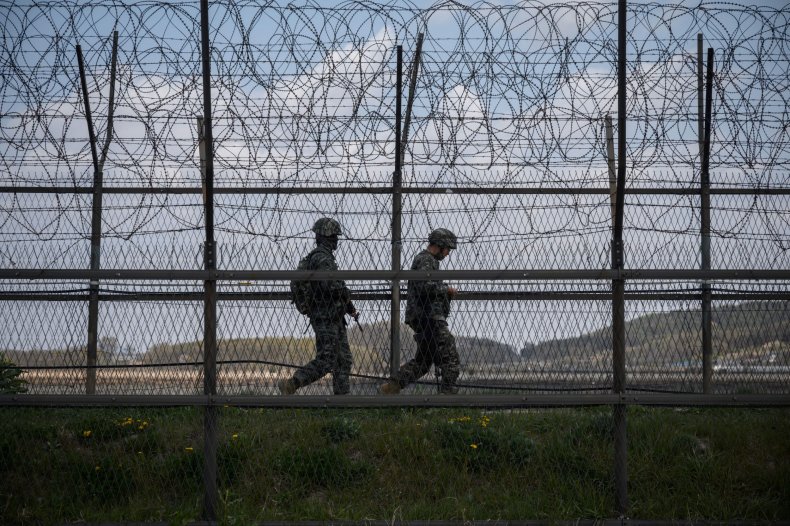 Russian officials have remained largely quiet on questions regarding Kim's fate. Kremlin spokesperson Dmitry Peskov acknowledged having seen the reports Monday but told state-run media that he has "no idea to what extent these reports agree with the reality, we are waiting for official information."
Chinese Foreign Ministry spokesperson Geng Shuang also addressed the issue Monday, but he too simply said he was aware of the reports and questioned their sourcing. "China and the DPRK are friendly neighbors linked by mountains and rivers. We stand ready to work with the DPRK to continuously move forward bilateral relations," Geng told reporters at the time, using an acronym for North Korea's official name: the Democratic People's Republic of Korea.
China and Russia both neighbor North Korea and once backed the communist state battle across its other border, against U.S.-backed South Korea, in the 1950s. While Moscow and Beijing have long since made peace with Seoul and Washington, Pyongyang technically remains at war with its two rivals, even as Kim attended historic meetings with Presidents Moon Jae-in of South Korea and Donald Trump of the United States in hopes of forging a denuclearization-for-peace agreement.
The South Korean Foreign Ministry declined Newsweek's request for comment, but referred to Tuesday's Blue House statement informing that no unusual activity regarding North Korea and Kim's health had been monitored so far. South Korea's National Security Council also confirmed Thursday there were no abnormalities, according to Yonhap.
Military officials from Seoul and Washington launched on Monday their 17th Integrated Defense Dialogue aimed at shoring up cooperation at a time when their decades-long alliance was under severe strain due to disagreement's over cost-sharing. The two sides have sought to operate business as usual in spite of internal disputes and uncertainties across the Demilitarized Zone.
Air Force General John E. Hyten, vice-chair of the Joint Chiefs of Staff told a press briefing Wednesday he did not "have anything to confirm or deny" any reports about Kim's well-being. "I assume that Kim Jong Un is still in full control of the Korean nuclear forces and the Korean military forces. I have no reason not to assume that," he said.
Trump also told reporters he had no information about how Kim was doing but wished the supreme leader he's met three times "very good luck."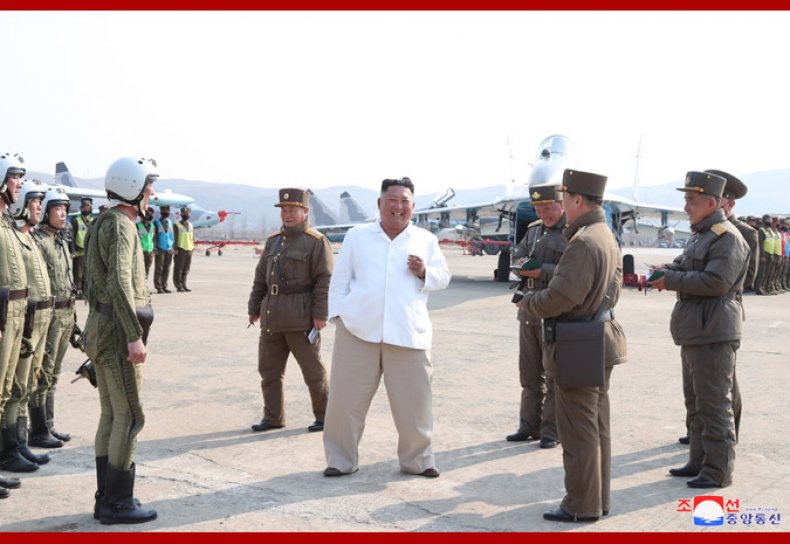 But as the days pass without official word on the young ruler, talk has emerged of succession. State media has made no mention of Kim and his wife Ri Sol Ju having children, though outside media—as well as former NBA star Dennis Rodman, who has traveled to North Korea several times to meet Kim in recent years—have speculated they do.
Kim's older brother, Kim Jong Chol, has remained out of the spotlight, but his younger sister Kim Yo Jong has been steadily promoted over the years, most recently being appointed alternative member of the ruling Korean Workers' Party Central Committee Political Bureau earlier this month. She has also made statements on her brother's behalf, a rare position for anyone in the fiercely hierarchical North Korea.
Asked Thursday about potentially dealing with Kim Yo Jong, Secretary of State Mike Pompeo said U.S. designs would go on unchanged in any case.
"Well, I did have a chance to meet her a couple of times, but the challenge remains the same. The goal remains unchanged," Pompeo told Fox News.
"Whoever is leading North Korea, we want them to give up their nuclear program, we want them to join the league of nations, and we want a brighter future for the North Korean people. But they've got to denuclearize, and we've got to do so in a way that we can verify," he added. "That's true no matter who is leading North Korea.