Russia 'Seriously Alarmed' By U.S. Threat of Military Action Against Assad as Violence Continues in Syria
A leading Russian diplomat has condemned those advocating military intervention against the forces of Syrian President Bashar al-Assad, whose war against rebels and jihadis has recently escalated in the last insurgent-held suburbs of Damascus.
Russian Deputy Foreign Minister Sergey Ryabkov said Monday that such military action would violate United Nations Security Council Resolution 2401, which was passed Sunday. It calls for a 30-day cessation of hostilities among warring parties in the eastern Ghouta region outside the Syrian capital. Before it was passed, Russia successfully lobbied to include language in the document that exempted operations against the Islamic State militant group (ISIS), Hayat Tahrir al-Sham (successor to former Al-Qaeda branch the Nusra Front) and other groups considered terrorist organizations by the council.
Related: Russia, Iran and Syria face U.S. pressure and Turkey military threat over new operations to win war
"We are seriously alarmed by the reports that amid the overall increase in the rhetoric against Damascus and anti-Russian rhetoric in Washington threats are heard again of using force, which is unlawful," Ryabkov said, according to the state-run Tass Russian News Agency.
"They are searching for pretexts and this fully runs counter to the meaning and content of the U.N. Security Council Resolution 2401," he added.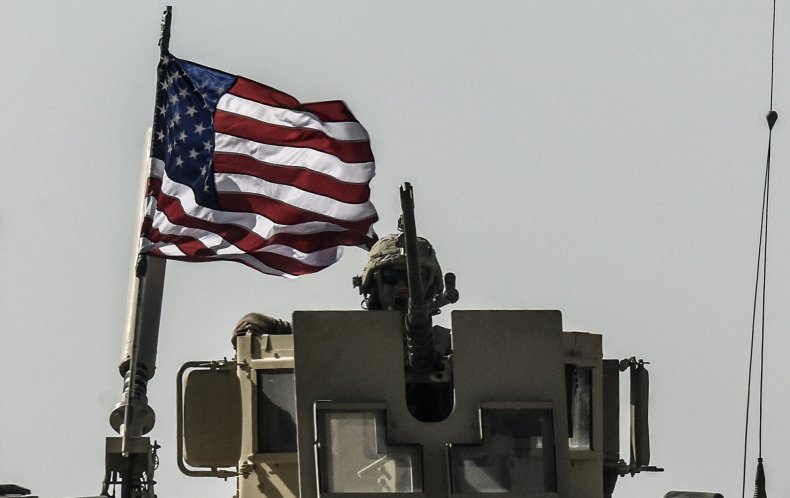 Russia's 2015 military intervention in Syria has not only allowed Assad's forces and their allies—which included a number of Iran-backed militias—to overcome rebels and jihadis trying to oust him since 2011, but has also largely shielded Assad from Western powers trying to unseat the Syrian leader. The Syrian military and partnered forces have defeated jihadis across the country and taken back major cities from rebels, some of which were once sponsored by the U.S. and still received backing from Turkey and Gulf Arab states.
Most of the rebel-held outskirts of Damascus have since entered into reconciliation deals with the Syrian government, but parts of eastern Ghouta remained under the control of Islamist rebels groups Ahrar al-Sham, Failaq al-Rahman and Jaysh al-Islam, as well as jihadi alliance Hayat Tahrir al-Sham, which formed the dominant faction also fighting the Syrian military and its allies in the northwestern province of Idlib.
As a Syrian military offensive and a separate campaign by a U.S.-led coalition and its mostly Kurdish Syrian Democratic Forces allies largely defeated jihadis in the eastern province of Deir Ezzor, the Syrian military has again focused on reclaiming the restive region of eastern Ghouta. Growing violence there has attracted international attention. The West has blamed the Russian and Syrian militaries for mounting civilian casualties, while the two allies have laid the responsibility on local militants who have frequently shelled the nearby, heavily populated city of Damascus.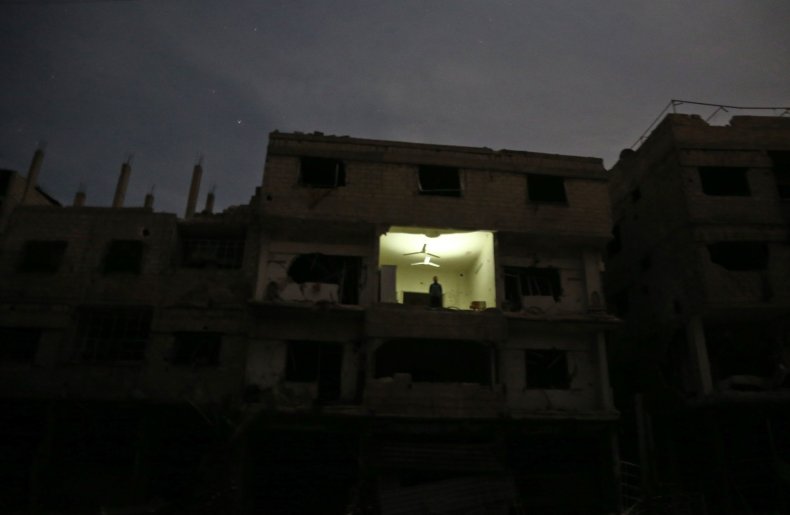 After U.N. Security Council Resolution 2401 was passed Sunday, Russian Defense Minister Sergey Shoigu announced Monday the implementation of a daily ceasefire between the hours of 9 a.m. and 2 p.m., beginning Tuesday. The measure was aimed at addressing the growing humanitarian crisis in the besieged suburb.
The U.S. has focused on defeating jihadis since its 2014 intervention in Syria, but it has attacked the Syrian military and its allies before. The U.S.-led coalition killed dozens of Syrian soldiers trying to break an ISIS siege in Deir Ezzor during what the Pentagon said was an accidental attack intended for the jihadis in September 2016. Months after Trump took office, he ordered a cruise missile assault against the Syrian Al-Shayrat air base alleged to have been involved in a deadly chemical weapons attack days earlier in Idlib.
The U.S.-led coalition declared a deconfliction zone in the southern Syrian region of Al-Tanf over and occasionally bombed pro-Syrian government militias it claimed had approached the self-proclaimed boundary. In what was likely the most deadly incident yet, the U.S.-led coalition earlier this month killed up to 100 pro-Syrian government forces, including Russian nationals, that it claimed had attacked the Syrian Democratic Forces also fighting ISIS in Deir Ezzor. Russia and Syria have claimed the U.S. was the aggressor.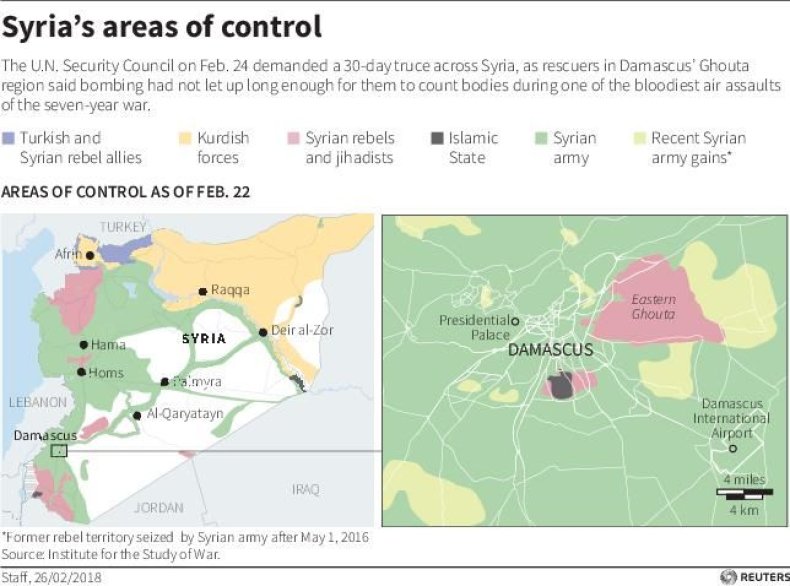 To make things more complicated, forces supportive of the Russia-backed Syrian government have recently joined those fighting under the banner of the U.S.-backed Syrian Democratic Forces against Turkey, a country to which both the U.S. and Russia have close ties. Turkey has labeled the Kurdish People's Protection Units (YPG), which is the dominant faction of the Syrian Democratic Forces, a terrorist organization due to alleged links to a separatist Kurdistan Workers' Party (PKK) insurgency against the Turkish state.
Last month, Turkey summoned its rebel Free Syrian Army allies for an invasion of the northwestern Kurd-held district of Afrin in the Syrian province of Aleppo. The U.S. has said it would neither support YPG fighters on this front, nor remove U.S. troops stationed in nearby Manbij to allow Turkey to attack there too. The Syrian government, which considered both U.S. and Turkish military presence illegal, has deployed pro-Assad forces to join Kurds in repelling the attack.