Russia Hammers Kherson To 'Degrade Civilian Morale' Along Dnieper River—MOD
Months after Russia announced its withdrawal from the key Ukrainian city of Kherson, its forces are hammering the region in an attempt to "degrade civilian morale," according to an assessment by the British Ministry of Defense.
Some of the most "intense shelling" so far of the war, which began on February 24, 2022, has likely taken place along the Dnieper River in Kherson, southern Ukraine, the latest British intelligence update on the conflict said.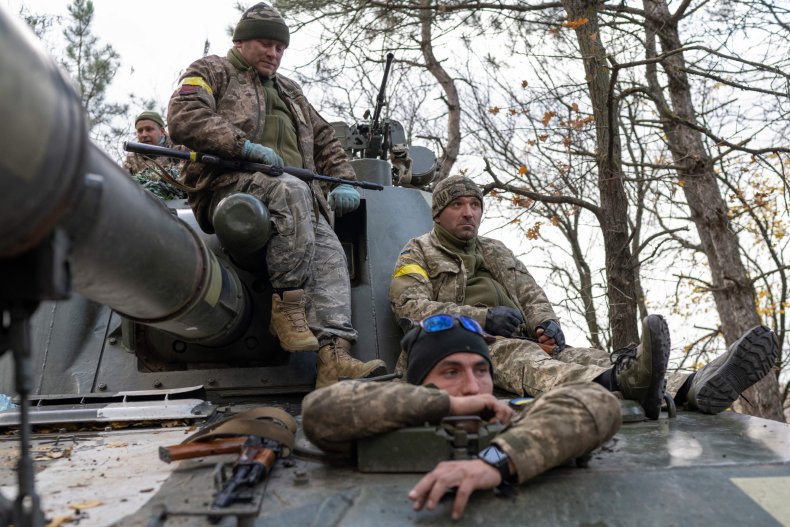 "This has included continued Russian shelling of Kherson city with artillery firing from the east of the river," the ministry said.
Russia retreated from the western portion of the Kherson region in November 2022 following Defense Minister Sergei Shoigu's order to withdraw troops across the Dnieper River.
Russian forces lost control of the city of Kherson as Ukraine launched a counteroffensive in the region. It was a humiliating defeat for Putin, as Kherson was the only regional capital his forces had seized since the start of the conflict.
Kherson became the first major region to fall to Putin's forces after the war began. It had been Russia's biggest military achievement of the conflict, in part due to its strategic location and proximity to Crimea.
Kherson is one of four territories that Putin illegally annexed in September following sham referendums.
"On 29 January 2023, local authorities reported another three civilians killed in Kherson, while two foreign-owned ships moored on the river were damaged, causing an oil spill," the defense ministry said.
It assessed that outside of Ukraine's eastern Donbas region, Kherson remains "the most consistently shelled large Ukrainian city."
"Russia's precise rationale for expending its strained ammunition stocks here is unclear," the British defense ministry said. "However, commanders are likely partially aiming to degrade civilian morale and to deter any Ukrainian counter-attacks across the [Dnieper] River."
The press service of the Kherson regional military administration said on Sunday evening that Russian forces had used banned munitions to attack populated areas of its Beryslav district.
Russian troops are "attacking peaceful settlements with prohibited incendiary munitions," it said.
According to Ukrainian news outlet Ukrinform, Kherson was shelled seven times on Sunday, killing at least three people and leaving a further six wounded.
A hospital, a bus station, houses, a bank, enterprises and a school playground were damaged, according to reports.
Newsweek has contacted Russia's foreign ministry for comment.
Do you have a tip on a world news story that Newsweek should be covering? Do you have a question about the Russia-Ukraine war? Let us know via worldnews@newsweek.com.