Russia Shows off New Arctic Air Defense Systems at Victory Parade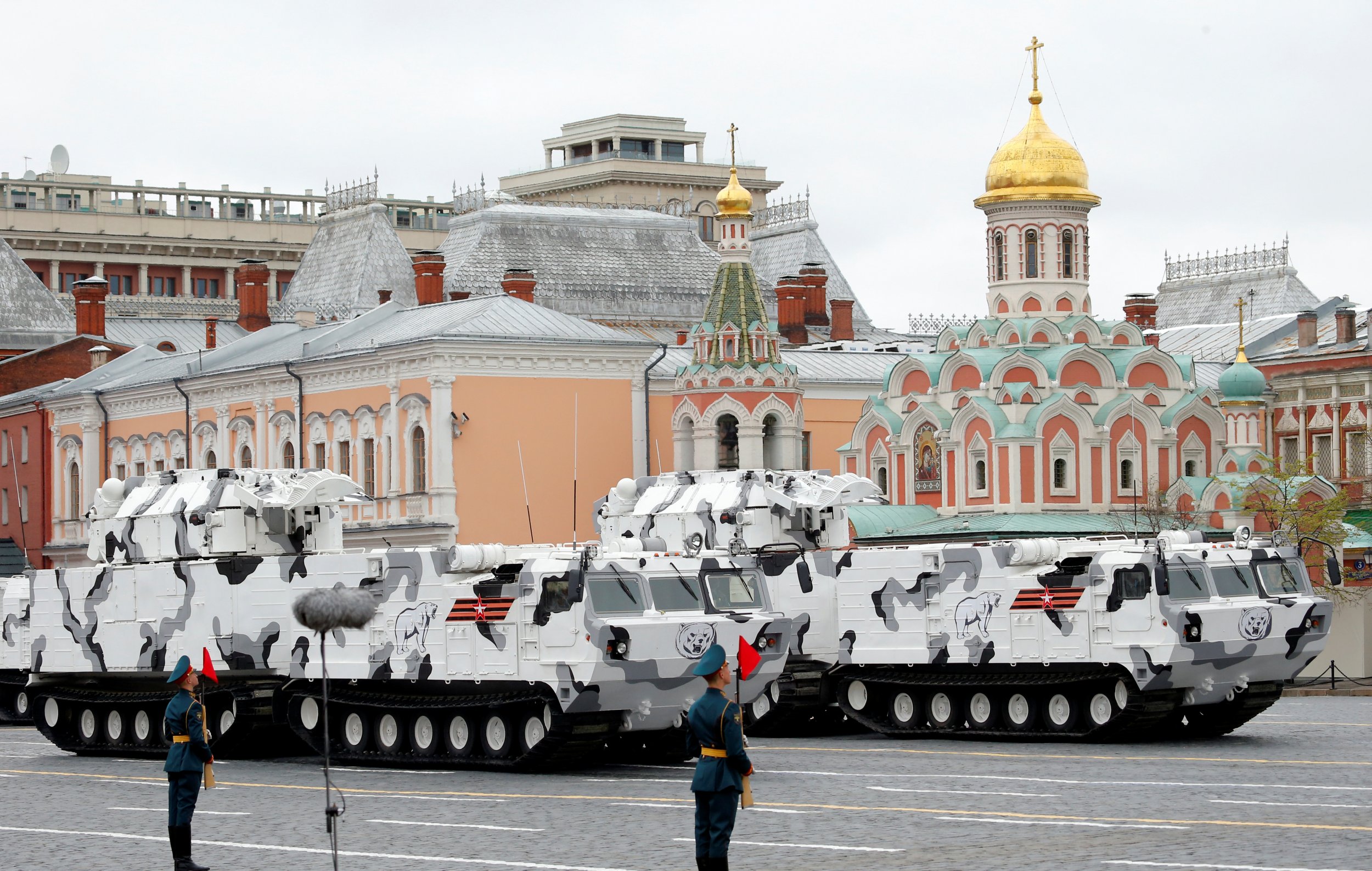 Russia gave the world a first extended look at its new air defense systems —designed to operate off road in Arctic conditions and sub-zero temperatures— as part of its Victory Day parade in Moscow.
Russia marks the surrender of Nazi Germany in World War II every year on May 9 with a parade of military kit old and new. It has often included the latest vehicles in Russia's arsenal, often shown in public for the first time.
Read More: Despite spending almost $2 million to stop rain, Moscow's air show is cancelled due to weather.
The most eye-catching new additions were the Tor-M2DT and Pantsir-SA air defense systems, which rolled through the Red Square in Arctic camouflage colors.
Russia's Land Forces Commander Oleg Salyukov said that the new anti-aircraft systems are designed with maneuverability in remote Arctic conditions in mind, the Interfax news agency reports.
The Tor-M2DT is an update from the existing Tor-M2 missile launcher station and boasts an aerial range of at least 15 kilometers (9 miles). The Arctic Pantsir has a range of 20 kilometers, state news agency RIA Novosti reports.
Russia is one of five nations with a territorial claim in the world's northernmost waters — four of which are members of the NATO military alliance. Over the last few years Russia has poured considerable resources into militarising its vast high north and set up a special command for Arctic forces, centered around the northwest of the country.
Moscow unveiled its newest Arctic military base in the Franz Josef archipelago last month and its trefoil design will be recreated in four other planned bases across other north Russian sites. The bases are intended to fill blind spots of Russian radar coverage in its remote and difficult northern territories, increasing monitoring ability by sea and air.
The Russian Ministry of Defense is also building an airfield on Franz Josef Land, though how many, if any, jets will be permanently deployed there is not yet clear.