Russia May Be Carrying Out 'Spoiling Attacks' on Ukraine Front Line—ISW
Russia may be carrying out "spoiling attacks" on the Ukraine front line to distract attention from its real objectives in Luhansk, while its operation in the city of Bakhmut appears to be culminating, according to the Institute for the Study of War.
The ISW, a think tank based in Washington, wrote in its latest assessment of the conflict that these "limited spoiling attacks" were taking place across most of the front line in Ukraine in order to "disperse and distract" Ukrainian forces and "set conditions to launch a decisive offensive operation" in the eastern Luhansk region.
In the past few days, small squad-sized Russian assault groups of 10 to 15 troops have been launching these "limited ground attacks" on two main sectors of the front line—in central Zaporizhzhia Oblast along the Kamianske-Mali Shcherbaky-Mala Tokmachka line and in the Vuhledar area of western Donetsk Oblast.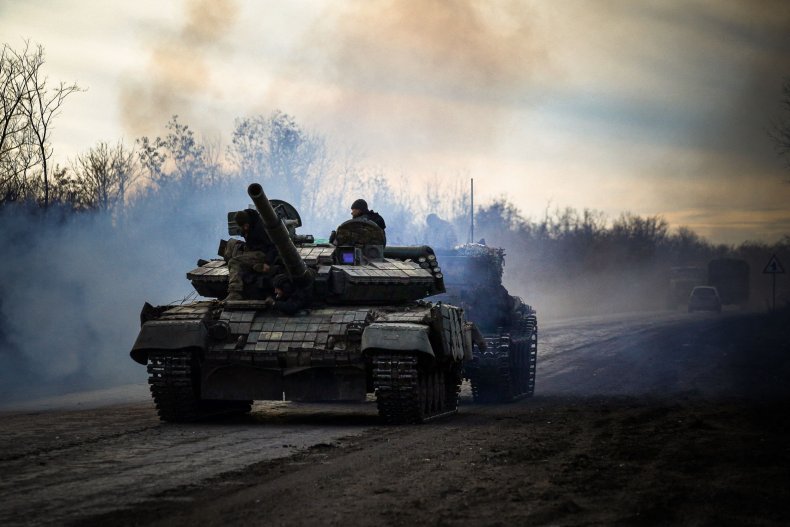 The ISW noted that Ukrainian officials have said these attacks are aimed at dispersing their defensive lines.
"The size and nature of these attacks suggest that they are more likely spoiling attacks that seek to distract and pin Ukrainian forces against discrete areas of the front than a concerted effort to relaunch offensive operations to gain ground in the central Zaporizhia and western Donetsk directions," according to the think tank analysts.
The ISW said it was notable that these spoiling attacks are taking place as the pace of Russian operations around Bakhmut, led by the Wagner Group paramilitary unit, appears to be "decreasing."
The Wagner Group, led by Russian businessman Yevgeny Prigozhin, said last week that Russia had seized the salt-mining town of Soledar, a small town located nine miles north of Bakhmut.
Since then, Prigozhin's fighters and the Russian military have been advancing toward the industrial town of Bakhmut, which has been one of the hottest spots of the war.
"Following the Russian capture of Soledar in mid-January, the attacks on Bakhmut and surrounding settlements have apparently dropped off, suggesting that the Russian offensive operation to take Bakhmut may be culminating," the ISW said.
Analysts said the Wagner Group had failed to deliver on its promise of securing Bakhmut and has been unable to progress beyond minor tactical gains in Soledar and other surrounding small settlements.
"Russian military leadership may have, therefore, decided to de-prioritize operations around Bakhmut after recognizing the low likelihood that Wagner will actually be able to take the settlement," the ISW said.
The ISW said on Tuesday that Russian forces had not made any "operationally significant gains" around Bakhmut.
Newsweek has contacted Russia's foreign ministry for comment.
Do you have a tip on a world news story that Newsweek should be covering? Do you have a question about the Russia-Ukraine war? Let us know via worldnews@newsweek.com.