Fire Breaks Out Across Two Cruise Ships Moored Next to Each Other, One Person Killed: 'It's Been a Harrowing Experience'
A New Zealand couple have spoken of their fear when they were woken up to be evacuated from their cruise ship in Russia after a fire broke out on the vessel next to them.
John and Chris Burton from Dunedin were on board the Sergey Diaghilev docked at Oktyabrskaya Embankment in Russia's second city St. Petersburg as part of an 11-day trip sailing to the Russian capital, Moscow.
A fire broke out on the neighboring four-story river cruise ship, Pyotr Tchaikovsky, around 5.30 a.m. on Thursday. Around 320 people, including 240 passengers and 80 crew members, had to be evacuated from the burning boat, Russian agencies reported.
Rescuers' access to the ship was made difficult because it was docked alongside the Sergey Diaghilev which firefighters had to make their way through first to get to the blaze, Fontanka.ru reported.
John Burton told the New Zealand Herald that passengers were woken up by a loud voice on the intercom.
"Obviously, we couldn't understand a word of what was being said. We joined a large gathering and noted the arrival of several fire trucks followed by ambulances. We had literally nothing but our sleepwear," he told the paper.
They saw a man being carried away on a stretcher and were attended to by crew members as they waited for the fire to be extinguished, which took about an hour.
"It's been a harrowing experience," Burton said. After an hour standing on shore they were allowed back on the ship and told that the day would proceed as scheduled, The Herald reported.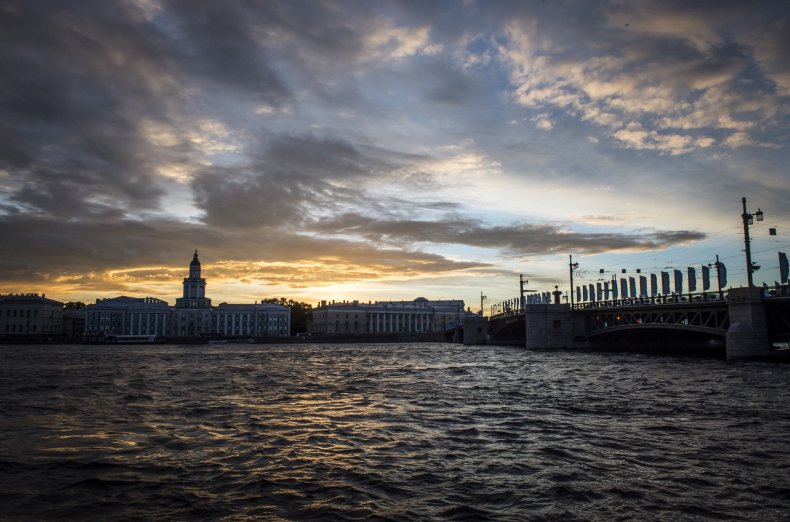 The fire was was contained within 32 square feet and put out after about 40 minutes. Rescue workers discovered a 25-year-old man in the engineer's cabin who died on his way to hospital.
Footage posted on Russia's investigative committee YouTube site shows emergency workers going through the hastily abandoned cabins of the vessel with burnt out partitions and broken portholes visible. Authorities have launched a criminal inquiry.
Pyotr Tchaikovsky was built in Germany in 1977 and renovated in 2000, Fontakna.ru reported. Operated by the company Doninturflot from the city of Rostov-on-Don in the south of the country, it offers tourists cruises between Russia's two main cities.
Also in Russia, last week, firefighters had to extinguish a blaze that had broken out on the three-decker cruise ship Holy Russia in the Nizhny Novgorod region.