Russia Starts Issuing Passports in Occupied Ukrainian Cities
Russian authorities in the occupied Ukrainian cities of Kherson and Melitopol have started issuing passports to residents in a move that Ukrainian officials have said is "illegal" and "a flagrant violation of Ukraine's sovereignty."
Russian state-owned news agency TASS reported Saturday that the first Russian passports have been given to residents in Melitopol.
"A ceremony to present the first Russian passports to local residents took place in Melitopol today," Vladimir Rogov, a Russian official, told the news agency. Additionally, it was reported that Russian officials had also given out 23 passports in Kherson on Saturday.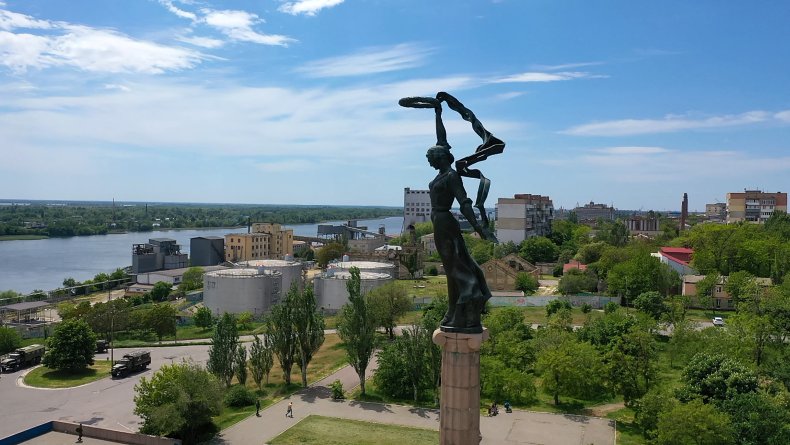 The move comes after Russian President Vladimir Putin signed a decree last month making it easier for officials to issue passports in regions of Ukraine that's controlled by Russia.
Ukraine's foreign ministry, however, sharply criticized the passport policy last month.
"The illegal issuing of passports...is a flagrant violation of Ukraine's sovereignty and territorial integrity, as well as norms and principles of international humanitarian law," the Ukrainian Foreign Ministry said in a statement, according to Agence France-Presse.
Newsweek has reached out to the Ukrainian Foreign Ministry for comment.
In late April, a Ukrainian official said that Russian authorities in the city of Mariupol had started issuing birth certificates to children being born there.
"For the first time in Mariupol, a Russian terrorist satellite has officially stolen the citizenship of our Ukrainian child," Petro Andrushchenko, an adviser to the mayor of Mariupol said, according to CNN.
Ukrainian officials also said last month that Russian troops demanded that citizens who were attempting to flee the occupied city of Melitopol pay them bribes.
"The Russians are trying to profit from armed pressure on Melitopol civilians. Russian soldiers at checkpoints are demanding that Melitopol residents who are trying to leave the city pay them between 3,000 and 5,000 hryvnias," the Zaporizhzhia Oblast Military Administration wrote in a message on Telegram.
Kherson to Hold a Referendum
The Russian-backed Kherson Military-Civilian Administration told state media this week that there was likely to be a referendum in the city as part of a process that could pave the way for the region to join Russia.
"And the next stage will be the elections, which we will hold directly on the territory of the liberated Kherson region. And then we will continue to work legislatively," Kirill Stremousov, the deputy head of the Military-Civilian Administration said.
The Kherson region has been almost entirely under Russian control since the beginning of the invasion in late February.