Russia State TV Publishes a List of U.S. Targets Kremlin Would Hit During Nuclear War, Says Supersonic Missiles Could Reach Them in Five Minutes
Less than a week after Russian President Vladimir Putin announced that his country would target the U.S. if it places nuclear-capable missiles across Europe, Russian state TV published a list of potential U.S. targets that Russia would aim to hit if nuclear war breaks out.
The broadcast, aired Sunday evening, also said Russia would be able to hit these targets in five minutes once it has the new hypersonic missile it has been developing. The Pentagon was listed among the targets.
The TV presenter was Dmitry Kiselyov, a Russian journalist whom Putin named to head the Russian state news agency Rossiya Segodnya in 2013. He is known to use bellicose language in his programs.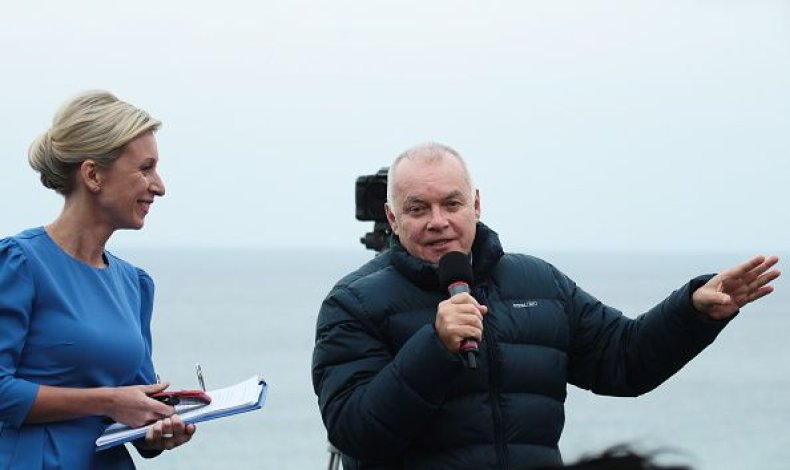 The program aired after Putin used a press conference last Wednesday to warn that Russia is ready for a second Cuban missile crisis and would use hypersonic missiles against the U.S. and its NATO allies if needed.
But the Kremlin's official line has been slightly less threatening than Kiselyov's broadcast. Putin said he does not plan to deploy new missiles in Europe unless the U.S. does so first. On Monday, Kremlin spokesman Dmitry Peskov said Putin's comments about a potential military conflict with the U.S. were hypothetical.
"The president said that if our country is under threat and intermediate- and shorter-range missiles are deployed near its borders, a proportionate response will have to be made and our missiles targeted not only at the launchers but at the territories where the center of decision-making is located," Peskov told journalists during a press conference.
"Please remember that the president did not mention a single geographic name in this connection," he added.
Nevertheless, Peskov refused to comment on Kiselyov's broadcast, noting that the Kremlin does not "intervene in the editorial policies of our television channels, even government-run ones."
World leaders and analysts have launched new discussions about the potential for conflict between the U.S. and Russia after Washington announced it would abandon the Intermediate-Range Nuclear Forces Treaty that was signed between the U.S. and the Soviet Union in 1987.
The treaty prohibited the use of ground-launched ballistic and cruise missiles with a range of between 300 to 3,500 miles. Secretary of State Mike Pompeo has said the U.S. will leave the treaty because Moscow is not in compliance. The decision has sparked fears of an arms race. Russia, meanwhile, has been testing new hypersonic missiles that could be placed on ships and ready for use by 2020.
However, officials in Washington have noted that it would take months to decide whether to deploy new weapons that would violate the treaty's terms.