Russian State TV Talks of 'War Against Europe and the World' After Ukraine
Pro-Putin TV presenter Vladimir Solovyov has spoken about the next stage of the conflict in Ukraine leading toward a war "against Europe and the world" during his show on state-run channel Russia-1.
"I believe the special military operation is entering a new stage," said the Russian journalist, talking to six guests on his show, Evening with Vladimir Solovyov, in a video widely shared on Thursday.
"Ukrainians alone are no longer enough. Now they're talking about NATO countries supplying de facto their own weapons," he said in a monologue. "We'll see not only NATO weapons being drawn into this, but also their operators."
"De facto we're starting to wage war against NATO countries. We'll be grinding up NATO's war machine as well as citizens of NATO countries," Solovyov said.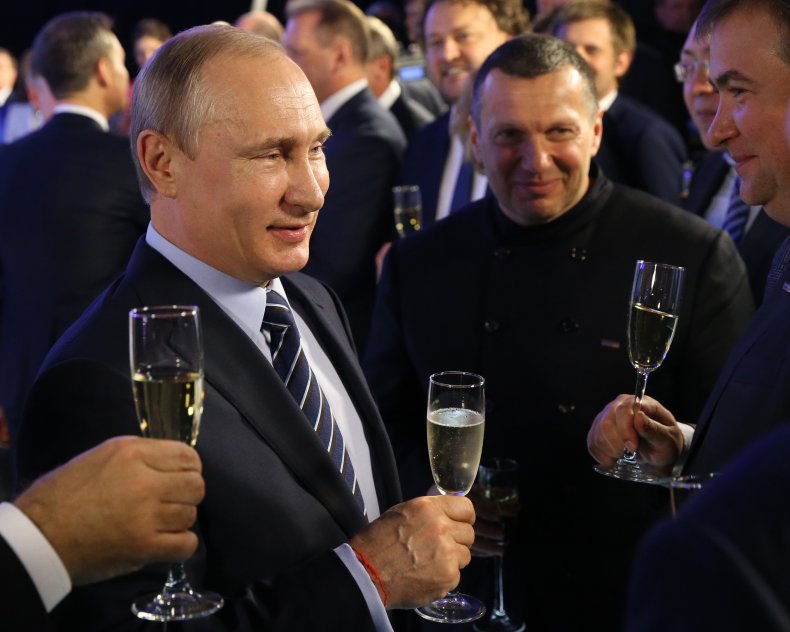 "When this operation concludes, NATO will have to ask itself: 'Do we have what we need to defend ourselves? Do we have the people to defend ourselves?' And there will be no mercy. There will be no mercy," he said.
"Not only will Ukraine have to be denazified; the war against Europe and the world is developing a more specific outline, which means we'll have to act differently, and to act much more harshly," Solovyov concluded in the clip shared on Twitter by former Swedish Prime Minister Carl Bildt, now co-chair of the European Council on Foreign Relations.
Solovyov, 58, is widely considered one of the main supporters of President Vladimir Putin on Russian TV. He has backed Putin through the annexation of Crimea in 2014, while condemning Western support for Kyiv.
Since the beginning of the Russian invasion of Ukraine on February 24, Solovyov has stuck to Moscow's line that the war is a "special military operation" aimed at "denazifying" Ukraine and liberating the Donbas.
When evidence emerged of Russia's suspected extrajudicial killings in the Kyiv suburb of Bucha, Solovyov made the nonsensical statement that "the massacre of Bucha is the work of British specialists because the words 'Bucha' and 'butcher' sound similar."
But his words on a global conflict are hard to ignore, and somehow echo what Ukrainian President Volodymyr Zelensky has been repeating since the beginning of the war in Ukraine: you're next.
Pleading for military and political support against the invaders, Zelensky has often told Western countries that Russia would come for them after they're done with Ukraine.
During an interview with ABC World News Tonight on March 8, Zelensky said: "Everyone thinks that we are far away from America or Canada. No, we are in this zone of freedom.
"And when the limits of rights and freedoms are being violated and stepped on, then you have to protect us. Because we will come first. You will come second. Because the more this beast will eat, he wants more, more, and more," he concluded.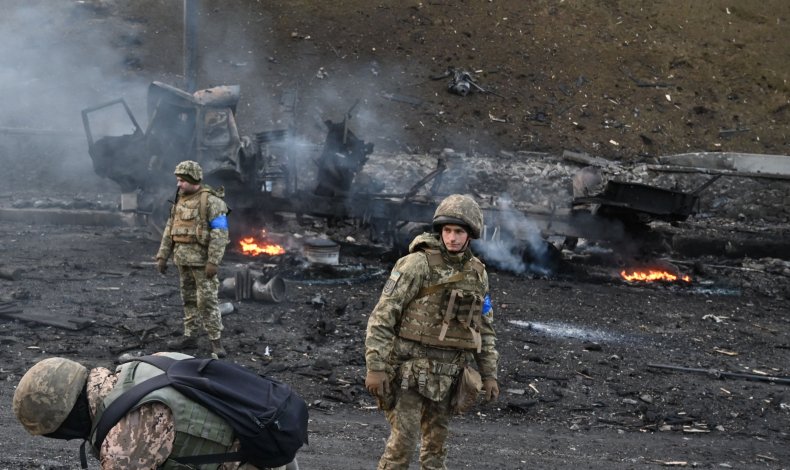 Russia has already issued a warning against Finland and Sweden's possibly joining NATO in the future, with its Foreign Ministry spokeswoman Maria Zakharova renewing the Kremlin's unspecified threat on Wednesday.
"They were informed about everything, what it will lead to," Zakharova said during an appearance on Russia-24, on the same day Finnish MPs were to begin discussing a potential application for accession to the North Atlantic Alliance.
"Under the auspices of the U.S., Brussels has been pulling Sweden and Finland into its structures for a while, there have been various hybrid measures on the actual pulling in, under the guise of drills or training sessions," Zakharova said.
"We made all our warnings—both publicly and via bilateral channels. They know about this, so there are no surprises," he said.
Solovyov's comments were neither repeated nor officially confirmed by the Kremlin, and it cannot be taken as a serious promise of global war from Russia.
Newsweek has contacted the Russian Foreign Ministry for comment.