Russia Wants Peace—Putin Loyalist
Russia wants peace and security while the West wants war, according to Professor Vladimir Avatkov, a loyal supporter of Russian President Vladimir Putin.
He made the claim while speaking on Russian state TV, a video of which has been shared by the Daily Beast's Julia Davis.
In the clip Avatkov speaks in Russian but an English translation runs along the bottom of the screen. It is unclear when the footage was recorded.
"Meanwhile on Russian state TV: Bringing you another report from behind the looking glass," Davis wrote as a caption for the video.
"The most deluded pundit, Professor Avatkov explained key differences between Russia and the West.
"Russia is all about peace and cooperation, while the West is all about war. Watch it and weep."
Russian President Vladimir Putin met with Turkmen President Serdar Berdimuhamedov, Azerbaijani President Ilham Aliyev, Kazakhstani President Kassym-Jomart Tokayev and Iranian President Sayyid Ebrahim Raisi for the sixth iteration of the Caspian Summit in the capital of Turkmenistan, Ashgabat, on Wednesday.
"We look at the images from NATO's Summit then we look at the images from the Caspian Summit, those images are drastically different," Avatkov said in the video, referring to the ongoing NATO meeting in Madrid.
"The Caspian Summit is in Ashgabat, the city of love, it's all about cooperation and these comrades over there in the West, in that small part of the world, for some reason, they're all about war.
"They're always all about war and we're always about cooperation. This is where Russia's position is so vastly different.
"The Russian position is all about peace and security versus the West, which undermines the security and does everything to disrupt all global connections, that is the main difference."
Avatkov went on to complain about international relations and the claims of "love" from Western nations.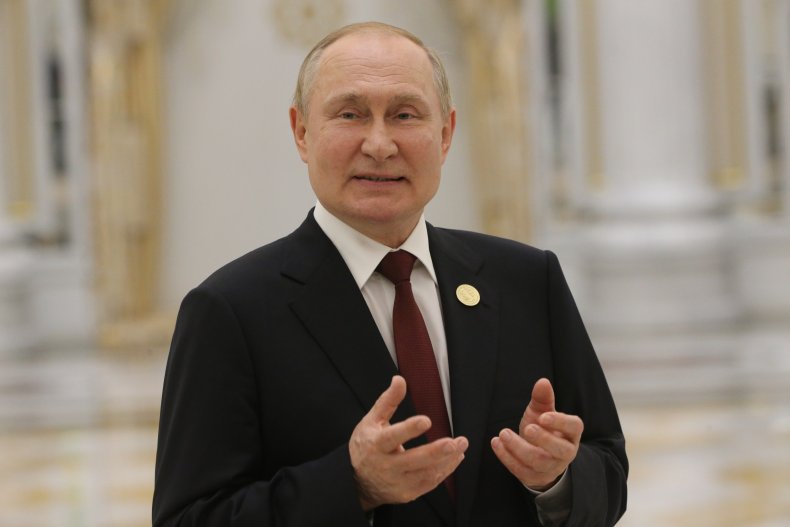 "There is no love in international relations," he continued.
"There are national interests and national values so when someone swears everlasting love, especially if it's Erdoğan or Western colleagues, we should immediately doubt it.
"There is no such thing as everlasting love"
Photos of the Caspian Summit have quickly circulated online, with many mocking the meeting's extra-large table compared to the smaller table used at the recent G7 Summit.
Putin was also mocked for meeting with foreign leaders and members of his own government at an unusually large table in Moscow earlier this year.
Newsweek has contacted Russia's Ministry of Foreign Affairs for comment.