Kremlin 'Didn't Take It Far Enough' in WWII, Russian Lawmaker Says
A Russian politician and Kremlin propagandist said Russia was sure to win the war that would not only bring peace to Ukraine but "everywhere," appearing to suggest that the Soviet Union had not succeeded in doing so during World War II.
Andrey Gurulyov, a Russian parliament (Duma) member and former military commander, made the remarks during a segment on state television channel Russia-1, alongside Margarita Simonyan, who is a TV host and editor-in-chief of the state-sponsored RT, and Vladimir Solovyov, a television anchor.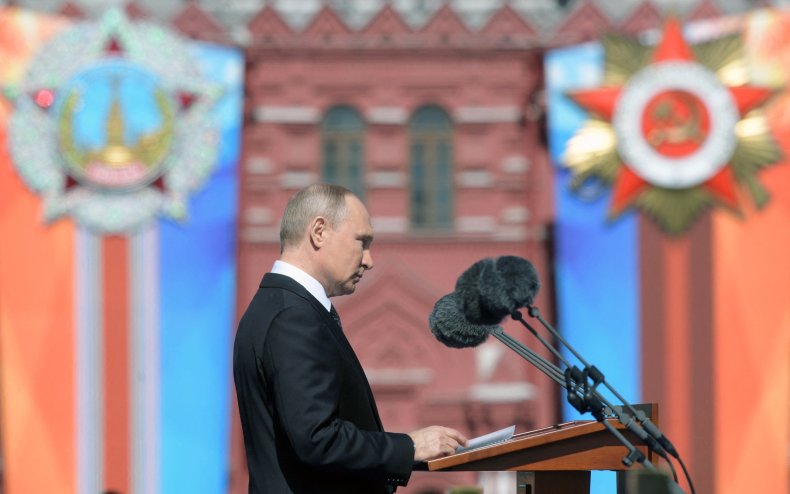 A video of the Gurulyov's comments was shared on Twitter on Sunday night by Daily Beast columnist Julia Davis.
"Meanwhile on Russian TV: State Duma member Andrey Gurulyov, former deputy commander of Russia's southern military district, argues that striking America with nuclear weapons is the only way forward, because Russia brings peace and calm everywhere it goes," Davis tweeted as a caption.
Putin has often referenced World War II to justify his full-scale invasion of Ukraine. On February 24, 2022, the Russian leader said his "special military operation" aimed to "denazify" Ukraine. And, speaking at the 77th annual celebration of the defeat of Nazi Germany in May 2022, he told Russian soldiers that they were "fighting for the same thing their fathers and grandfathers did."
Ukraine was part of the Soviet Union but became occupied by Nazi Germany in 1941. Part of the population initially welcomed the Germans as liberators though resistance to the occupation did eventually take shape. Soviet forces reclaimed all of Ukraine by the end of October 1944. After the war, the Soviet Union's sphere of influence encompassed much of Central and Eastern Europe.
Gurulyov began by saying that Russia must make plans "beyond the horizon" so that "we know what happens in one year, three years, five years and 10 years and harshly move towards it in this paradigm."
"We will win, 100 percent," he asserted. "Where? Everywhere! Everywhere!"
"And this is by far not about Ukraine. Everywhere! Russia was, is, and will be a great nation, capable of bringing peace. Peace is the key word! We bring peace and calm!" Gurulyov continued.
"But we have to draw the conclusion that we didn't take it far enough in 1945. Today, we have to keep pushing to make sure there is no danger and trouble for our country ever again," the politician added.
It is unclear what exactly Gurulyov—deputy commander of the Southern Military District between 2016 and 2019—meant by this statement but he has consistently made controversial remarks on the Russia-1 program throughout the conflict in Ukraine.
He said on state television earlier this month that if Russia had wanted to kill Ukrainian President Volodymyr Zelensky, it would have already done so.
"If a nail had to be hammered into Zelensky's coffin, it would have been done a long time ago, I assure you," he said on Russia-1. "No such goal or objective was set. That is why Zelensky is alive at this stage."
And in October 2022, he suggested that Russia had no choice but to freeze and starve Ukrainian civilians, referring to the mass strikes Moscow has carried out on Ukraine's critical infrastructure in recent months.
Newsweek has contacted Russia's Foreign Ministry for comment.
Do you have a tip on a world news story that Newsweek should be covering? Do you have a question about the Russia-Ukraine war? Let us know via worldnews@newsweek.com.
Update 01/30/23, 1:27 p.m. ET: This article was updated to clarify the headline.