Is Russia Still a Great Power? | Opinion
On paper, Russia could very well be considered one of the more formidable states in the international system. The country has more than 5,900 nuclear warheads, a permanent seat at the U.N. Security Council, and significant influence in world energy markets. Russian President Vladimir Putin's war of choice in Ukraine, however, has raised a critical question the strongman is too frightened to ask himself: Is Russia still a great power?
Before the conflict in Ukraine erupted in February 2022, Russia was widely seen as a force to be reckoned with. Sure, the Russian economy was smaller than Italy's. The Russian budget relied extensively on oil and gas exports. And the Russian military was largely untested in conventional warfare, with the Kremlin increasingly turning to mercenaries in locales like Mali, the Central African Republic, and Syria instead of professional soldiers. But there was a general assumption that Moscow had the capacity and motivation to effectively pursue their security interests—with force, if necessary.
Yet the geopolitical, economic, and military situation Russia is facing today, with its forces taking immense casualties on the battlefield and Putin ordering a partial mobilization of 300,000 reservists, suggests a declining power that is increasingly struggling to tread water.
The war in Ukraine has exposed the Russian military to be a barely reformed version of the old Red Army. Russia's numerical advantage over Ukraine in personnel (2.9 million men under arms compared to Kyiv's 1.1 million), armored fighting vehicles (15,857 to Kyiv's 3,309), aircraft (1,391 to Kyiv's 132) and other weapons platforms has been undermined by Russian military incompetence, poor planning, and a dismal logistics system. Russian troops are overstretched, over-worked, and increasingly demoralized in the field. If the Russian military retreat from Kyiv in April highlighted the shoddy state of the Russian military's supply chain, its rapid withdrawal south of Kharkiv this month (which allowed the Ukrainian military to recapture more than 3,000 square kilometers of land in a manner of days) exhibited the poor tactical acumen of the Russian military command.
The annual $150-$180 billion the Kremlin poured into the Russian military budget between 2014-2019 has resulted in the Russian army occupying around one-fifth of Ukraine, but at the cost of a high attrition rate that climbs by the day. In August, the Pentagon assessed as many as 80,000 Russian troops may have been killed or injured over the last seven months. Moscow is running out of precision-guided munitions, is resorting to the use of S-300 anti-aircraft missiles for strikes on ground targets, and is apparently so desperate for munitions and surveillance assets that they've approached North Korea and Iran for military assistance.
Economically, Russia is confronting numerous problems. While earlier predictions of a 15 percent contraction have proven to be overblown, the European Union has enacted sweeping trade restrictions, export controls, and energy sanctions on Moscow. A trade relationship that was once worth €258 billion is now under immense strain as Putin reduces natural gas supplies to Europe and European governments cut technology and manufacturing exports to Russia. Moscow's decision to leverage gas supplies has destroyed its reputation as a reliable energy producer in a few short months.
The U.S. export controls on dual-use technologies will diminish multiple Russian industries over the long-term. According to a report compiled for the Russian government, everything from agriculture, manufacturing, pharmaceuticals, and telecommunications could be negatively affected by bans on foreign products. The lack of U.S.-designed semiconductors has the Russian military scouring the world for the chips that can power its high-tech weapons systems, and it also leaves Russia noncompetitive in relation to other states. This will force Putin to increase his dependence on China, which exposes Russia to potential blackmail.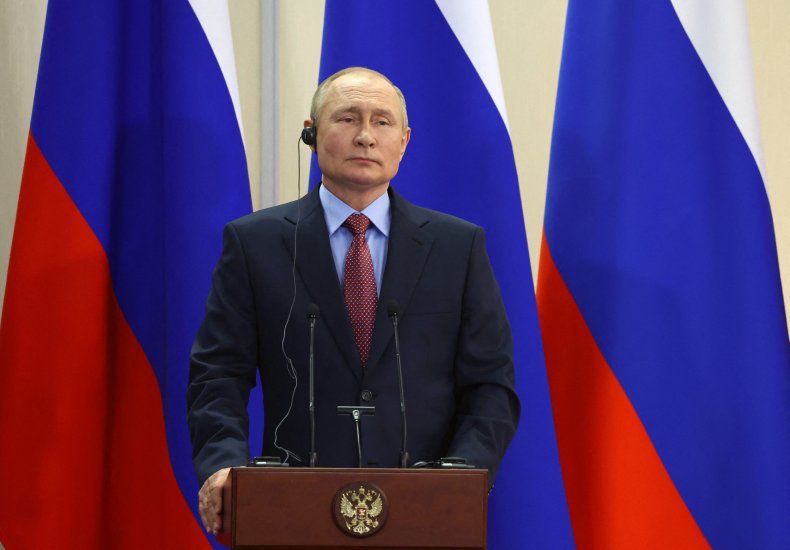 The situation doesn't look especially promising for the Russians in the diplomatic sphere either. While Moscow has been able to rely to some extent on countries in Africa, Asia, and Latin America that view the conflict in Ukraine as an out-of-area struggle, patience is beginning to wear thin. Indian Prime Minister Narendra Modi, who was previously unwilling to talk much about the war, all but warned Putin during the recent Shanghai Cooperation Organization summit that Russia needs to end the fighting as quickly as possible. Putin's budding "no limits" partnership with China's Xi Jinping looks strong on its face (Russia-China bilateral trade is up 29 percent over the first seven months of the year), but Beijing, worried that breaching U.S.-imposed export controls would hit the Chinese economy hard, has been far less helpful than Russia would have liked. Putin's admonition that China has issues with Russia's military campaign reinforces what CIA Director William Burns concluded months ago: Beijing is "unsettled" by the economic and geopolitical repercussions of the war.
Despite Kyiv's impressive military successes, the war is not over. The Russians have a lot of combat power left, and nobody should underestimate their capacity to inflict damage on Ukraine's civilian infrastructure. But when history is written, it will be interesting to see whether Vladimir Putin, who fancies himself as a 21st century Peter the Great, is instead remembered as the man who gambled away Russia's great power status.
Daniel R. DePetris is a fellow at Defense Priorities and a foreign affairs columnist at the Chicago Tribune and Newsweek.
The views expressed in this article are the writer's own.