Russia Strikes Targeting Ukrainian Civilians Worsen Displacement Crisis
The attention of the world's refugee aid community seeking to provide relief to those made homeless in the Ukraine war has focused primarily on the nearly 8 million Ukrainians who have crossed into Europe, who can still count on comparatively generous government assistance packages from their host nations.
But it's another story entirely for the nearly 6 million people displaced within Ukraine, who are either unable or unwilling to leave their homeland, and must try to survive on a 2,000 hryvnia ($50 U.S.) government stipend per month, what they can find in internationally donated humanitarian aid, and not much else.
As a result, a wide network of aid groups, largely staffed by displaced Ukrainians themselves, has risen up to meet the needs of those forced to flee from active war zones.
"Our German partners supplied us with the buses, but it's Ukrainian volunteers who do the work on the ground," Oleh Mykhailyk, Chairman of the Odesa-based aid organization Plich-o-Plich (Side-by-Side), told Newsweek.
From the start of the full-scale war last February, Plich-o-Plich began sending its buses into occupied cities including Kherson, Nova Kakhovka, and Nikopol, rescuing thousands of Ukrainians from life under Russian occupation. They had to pay "transport taxes" in order to send vehicles into and out of occupied regions, and, at one point, one of their buses was seized and stripped of its wheelchair ramp before being exchanged for ransom, but at least it was possible to rescue some of those Ukrainians who wanted to escape occupation.
Still, they could not evacuate many of those who faced the gravest danger.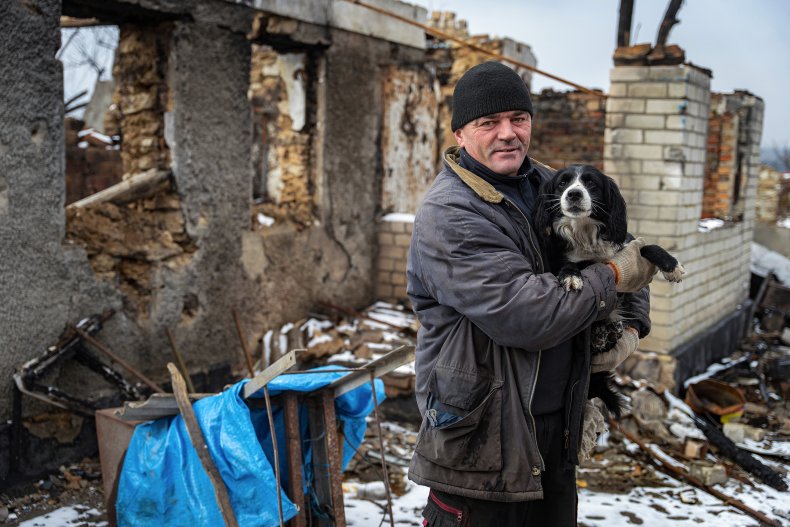 "When the Russians came, they had lists of civil society activists who they targeted for neutralization," Mykhailyk said. "In Kherson, many of these people disappeared."
"I myself was on a similar list which would have become relevant had Russian troops occupied Odesa," he added.
After the liberation of Kherson city by Ukrainian forces on November 11, 2022, residents were no longer faced with the threat of abduction and torture at the hands of Russian forces; however, they were now faced with the threat of seemingly random artillery and rocket strikes. Since retreating from the city, Russian forces on the opposite bank of the Dnipro River have carried out retributive strikes against the Ukrainian population in and around Kherson. As a result, the Plich-o-Plich office is now decorated with the remnants of Russian rockets gathered from destroyed hospitals, schools, and homes.
Most of those working in the office are themselves evacuees from the Kherson region. They speak first hand of the terror bombing campaign Russia is carrying out on territory that the Kremlin still claims as Russia's own.
"During the occupation, if you heard an explosion in the city, you didn't even feel the need to get out of bed," Galina, one of the Plich-o-Plich volunteers told Newsweek. "Any strikes on the city back then were done by Ukrainian forces using HIMARS, and they hit military targets with jeweler's precision."
That situation changed after the city changed hands.
"After the liberation, when it was the Russians shooting into the city, they were only hitting civilian objects," Galina said.
A key moment in this Russian terror campaign came on December 24, when Russian artillery struck the central market in downtown Kherson.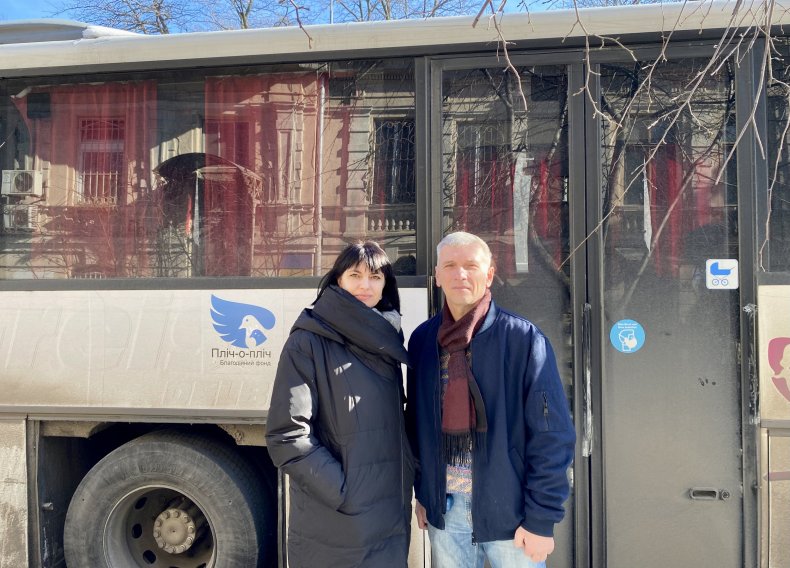 "The 24th of December was a decisive moment for a lot of people," Galina recalled. "I passed by the market on a mini-bus a few minutes before the strike. I remember seeing a girl in a red coat selling SIM-card starter packets on the sidewalk. A few minutes after the strike, I passed by the market again, and the girl in the red coat was lying on the sidewalk."
"It became clear that any trip into the city center—for groceries, medicines, for anything—could be your last," she added.
While Galina works to organize housing for evacuees and aid shipments to those still in Kherson, 450 kilometers away, in the city of Dnipro, displaced Ukrainians from the eastern Donbas region are also working to aid their former neighbors. The Dnipro division of HelpAge International, a London-based charity that focuses on providing support for older people, is, like the Plich-o-Plich office in Odesa, staffed largely by Ukrainians displaced from the regions that they are working to help.
Among the HelpAge staff, however, the experience of being displaced by a Russian invasion is not new. In 2014, after Russian forces seized control of the eastern Ukrainian cities of Donetsk and Luhansk, HelpAge established an office in Kramatorsk in order to aid elderly residents affected by the less-than-full-scale war that continued unabated in the Donbas from 2014-2022. Many of the HelpAge staff members currently in Dnipro (and also at the organization's Lviv office) were displaced in 2022 by increased fighting in towns such as Kramatorsk, Severodonetsk, and Bakhmut after having been displaced from Russian-occupied Luhansk or Donetsk back in 2014.
"It sounds strange to put it this way, but it's an advantage that, when the population we were aiding before the war was forced out of their homes, those doing the helping were displaced right along with them, so vital care and support could continue," Simon Harris, head of the Dnipro HelpAge office, told Newsweek. "Our staff members are people who could have gone to Europe and found much better-paid work, but they're here because, like the older people we support, they want to help everyone affected and also to be able to go home again."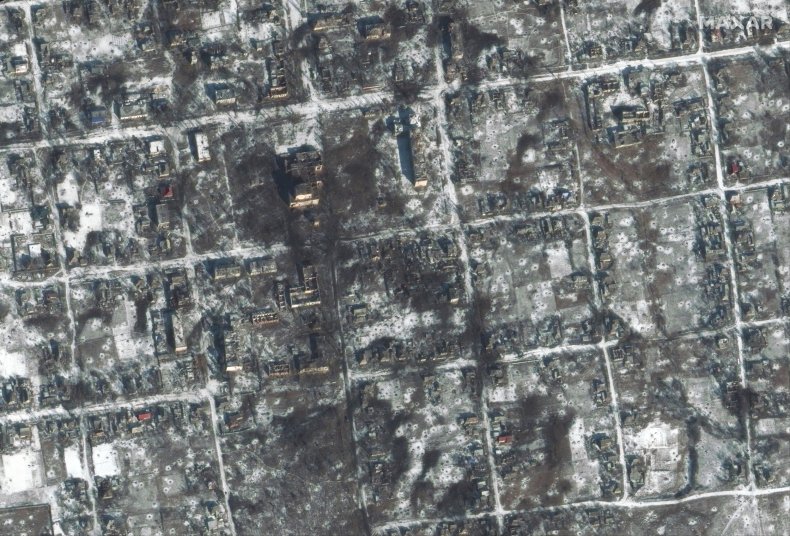 But for many Ukrainians who were displaced in 2022, going home again will not be an option anytime soon. In many cases, their homes either no longer exist, or else their hometowns have been so damaged by shelling as to be all but uninhabitable. For warzone residents with special needs, displacement presents an added challenge.
Here, too, a charitable organization staffed largely by displaced Ukrainians is meeting the critical need. "Ocean of Good," also located in Dnipro, cares for some of Ukraine's most at-risk evacuees until more permanent treatment options in Europe or Western Ukraine can be found for them.
On the day Newsweek visited the center, director Olga Volkova was managing multiple crises, from arranging for the arrival of an elderly new couple to making sure that the newest shipment of donated adult diapers was unloaded from the delivery truck in a timely manner. One crisis, however, brought her to tears.
"A man paid good money to a state hospital so that they would care for his relative," Volkova said while showing photographs of an older woman's posterior covered in gauze held in place by scotch tape. "Now, because the hospital did not have proper gel bandages, she has a horrible infection, and she needs to come to us."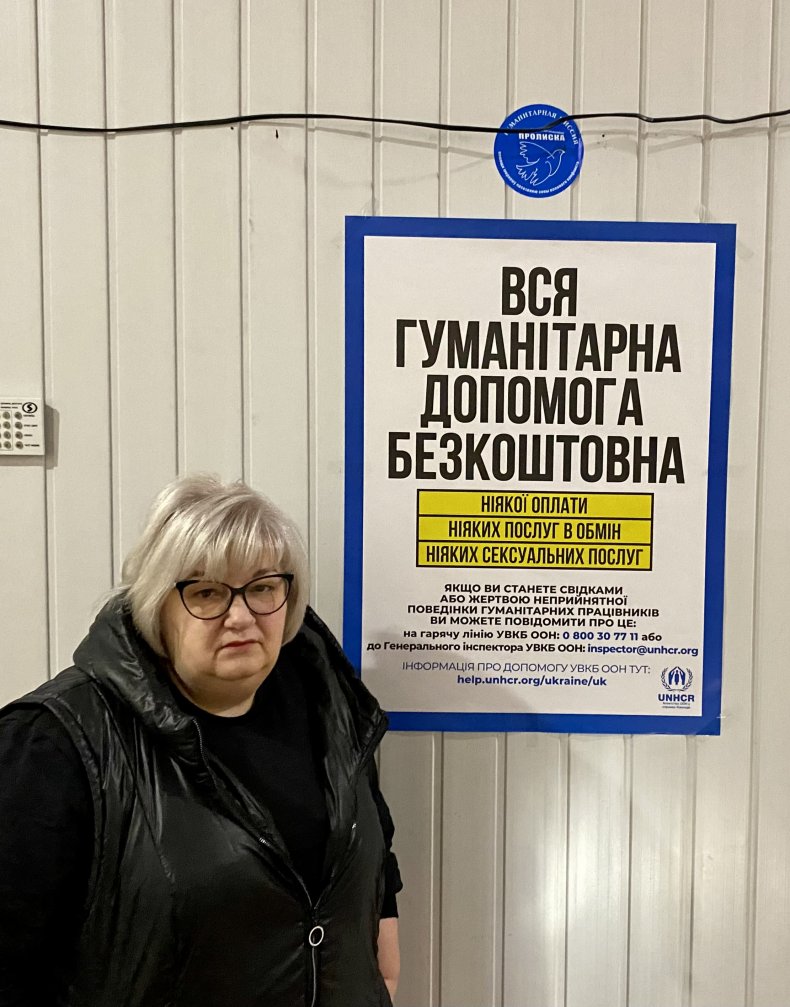 The photographs of the resulting wound were ghastly, and Volkova, having spent most of the previous 30 minutes helping the center's orderlies to make the new resident as comfortable as possible, was visibly emotional.
"I get asked sometimes how many times per day I cry," she said. "I don't know the answer, but I do know that if we weren't doing this work, then a lot of this work wouldn't be done."
Despite the fact that Volkova's organization is not a hospital, it is often able to provide its residents with better levels of care precisely because those working there are committed to the mission of helping those most in need. True to form, many of the orderlies and maintenance workers at the Ocean of Good center are themselves recent evacuees from the Donbas.
Irina and Valeriy, a couple in their 60s from Severodonetsk, arrived at the center after evacuating from their home in March. They now live in the facility, helping to change diapers and unload delivery trucks in exchange for room, board, and the satisfaction of belonging to a community.
"I don't know what we would have done without this place," Valeriy told Newsweek over a lunch of cutlets and wheat kasha in the center's cafeteria. "Maybe we could have found a way to make ends meet somewhere in Western Ukraine, but we have friends who returned home, to a city under occupation, because life in Ukraine was just too expensive for them."
Thanks at least in part to Ocean of Good, Irina and Valeriy do not need to contemplate such a move.
"We want to go home, of course," Irina explained. "And when Severodonesk is liberated, we will visit and celebrate."
"Then," she added, "we'll come right back to Dnipro and continue working at the center."