Russia Struggling to Repair Thousands of Military Vehicles in Ukraine—U.K.
Russia is likely continuing to "struggle" to extract and repair "thousands" of military vehicles that have been damaged during the war in Ukraine, according to a U.K. intelligence report.
Russian President Vladimir Putin invaded Ukraine on February 24, in what he called a "special military operation" against what he said was the eastward expansion of NATO and with an aim of "de-nazifying" Ukraine's leadership. Ukrainian President Volodymyr Zelensky is Jewish and several of his relatives were killed in the Holocaust.
In its daily intelligence update, the U.K. Ministry of Defense said: "Inconclusive fighting continues in both the Donbas and Kherson sectors. Russian commanders continue to face a dilemma; whether to resource the offensive in the east, or to bolster the defence in the west."
The update noted that on July 18, British intelligence identified a Russian military vehicle refit and refurbishment facility near Barvinok, in Russia's Belgorod Oblast, 10 kilometers (about 6 miles) from the Ukrainian border.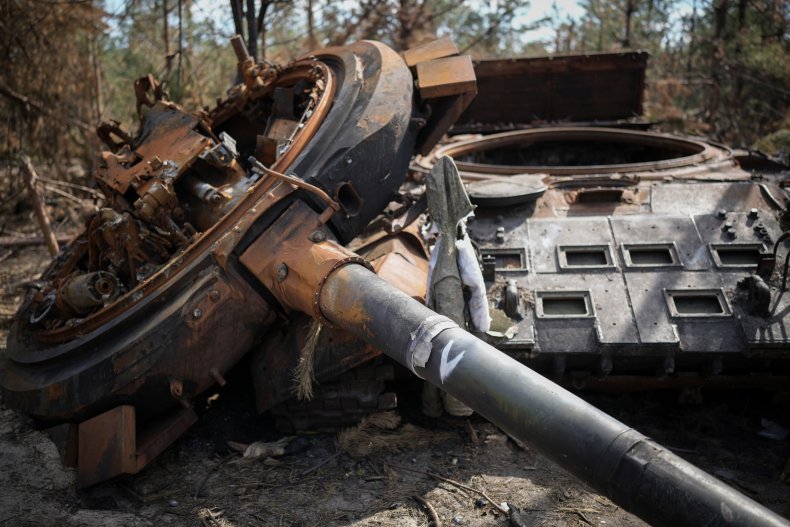 "At least 300 damaged vehicles were present, including main battle tanks, armoured personnel carriers, and general support trucks," the update said.
"In addition to its well documented personnel problems, Russia likely continues to struggle to extract and repair the thousands of combat vehicles which have been damaged in action in Ukraine."
Newsweek has contacted Russia's Foreign Ministry for comment.
Thousands of military personnel have died since the war began, while millions in Ukraine have been displaced from their homes.
Moscow has reportedly charged 92 members of Ukraine's armed forces with crimes against humanity.
Alexander Bastrykin, head of Russia's investigative committee, told government news site Rossiiskaya Gazeta on Sunday that more than 1,300 criminal investigations have been launched and some 96 people are wanted—in addition to the 92 charged—including 51 Ukrainian army members.
Earlier in July, Ukraine said it was investigating more than 21,000 war crimes and crimes of aggression allegedly committed by Russian military during the war.
On Friday, Ukraine, Russia, the U.N. and Turkey agreed on a deal to unblock Black Sea ports to release tens of millions of tons of Ukrainian grain, to avert a global food crisis. Ukraine is the world's fifth largest grain exporter, according to the Observatory of Economic Complexity.
As well as being an important deal for global food security, it was also the first significant agreement between the two parties since the beginning of the war.
However, only a day later, a Ukrainian ship carrying grain out of Odesa, the country's largest port, was bombed. Kyiv has blamed Russia. Ukraine's Foreign Ministry on Saturday said Putin "spit" in the face of the U.N. and Turkey by violating the agreement.