Russia has offered its support to Iraq, Syria and Lebanon⁠—three countries reportedly attacked by Israel as part of a cross-borders campaign against Iran and its regional allies.
Deputy Foreign Minister Mikhail Bogdanov, Russia's special presidential envoy for the Middle East and Africa, met Tuesday in Moscow with Iraqi national security adviser Faleh al-Fayad, who also serves as chairman of the state-backed Popular Mobilization Forces. The two shared "a thorough exchange of views on pressing issues of the Middle East agenda with a focus on the situation in Iraq and neighboring Syria," according to the Russian Foreign Ministry.
They were said to have discussed "the need for further concerted efforts aimed at maintaining security and stability in the region and countering international terrorism, specifically, ISIS," officially known as the Islamic State militant group. The Russian side also "reaffirmed its principled position in support of the unity, sovereignty and territorial integrity of friendly Iraq."
Though they now constituted an official wing of the Iraqi armed forces, the Popular Mobilization Forces also have links to Iran and were one of the Islamic Republic's Arab partners to be targeted within a day of one another last week, losing a field commander in Al-Qaim. Though Israel has not claimed responsibility for all of the attacks, including the one that took place in Iraq, it has widely been seen as part of a broadening anti-Iran campaign that has frustrated Russia.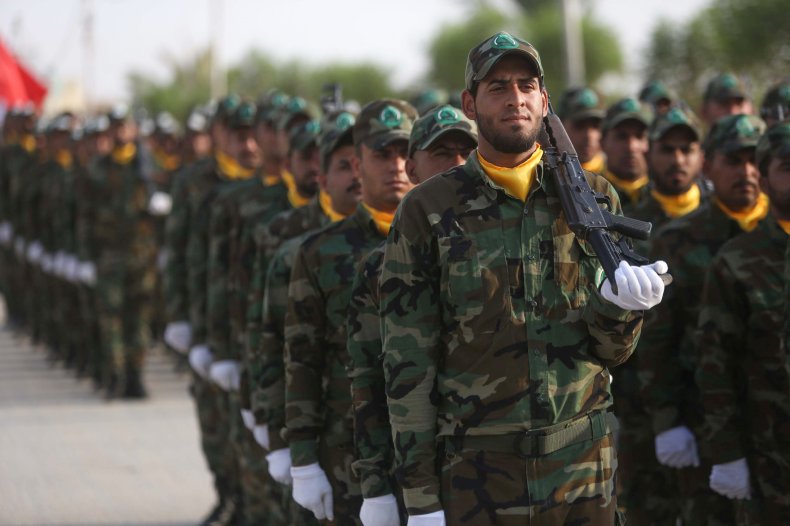 In 2015, Russia joined Iran in backing Syrian President Bashar al-Assad as he faced off with a rebel and jihadi uprising that erupted in 2011 and expanded with the support of the United States and its regional allies, including Israel, Qatar, Saudi Arabia and Turkey. Moscow's intervention helped the Syrian government reassert control over much of the country, but also assisted the proliferation of Iran-backed militias deemed a threat by neighboring Israel, which stepped up its campaign of airstrikes against these groups.
Russia has attempted to balance its ties with Iran and Israel, supporting Tehran's role in the conflict and its wider regional role, while at the same time attempting to keep its allied militias away from the Israeli border and not intervening against Israeli strikes, though it has condemned them. In the latest instance, Israel killed what it said were two operatives of Lebanon's Shiite Muslim Hezbollah movement in the Syrian village of Aqrabah as they attempted to plan a "killer drones" attack on Israel.
Since forming with Iranian support amid the Lebanese Civil War in the 1980s, Hezbollah has clashed directly with Israel on a number of occasions, including two all-out wars, both of which ended with Israeli withdrawals. Since their last conflict in 2006, the two have avoided a fight on Lebanese soil, but a day after being targeted in Syria, two drones—at least one of them believed to be laden with explosives—targeted Hezbollah's media center in southern Beirut last Sunday.
After Hezbollah Secretary-General Hassan Nasrallah vowed retaliation, Israel reportedly conducted another attack the following day on a base operated by the Palestine Liberation Front - General Command, another group fighting on behalf of the government in Syria, in eastern Lebanon's Qusaya. Both incidents, coupled with the latest attack in Syria, caught Moscow's attention.
"Another escalation of tension in the region is causing serious concern in Moscow," the Russian Foreign Ministry said last week. "The Russian side has repeatedly pointed out the dangers of such actions in an extremely heated regional atmosphere and warned that they could lead to a large-scale armed conflict with unpredictable consequences. Once again, we call on all parties to maximize restraint and strict observance of international law, including relevant U.N. Security Council resolutions."
The next day, the ministry said Lebanese Prime Minister Saad al-Hariri "asked Russia to use its authority and influence to prevent a further escalation of tensions between Israel and Lebanon that would threaten regional security" in a conversation with Foreign Minister Sergey Lavrov. Moscow "reaffirmed its commitment to the sovereignty, independence, territorial integrity and stability of friendly Lebanon and underscored the need for unfailing compliance by all sides with international law."
Hariri had also earlier spoken with Secretary of State Mike Pompeo and did so again this Sunday, after Hezbollah reportedly blew up an Israeli armored vehicle and Israel conducted strikes on the group's positions in cross-border attacks. In separate calls to Pompeo and an adviser to French President Emmanuel Macron, Hariri's office said he asked "for the intervention of the United States, France and the international community in the face of the developments on the southern border."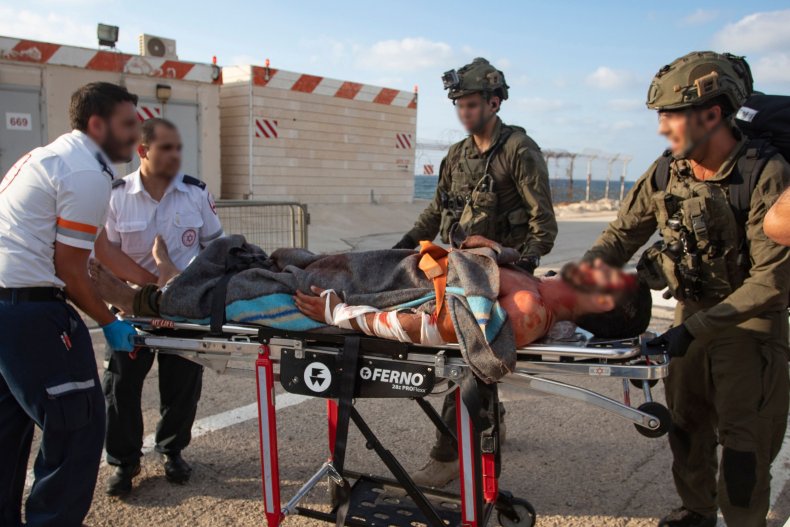 The U.S., however, has largely backed Israel in its attacks on suspected Iran-linked targets, with Pompeo telling the Hugh Hewitt Show on Thursday that "the United States has made very clear that that country has not only the right but the duty to protect its own people." He said President Donald Trump's administration "will do all that is necessary to ensure that our great partner in Israel will be protected" from both threats on the ground and from criticism at the United Nations.
Despite its strategic partnership with Iran, Russia too has continued working with Israel. Israeli Prime Minister Benjamin Netanyahu told his cabinet Tuesday that "there is a current effort to hold another trilateral summit with Russia, the U.S. and Israel here in Jerusalem, to continue discussing Iran's removal from Syria."
Russia has called for an eventual end to all foreign presence in Syria, however, it has so far continued to back Iran's role in Syria. Russia has also rejected U.S. attempts to form an international coalition—an initiative for which Israel has expressed interest—in the Persian Gulf, where Washington has blamed Tehran for disrupting commercial traffic—and has criticized Trump's exit last year from a 2015 nuclear deal with Iran, still supported by China, the European Union, France, Germany, Russia and the United Kingdom.
While Iran worked with Russia and Turkey as part of a trilateral peace process in Syria, Iranian Foreign Minister Mohammad Javad Zarif has also traveled nearly non-stop in an effort to shore up international support for the nuclear deal and counter U.S. efforts to isolate his country, most recently following up a visit to Moscow by returning to Tehran in anticipation of embarking next for the capitals of Bangladesh and Indonesia.