Russia and Syria Claim Rebels Won't Let Civilians Go As Bombing Continues in Ghouta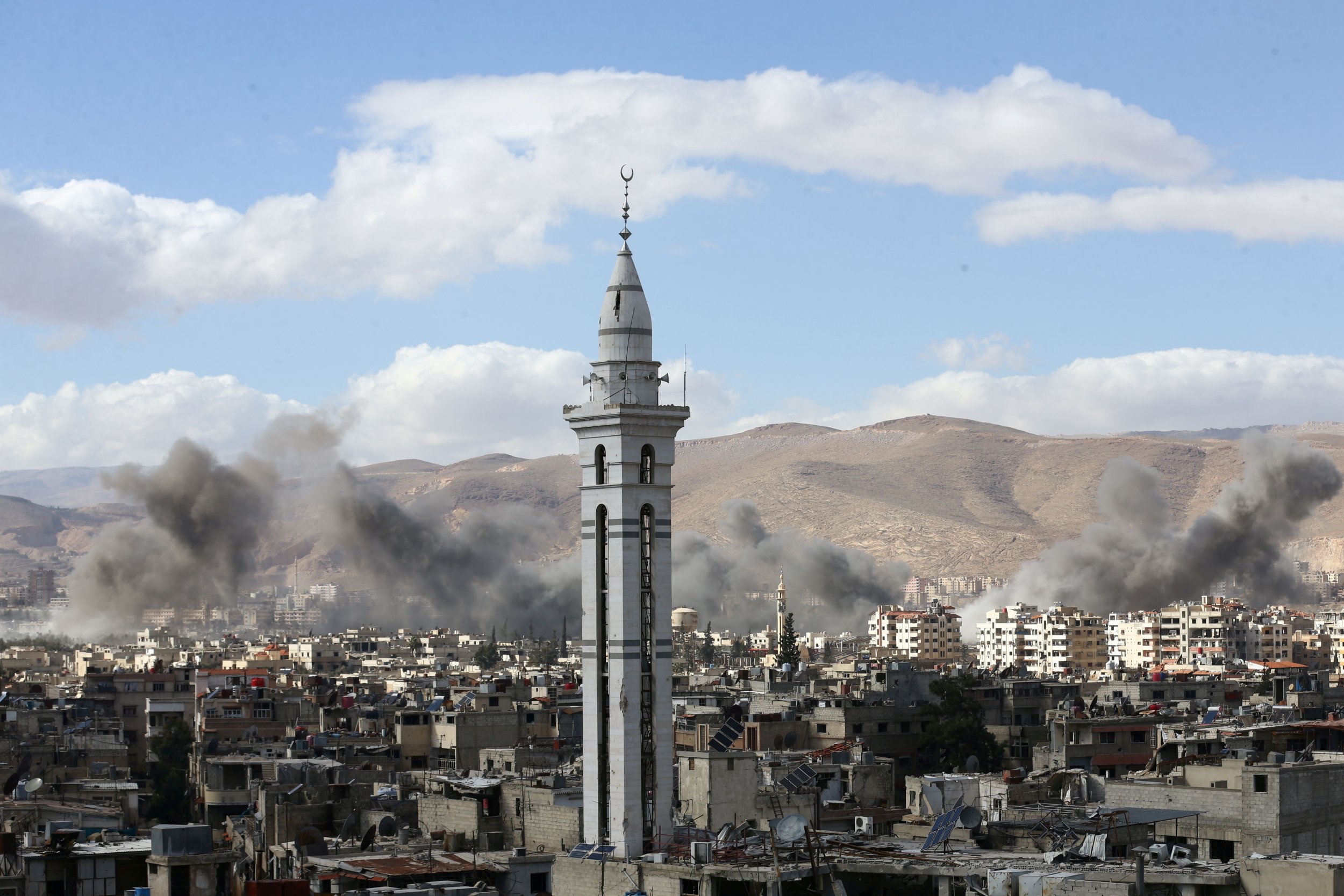 Russia and Syria have accused insurgents of attacking civilian crossing points in the eastern Ghouta region, as the United Nations called on the two country's militaries to respect a ceasefire in the besieged Damascus suburb.
Russia, an ally of Syrian President Bashar al-Assad, announced Monday that it would open humanitarian crossings to allow civilians to escape from eastern Ghouta, parts of which have been under control by various armed rebel and jihadi groups since 2013. Russian and Syrian aircraft have assisted Syrian troops and various Iran-backed militias in an attempt to reclaim the area for Assad, but the campaign has attracted growing criticism from Western powers such as the U.S., which once backed some of the rebel groups battling the Syrian government.
Related: Russia 'Seriously Alarmed' by U.S. Threat of Military Action Against Assad as Violence Continues in Syria
As Russia moved to enact a daily ceasefire between 9 a.m. and 2 p.m. local time, Russian Reconciliation Center head Major General Major-General Yuri Yevtushenko said Tuesday that anti-government forces fired mortars at the designated civilian crossing points and took advantage of the short-lived peace to stage a new offensive.
"During the humanitarian pause, militants from armed groups continued to attack government forces' positions in the areas close to the populated localities of Khazramah and al-Nashabiyah, launching an offensive in other directions after 13:00 [1 p.m. Syria time]. These actions were accompanied by artillery barrage and small arms fire," Yevtushenko said, according to the state-run Tass Russian News Agency.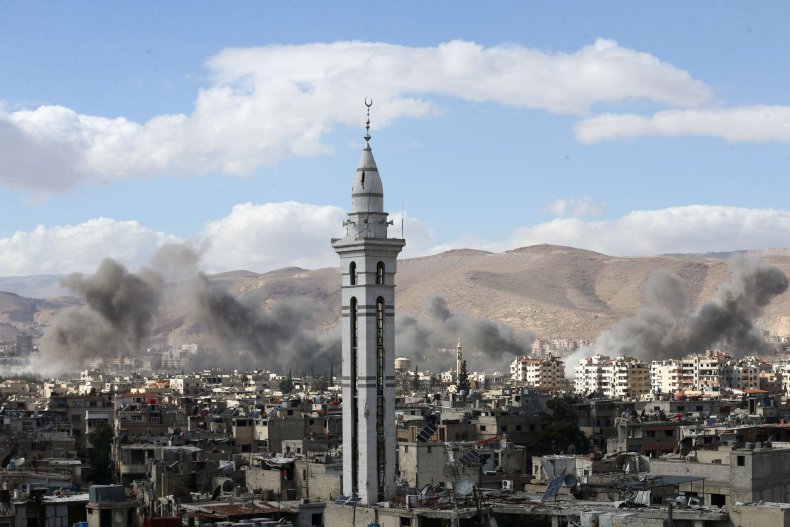 Unlike Russia, Syria and mutual ally Iran, Western powers have mostly blamed the growing humanitarian crisis in eastern Ghouta on pro-Syrian government forces. The U.N. and the Syrian Observatory for Human Rights, a U.K.-based monitor with ties to the opposition, said Syrian warplanes and helicopters continued bombing throughout Russia's five-hour ceasefire.
Forces battling the Syrian military and its allies were comprised of several factions who often clashed with one another as well. The jihadi coalition of Hayat Tahrir al-Sham included Jabhat Fatah al-Sham, the successor to the Nusra Front, once the Syrian branch of Al-Qaeda. Its main competitors were the Islamist coalition of Ahar al-Sham and Islamist groups Failaq al-Rahman and Jaysh al-Islam, an affiliate of the once CIA-backed Free Syrian Army.
Rebel groups protested Russia's ceasefire initiative, which followed the passing of U.N. Security Council 2401 on Sunday. Jaysh al-Islam argued the resolution did not call for civilians to leave, and Failaq al-Rahman said the Russian ceasefire was effectively an order for forced displacement of the local population, according to Al Jazeera. Russian Foreign Minister Sergey Lavrov dismissed their remarks during a press conference Tuesday with his French counterpart, Jean-Yves Le Drian.
"I will dare to disagree with Jaysh al-Islam's statement that Resolution 2401 does not allow...civilians flee eastern Ghouta and, therefore, they, accepting Russia's proposal on daily five-hour humanitarian pauses, do not let civilians who are willing to leave eastern Ghouta do so," Lavrov said, according to Tass.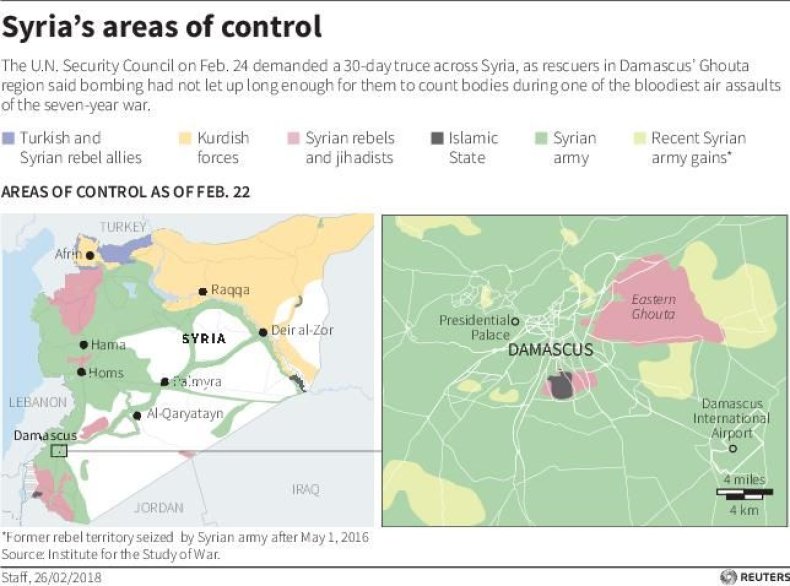 The complex relationship between Russia and the U.S.'s partners on the ground continued to play out in different ways elsewhere in Syria, where both sides staged massive campaigns to defeat the Islamic State militant group (ISIS). As both offensives converged in the eastern province of Deir Ezzor, the U.S.-led coalition has accused pro-Syrian government forces of unprovoked attacks and has responded with deadly force in ongoing clashes.
The Kurdish People's Protection Units (YPG), the main component of the U.S.-backed Syrian Democratic Forces, however, has allied with pro-Syrian government forces to repel a joint Turkish and Free Syrian Army offensive targeting Kurds in the northwestern district of Afrin. The Syrian government has labeled both U.S. and Turkish forces in Syria as invaders, while Turkey opposed both Assad and YPG's rule, which Ankara linked to the militant Kurdistan Workers' Party (PKK).