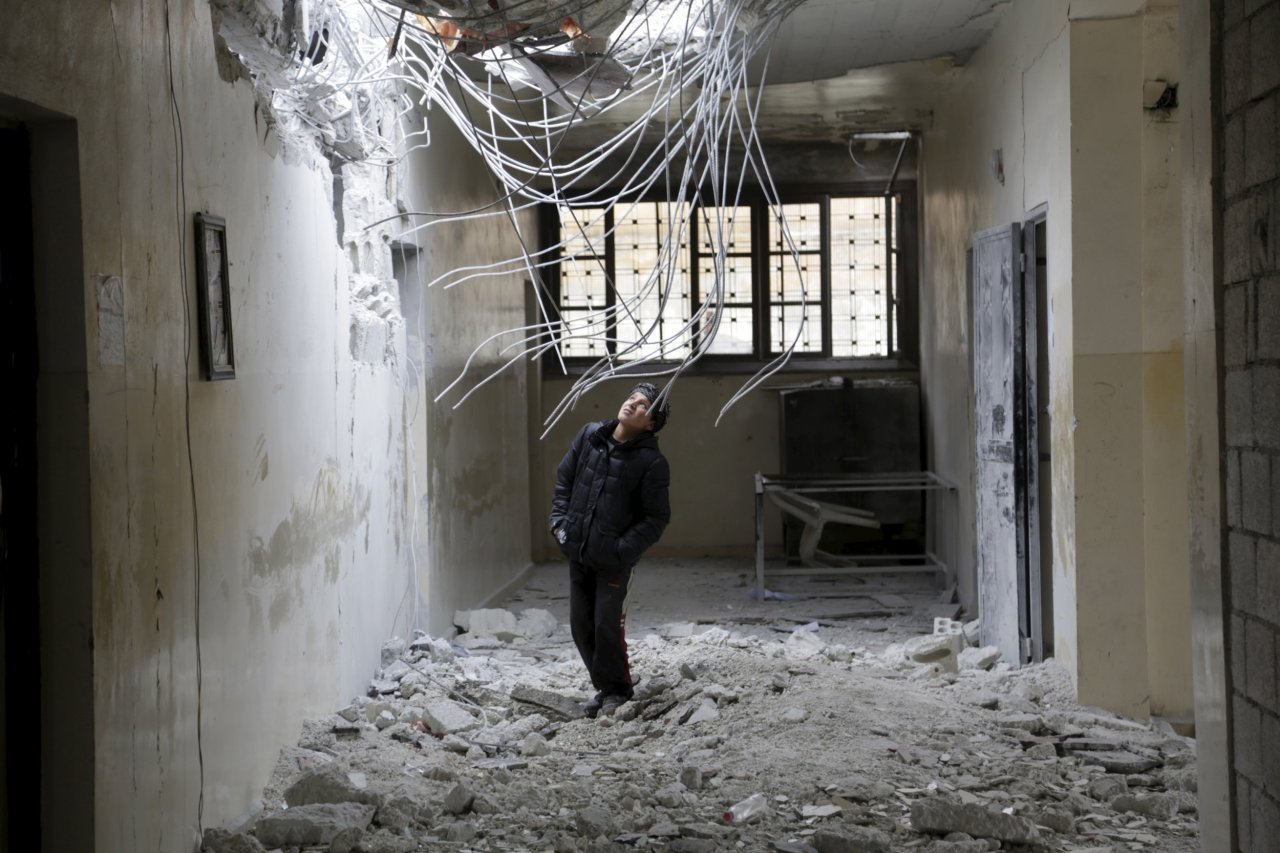 The balance has shifted in Syria's civil war—Russian airpower has tipped the scales decisively in favor of the Damascus regime. In the days before a partial cease-fire was brokered in Munich, troops loyal to President Bashar al-Assad backed by Iranian Revolutionary Guards moved to encircle Aleppo, the biggest city still in rebel hands, as Moscow's warplanes pulverized rebel positions. "The Syrian airplanes are attacking with bullets. The rockets are from Russian airplanes," Dr. Rami Kalazi, a neurosurgeon still working in an Aleppo hospital, tells Newsweek by telephone. "The past four days were stressful. Two or three massacres every day, at least, 40 or 50 people [being brought to the hospital] a day."
The government onslaught on the nearby towns of Nubl and Zahra threatens to cut off Aleppo from the last remaining road link to Turkey—and thousands of residents have chosen to escape before the fighting engulfs Aleppo. According to the United Nations, more than 45,000 refugees reached the Turkish border in the first nine days of February, with tens of thousands more internally displaced in the rebel-held city of Idlib. President Recep Tayyip Erdogan of Turkey said if Syrians "reach our door and have no other choice, if necessary, we have to and will let our brothers in." But in practice, Turkish authorities have been allowing only a trickle of the most recent wave of Syrians into their country, corralling most of the newcomers in giant camps on the Syrian side of the border. Ankara has also balked at EU plans to have Turkey accept more refugees in exchange for aid.
"We have taken 3 million Syrians and Iraqis into our home. How many did you take?" a visibly emotional Erdogan said to an audience of Turkish officials, denouncing a recent call by the U.N. for his country to accept more refugees. "Syria has turned into a...genocide. The Assad regime is the reason for this problem. What does the United Nations say? 'Open your door to those massed at your door.'"
The assault on Aleppo triggered a renewed flurry of diplomacy led by U.S. Secretary of State John Kerry, who has been trying for months to broker a cease-fire and develop a road map for a transitional government and, ultimately, new elections. In Munich, Kerry managed to reach a "cessation of hostilities" deal on Friday that would allow humanitarian aid into besieged rebel-held towns, but which did not exclude continued Russian bombing and would not go into effect for a week. In theory, Moscow backs the plan. In practice, though, many observers fear that Russia's true tactic is to play along with talks while doing all it can to help Assad's forces win on the ground.
The Munich deal allows the Russians to continue bombing "terrorist" targets—chosen in Moscow. "They are playing a game of rope-a-dope," says the University of Oklahoma's Joshua Landis, author of the influential Syria Comment blog. "Telling their opponents to talk themselves out while they go in for the kill." Russia's Defense Ministry said its planes were flying around 510 combat sorties a week from an airbase near Latakia, and the Russian Foreign Ministry's spokeswoman, Maria Zakharova, insisted that Moscow "has still not received convincing evidence of civilian deaths as a result of Russian airstrikes in Syria."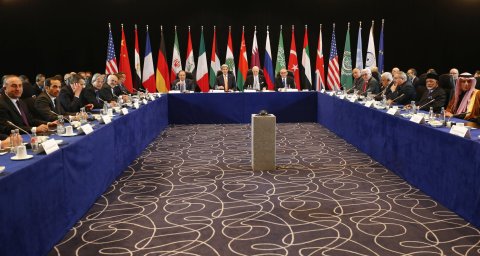 In addition to its decisive air support, Russia has been supplying state-of-the-art T-90 tanks to the Syrian army. "Capitalizing on the superiority offered by T-90 tanks, Syrian government troops and their allies encircled the important towns of Khan Tuman and al-Qarasi near the Aleppo-Damascus road," Iran's semiofficial Fars news agency reported. Russia has also been active on the ground, building cooperation between Assad and some of his former enemies. The official Syrian government news agency announced earlier this month that Russian officers met with Kurdish officials in northeast Syria to discuss military cooperation with Assad's government. According to the report—which the U.K.-based Syrian Observatory for Human Rights confirmed—Russia has deployed 200 troops to the Kurdish-controlled town of Qamishli on the Turkish border to secure a military airport for Russian use. At the same time, the self-proclaimed government of Kurdish-held northern Syria, known as the Rojava Self-Ruled Democratic Administration, opened its first overseas representative office in Moscow.
Much of northern Syria is controlled by the PYD, or Kurdish Democratic Union Party, and its militia. The PYD has close ties to the Kurdistan Workers' Party, or PKK, that has been fighting a 30-year-old insurgency against the government of Turkey. The Kurds are officially part of the U.S.-backed Syrian Democratic Forces, a coalition that includes Arab and Assyrian groups. But the U.S. is leery of giving the PYD too much support for fear of antagonizing its NATO ally Turkey—even though the Kurds have shown themselves to be the most effective, as well as the most moderate, rebel fighters on the ground in both Syria and Iraq.
Syria's Kurds, says Landis, "are in the business of winning. They are very interested in taking more territory around Afrin and Kobani. They need all the help they can get"—including from the Russians. "America is a fickle ally."
Assad may not favor Kurdish independence—his ambassador to the U.N. said in February the Kurds should "put ideas of autonomy out of their minds." But for Russia, the Kurds are a potentially valuable ally. And Moscow's airpower could transform the Kurds' fight against the Islamic State militant group in the same way it has boosted Assad's war machine, with dramatic results for the PYD's main battlefront against ISIS and the Nusra Front, Al-Qaeda's franchise in Syria, in the country's northeast.
The Turks, meanwhile, are horrified by what Mustafa Akyol, a columnist for the daily Hurriyet newspaper, called "a perfect disaster for Turkey"—the triple whammy of a massive influx of refugees, a revived Assad regime and an independent Kurdish area on their border. Could Turkey, with the second largest military in NATO, put boots on the ground to contain all three threats? Russia's Defense Ministry spokesman, Major General Igor Konashenkov, warned in early February that he had "significant evidence to suspect Turkey is in the midst of intense preparations for a military invasion into Syria." He cited surveillance pictures of military buildup near the Reyhanli checkpoint. Konashenkov also said that "militants [in] Aleppo and Idlib are being supplied with arms and fighters from Turkish territory."
A Turkish invasion remains unlikely, though Ankara has considered a limited intervention in Syria before: In 2014, it shut off access to YouTube after leaked audiotapes revealed Turkish ministers allegedly discussing how to stage a provocation that could justify military action in Syria. And in February, President Erdogan praised a 2003 plan that would have established a joint U.S.-Turkish buffer zone in northern Iraq (which was voted down by Ankara's parliament). "If...Turkey had been present in Iraq, the country would have never have fallen into its current situation," Erdogan told reporters. Currently, there was "no need for a similar motion for Syria," he continued, because "such authority has already been given" to the Turkish army, if necessary.
Ultimately, though, the game-changer in Syria, Russian airpower, may keep Turkey out of the quagmire. "In the past five years, there have been several times people thought that Turkey will be drawn into a military intervention in Syria," says Akyol, author of Islam Without Extremes: A Muslim Case for Liberty. "Ankara has always opted for caution. Now, with Russia involved, there is even more reason for caution." Turkey has recently signed military alliance agreements with Saudi Arabia and Qatar "against common enemies," but it's unlikely those countries will intervene militarily to help the beleaguered Sunni rebels in Syria without Washington's say-so. And despite escalating calls in Washington to create a "safe zone" in northern Syria with U.S. and Turkish troops on the ground, the risks of direct conflict with Moscow are too high for that to happen.
"On September 30, when Russia went into Syria, [President Barack] Obama said, 'We will not fight a proxy war with Russia over Syria," says Landis. "This is our policy, and it will remain so."
Meanwhile, signs are increasing that Syria's rebels are crumbling under the onslaught. The lifting of sanctions on Iran will likely allow Tehran to boost its support for its proxies in Syria and Iraq, and fuel is in desperately short supply in rebel-held areas of Aleppo, according to local reports.
When Aleppo fell to rebels in 2012, many predicted the end of the Assad regime. Now, after a war that has claimed more than 250,000 lives, sent more than 4.5 million refugees abroad and displaced another 6.5 million within Syria, the roles are reversed. The latest cease-fire, if it holds up, will likely serve as a prelude for the capitulation of Aleppo to Assad's forces—and with it the beginning of the end of the Middle East's bloodiest war in a generation.
Additional reporting by Lucy Westcott in New York.