Russia Shows Off New Syria Map, Sends Troops to Border After Turkey Deal
The Russian military has displayed a new map of Syria featuring its new arrangement with Turkey and has begun sending troops to the border to secure outposts as part of the new deal.
The Russian Ministry of Defense Wednesday published a map that includes both the 20-mile-deep "safe zone"—deemed an "operation zone" on this document—established by invading Turkish forces and allied Syrian insurgents in northeastern Syria, as well as the newly designated 18-and-a-half-mile border area now designated for Russian and Syrian military patrols. These joint patrols were aimed at facilitating the withdrawal of the People's Protection Units (YPG).
This Kurdish militia helped to establish an autonomous administration as it assisted the U.S.-led battle against the Islamic State militant group (ISIS), but the YPG itself was viewed as a terrorist organization by Turkey due to alleged links to an insurgency at home. Facing a fight between two partners, the U.S. opted to withdraw its forces and later forge a temporary ceasefire amid the ensuing violence.
This five-day ceasefire was followed by a new deal struck Tuesday by Russia and Turkey, halting the latter's attack indefinitely and allowing the former to approach the border, joined by Syrian troops at about 15 observation posts. With this agreement entering into force, Russian military police were seen entering the city of Kobani, also known as Ayn al-Arab, a stronghold of YPG forces.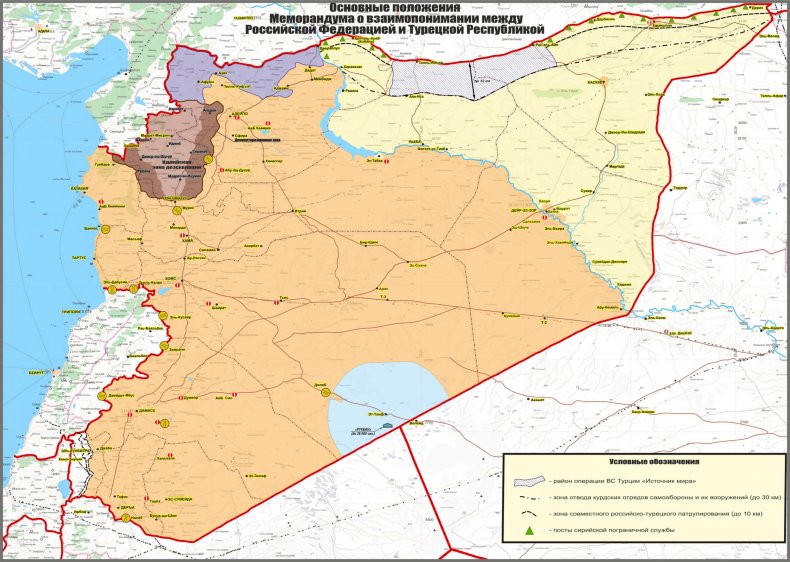 The latest deal among international powers active in Syria came after some six hours of talks between Russian President Vladimir Putin and Turkish President Recep Tayyip Erdogan. The two men back opposing sides in the country's eight-year civil war but have repeatedly come together, often alongside Iran, in order to curb violence in Syria.
Washington has boycotted this process because of its opposition to Tehran's role in Syria, where former President Barack Obama first intervened in an attempt to overthrow Syrian President Bashar al-Assad, an ally of Russia and Iran. The U.S. initially joined Turkey and other allies in backing rebels and jihadis trying to overthrow the government, but later switched its support to the Syrian Democratic Forces, a mostly Kurdish force dominated by the YPG.
The Syrian Democratic Forces and the Syrian government waged rival campaigns to defeat ISIS, with the latter also taking on the increasingly Islamist opposition, which was later reorganized with Turkish support. Turkey then mobilized these insurgents in two campaigns against the YPG in northern Syria and, as of earlier this month, launched a third, larger one following a call between Erdogan and President Donald Trump and the subsequent withdrawal of U.S. troops.
The U.S. military departure led the Syrian Democratic Forces to strike a new security agreement with the Syrian government, which—along with Russian troops—began to deploy to outposts formerly held by U.S. soldiers. Russia warned it would not allow any clashes between the Syrian and Turkish armed forces and has sought to prevent such action with the current deal.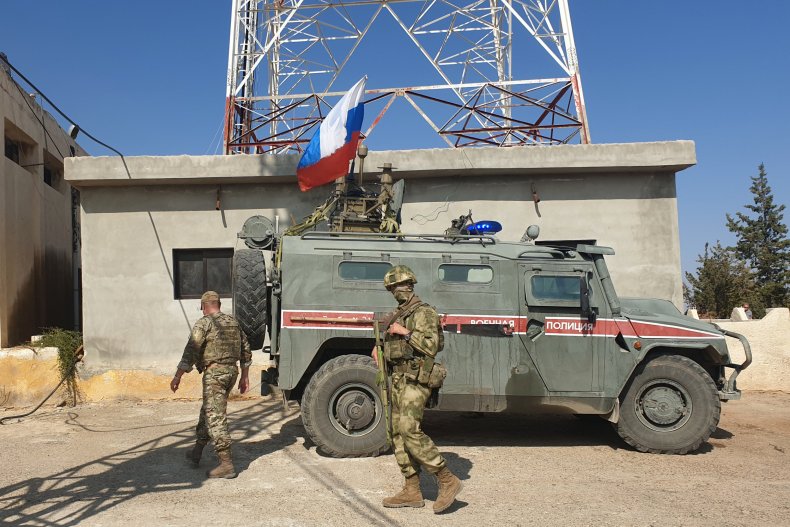 After the agreement was made, Putin told Assad in a call "that the main goal is to restore Syria's territorial integrity and continue joint efforts to reach a settlement by political means, including through the work of the Constitutional Committee," according to a Kremlin statement.
"Bashar al-Assad supported these decisions," the statement said. "He thanked Vladimir Putin and voiced his complete support for the results that have been achieved, and stated that Syrian border guards are ready to deploy to the Syrian-Turkish border together with Russian military police units."
The official Syrian Arab News Agency reported that Assad also stressed his opposition toward any invasion and blamed separatist forces for the unrest. He promised to retake all of Syria's territory.
Elsewhere in northern Syria, the pro-opposition, U.K.-based Syrian Observatory for Human Rights reported Wednesday further Russian airstrikes and government artillery attacks against positions in the final opposition bastion of Idlib, a northwestern province dominated by jihadi groups. Idlib was not mentioned in the 10-point agreement reached by Putin and Erdogan, but hours before the deal was announced, Assad visited the frontlines there, vowing to defeat insurgents there.