As Russia Takes On 'Terrorists' in Kazakhstan, China Offers Security Assistance
As a Russia-led military alliance moved to quell violent unrest that has consumed Kazakhstan, China has also offered to provide security assistance to stamp out what officials from all three countries have claimed to be acts of terrorism backed from abroad.
Coming at a time when Beijing and Moscow are growing closer than ever, they also spoke directly about the events rapidly unfolding in a nation which they both border.
Days after the six-nation Collective Security Treaty Organization (CSTO) answered Kazakh President Kassym-Jomart Tokayev's plea for help to quell nationwide unrest that began as protests against rising energy prices and grew into deadly clashes between protesters and security forces, Chinese Foreign Minister Wang Yi spoke via telephone with Kazakh counterpart Mukhtar Tileuberdi to offer support.
"Wang said during the call that as Kazakhstan's permanent comprehensive strategic partner, China would like to express its firm support for the Kazakh side's efforts to maintain stability and end violence at a critical moment bearing on the country's future," Chinese Foreign Ministry spokesperson Wang Wenbin told reporters.
The call came just three days after a verbal message was relayed from Chinese President Xi Jinping, a move that Wang Wenbin said "fully demonstrates the high level of our permanent comprehensive strategic partnership and stands as another testament to our deep bond of friendship through weal and woe."
"China stands ready to work together with the Kazakh side to implement our heads of state's important political consensus and do our best to provide necessary support and assistance to Kazakhstan," he added.
Tileuberdi was cited as expressing gratitude for Beijing's position, which included a Chinese expression of solidarity with "all frontline law enforcement personnel who made the ultimate sacrifice in their line of duty against violent terrorism and extend sympathy for the innocent victims and the wounded."
"At this moment, the Chinese government and people stand in solidarity with the Kazakh government and people," Wang Wenbin said. "After the storm comes the rainbow. We are convinced that under the strong leadership of President Tokayev, peace and stability will be fully restored and Kazakhstan will emerge even more resilient and stronger from this dark hour."
And while Wang Wenbin was positive on the prospects of Tokayev's position, the Chinese official also noted that "the unexpected chaos in Kazakhstan shows that the situation in Central Asia still faces severe challenges and some external forces don't want to see peace and tranquility in our region."
"As a neighboring country, China hopes Central Asia can maintain long-term stability and achieve development and revitalization more than anyone," he said. "China is ready to work with Kazakhstan to enhance cooperation between law enforcement and security departments, strengthen bilateral cooperation against external interference, uphold the two countries' political system and political power security, forestall and foil any attempt at instigating 'color revolution,' and jointly oppose the interference and infiltration of any external force."
The term "color revolution" has been applied by both Beijing and Moscow to refer to uprisings they claim have been externally backed in autocratic states across the globe, mostly in Europe and Asia and with what China and Russia alleged to be the help of the United States.
As for Kazakhstan, Wang Wenbin said China would work to protect and preserve matters of Chinese national interests.
"Efforts should be made to ensure the safety and smooth operation of major projects under the bilateral cooperation," Wang Wenbin said. "It is believed that Kazakhstan will earnestly safeguard the safety of Chinese institutions and personnel in the country."
Tileuberdi was reported to have concurred, and "said that Kazakhstan fully agrees with China's proposals and is ready to have close communication with China to strengthen security cooperation and jointly combat terrorism, separatism and extremism."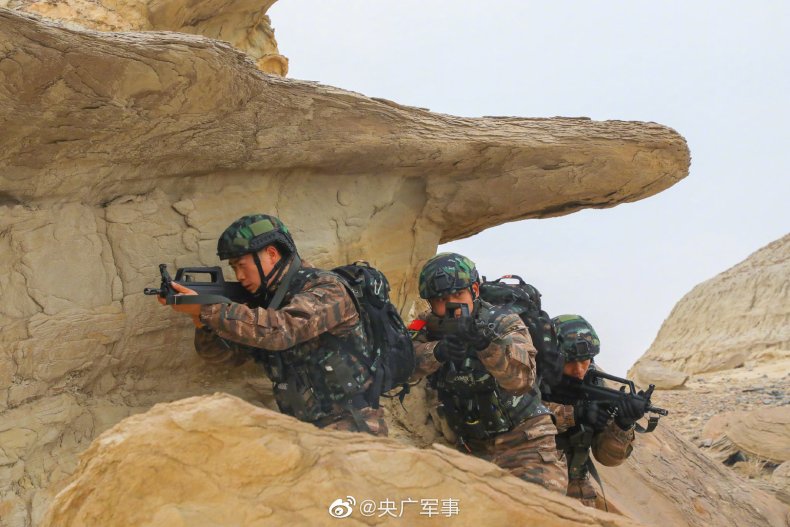 The so-called "three evils" of terrorism, separatism and extremism have been a central tenet of China's security policy as well as that of the broader Shanghai Cooperation Organization (SCO), another regional bloc with combined counterterrorism assets, which includes China, Kazakhstan and Russia, additional CSTO members Kyrgyzstan and Tajikistan, as well as India, Pakistan and Uzbekistan.
China has experience battling separatism at home, especially against Uighur Islamist forces in the Xinjiang region, which borders Kazakhstan as well as Afghanistan, another nation still best by unrest after the U.S. military exit and Taliban takeover last August. The U.S. has accused China of committing a "genocide" in Xinjiang by imprisoning millions of Uyghurs and actively suppressing their culture, charges Beijing vehemently denies and sees as part of an ulterior motive by Washington to stir unrest in the energy-rich region.
The remarks made by Wang Yi and Tileuberdi came as Russian officials also linked the events in Kazakhstan to the presence of outlawed militant groups.
"Kazakhstan has come under attack of radicals promoting dehumanizing ideologies," Russian ambassador to the U.S. Anatoly Antonov said in comments shared with Newsweek. "Thousands of jihadists and marauders tried to 'undermine' the constitutional order. They use weapons against civilians, keep on inflicting damage to public and private property."
He tied the unrest to the U.S. military exit from Afghanistan, where militant groups such as the Islamic State continue to operate despite clashes with the now-ruling Taliban.
"I'd like to note that all this is happening after the U.S. escape from Afghanistan and rapid proliferation of extremist ideas in the region," Antonov said. "The practice of appeasement of bandits who attack law enforcement officers, medical workers, and firefighters is unacceptable. How can anyone negotiate with people decapitating policemen? Any talks with terrorists only encourage them to commit even more crimes. I am sure that the State Department understands this very well, but they do not want to give up double standards. Where did the hordes of terrorists come from in Kazakhstan? Who guided and helped them?"
Echoing the Chinese diplomats, Antonov said the situation in Kazakhstan was "an attempt of another "color revolution" assisted by thugs and robbers." And he said the U.S. should have come to understand the importance of a resolute response given its own struggle with political instability a year ago.
"I am sure that Kazakhstani authorities will sort out the situation and the roots of terrorism will be torn out of the country's soil," Antonov said. "A year ago, during the Capitol assault, the US authorities did not hesitate at the necessity of restoring order and bringing the instigators of the mayhem to justice. The principle of the inevitability of punishment, especially in relation to those who encroach on the lives of innocent people, is fundamental to any state of law."
Antonov said that the early stages of the CSTO Peacekeeping Forces operation "demonstrate its effectiveness, focus on restoring peace and constitutional order."
"All decisions on sending collective forces to Kazakhstan were made according to the CSTO statutory documents and at the request of the legitimate President of the country Kassym-Jomart Tokayev," he added. "Today, all democratic forces in the world need to help the Government of Kazakhstan recover from the current turmoil, and try not to deteriorate the situation."
U.S. officials, including Secretary of Staten Antony Blinken, have questioned the legitimacy of the CSTO intervention, which came pursuant to the coalition's Article 4 mutual defense clause as requested by Tokayev. They have also condemned alleged "shoot-to-kill" orders given by the Kazakh leader to authorities grappling with armed protesters.
"The authorities in Kazakhstan should be able to deal with the challenges that they're facing peacefully, to make sure that the rights of those who are protesting peacefully are protected, to protect the institutions of the state and law and order, but to do it in a way that is rights-respecting," Blinken told CNN on Sunday.
"We have real questions about why they felt compelled to call in this organization that Russia dominates," he added. "We're asking for clarification on that. But what's imperative now is that all of this be dealt with in a peaceful manner that respects the rights of those who are trying to make their voices heard."
Washington and Moscow, represented by U.S. Deputy Secretary of State Wendy Sherman and Russian Deputy Foreign Minister Sergei Ryabkov, met in Geneva on Monday for talks that focused on a separate crisis along Russia's borders: heightened tensions in Ukraine. Rebels aligned with Russia have declared separatist states in the east, near which Russia has recently amassed up to 100,000 troops as President Vladimir Putin warned against any potential admission of Ukraine into the U.S.-led NATO Western military alliance.
The outcome of these bilateral discussions, as well as the situation in Kazakhstan, were brought up that same day during a conversation between China's Wang Yi and Russian counterpart Sergey Lavrov. Both men, whose governments have increasingly coordinated on major geopolitical affairs, "expressed firm support for the efforts of the Kazakh leadership to restore constitutional order in the country," according to the Russian Foreign Ministry.
"The ministers expressed solidarity in assessing the developments in Kazakhstan and stressed their concern over the interference of external forces, including the use of foreign mercenaries to stage attacks on peaceful citizens and law enforcers, seize government buildings and other facilities," the ministry said.
It also backed Tokayev's decision to request CSTO aid as "timely and proportionate to the scale of the threat the republic faced." The Russian side reported that Wang Yi "positively assessed the measures taken by the CSTO in response to the appeal of the leadership of Kazakhstan in order to help normalize the situation in the country" and the "ministers also noted the role of the SCO in ensuring security in Eurasia, including the Central Asian region."
"Sergey Lavrov and Wang Yi expressed confidence that peace and tranquility will return to Kazakhstan," the ministry added. "They agreed to maintain close contacts on this and other topical international issues."