As Russia Talks Nuclear Weapons with U.S., It Forges Closer Military Ties with China
As Russian diplomats discussed the non-proliferation of nuclear weapons with their counterparts from the United States, the heads of the Russian and Chinese armed forces forged closer ties in a separate meeting that marked yet another sign of alignment between Washington's top two rivals.
The State Department announced Wednesday that a delegation headed by Deputy Secretary Wendy Sherman met with a Russian team led by Deputy Foreign Minister Sergei Ryabkov in Geneva to mark the beginning of the U.S.-Russia Strategic Stability Dialogue, which was outlined in last month's summit between U.S. President Joe Biden and Russian President Vladimir Putin.
"The U.S. delegation discussed U.S. policy priorities and the current security environment, national perceptions of threats to strategic stability, prospects for new nuclear arms control, and the format for future Strategic Stability Dialogue sessions," State Department spokesperson Ned Price said in a statement.
He described the discussions as "professional and substantive," and said the two sides agreed to meet again in September for a plenary meeting.
Ryabkov called the meeting "very down to earth, very businesslike, very focused, conscious and rational," citing the June 16 statement adopted after the meeting between Biden and Putin in the same Swiss city, according to the state-run Tass Russian News Agency.
But he also identified difficulties associated with the dialogue as the two attempted to address what Ryabkov described as a crisis "that clearly emerged in the arms control sphere."
"We could not work out an answer to this question, it is very difficult," Ryabkov said. "This issue has been long stripped of attention and we are now only in the beginning of the process of exchanging opinions about what exactly to do and how to continue our work."
When asked, he dismissed the idea that China would join the discussion.
"I assess the probability [that China will join the strategic stability talks] as minimal, if not to say non-existent," he said.
Ryabkov pointed out that Moscow is well aware of China's position on all the issues that are part of this dialogue.
"China proceeds from the fact that Russia and the United States are the largest possessors of nuclear armaments, the biggest nuclear powers by the scope of their arsenals," the high-ranking Russian diplomat said, "and it is illegitimate now to raise the issue of Beijing joining these efforts under any formula."
The Cold War-era arms control infrastructure established by Washington and Moscow has steadily eroded since the U.S. exit from the Anti-Ballistic Missile Treaty in 2001. Bilateral nuclear efforts have particularly deteriorated since 2019, when then-President Donald Trump exited the Intermediate-range Nuclear Forces Treaty and left the fate of the last remaining deal, the New Strategic Arms Reduction Treaty, hanging in the balance.
President Biden renewed the agreement shortly after coming to office in January.
Deep mutual suspicions persist between the White House and the Kremlin when it comes to their nuclear arsenals, by far the two largest in the world. But the U.S. also seeks to expand the arms control agenda to include China.
U.S. grievances about China's arsenal have been amplified in recent months, after analysts at the James Martin Center for Nonproliferation Studies and Federation of American Scientists spotted what appeared to be the construction of new nuclear-capable missile bases and silos in that country.
U.S. Strategic Command, which oversees the country's nuclear triad, responded to the latest reveal Tuesday with concern.
"This is the second time in two months the public has discovered what we have been saying all along about the growing threat the world faces and the veil of secrecy that surrounds it," U.S. STRATCOM tweeted.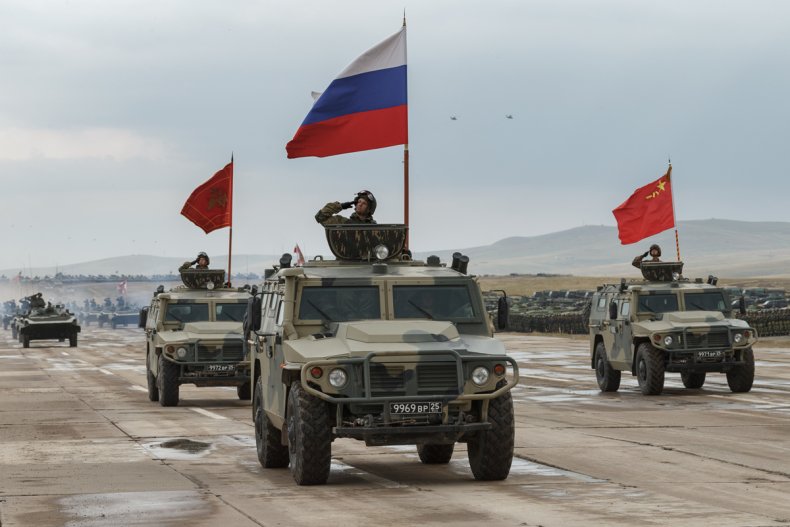 But while U.S. tensions with Russia and China have complicated both bilateral and multilateral efforts, Moscow and Beijing have steadily boosted their strategic partnership, boasting stronger ties today than ever before.
Efforts to further capitalize on this relationship between Russia and China in the military realm "in the spirit of comprehensive partnership and strategic cooperation" were discussed in a meeting Wednesday.
Russia Defense Minister Sergei Shoigu and China Defense Minister Wei Fenghe met for talks in the Tajik capital in Dushanbe, where the Russian Defense Ministry reported that both men were attending a ministerial meeting of the Shanghai Cooperation Organization.
"Despite the challenges brought about by the pandemic all over the world, together," Shoigu said, "we have managed to find new ways of interaction and continued fruitful collaboration."
He also accepted an invitation on behalf of the Russian armed forces to attend Chinese military exercises scheduled for next month.
The following month, the Shanghai Cooperation Organization, which includes China, India, Kazakhstan, Kyrgyzstan, Pakistan, Russia, Tajikistan and Uzbekistan as members, will hold joint security exercises entitled "Peace Mission-2021."
Russia already maintains mutual defense pacts with Kazakhstan, Kyrgyzstan and Tajikistan as part of the Collective Security Treaty Organization (CSTO), but Moscow has doubled down on engagement in Central Asia amid suspicions that Washington is seeking to establish a new foothold in the region as U.S. troops withdraw from Afghanistan after two decades of engagement.
In addressing fellow ministers of the Shanghai Cooperation Organization, Shoigu criticized what he saw as another U.S. attempt to intervene abroad, and referred to attempts to intervene in countries like Syria and Libya as failures.
China has also often cited U.S. involvement in such conflicts as mistakes that brought negative consequences.
When Wei spoke with Shoigu on Wednesday, the Chinese Defense Ministry said its chief told his Russian counterpart that their two nations have "maintained strong and unwavering bilateral relations, becoming an important stabilizing force of the world today."
"Wei suggested that the two sides should continue to strengthen all-round and all-weather strategic cooperation and maintain a stable and high-level development of the Sino-Russian relations," according to the Chinese readout.
He also emphasized the need for greater cooperation on regional issues in light of recent events in Afghanistan.
"In terms of dealing with the changing situations in Afghanistan and Central Asia and jointly fighting against terrorism," Wei said, "the two sides should get to know each other's positions and arrive at consensus, strengthen cooperation and coordinate actions, resolutely safeguarding the core interests of China and Russia, unswervingly upholding the world equity and justice and regional security and stability."
The latest interaction between Russia and China comes after the two nations hailed the 20th anniversary of their Treaty of Good-Neighborliness and Friendly Cooperation earlier this month.
Putin and his Chinese counterpart Xi Jinping hailed the occasion during a virtual call last month while officially extended the treaty for another five years. In a 5,000-word joint statement, they touted a relationship "based on equality, deep mutual trust, commitment to international law, support in defending each other's core interests, the principles of sovereignty and territorial integrity."
"While not being a military and political alliance, such as those formed during the Cold War, the Russian-Chinese relations exceed this form of interstate interaction," the statement said. "They are not opportunistic, are free of ideologization, involve comprehensive consideration of the partner's interests and non-interference in each other's internal affairs, they are self-sufficient and not directed against third countries, they display international relations of a new type."