Russian Tank Column Obliterated in 'Suicidal Attack,' Video Shows
A video appearing to show Russian tanks being destroyed by Ukrainian forces has gone viral on Twitter.
The clip was posted by Twitter user Ian_matveev on Wednesday and has so far been viewed more than 110,000 times.
"This is how the suicidal attacks of Russian columns look like, It was the ninth month of the war," the Twitter user captioned the video.
The clip shows a bird's eye view of tanks traveling in a column. Some of the tanks appear to fire at a target in front of them. Seconds later the column is hit by a massive explosion and a large black cloud begins to rise into the sky.
Newsweek has not been able to independently verify when and where the video was taken.
Over the weekend, a video that showed a successful strike on Russian armored vehicles, posted by the Ukrainian Ministry of Defense, also went viral. The video has since garnered a total of 500,000 views.
In the video, a vehicle at the front of the line is hit by unspecified Ukrainian ordinance and sputters to a stop. The vehicle begins to smoke before exploding.
The tweet from the ministry included little besides the video, the only text being: "Strike."
In recent weeks, according to reports, Russia has been losing multiple tanks on a daily basis in Ukraine.
According to a Forbes report in October, Russia has been losing an estimated 10 tanks a day compared to Ukraine's two.
The report also highlighted that an attacking army usually loses more equipment than defending forces, which have the option to hunker down.
On Monday, Ukrainian President Volodymyr Zelensky outlined his conditions for his country to have peace talks with Russia.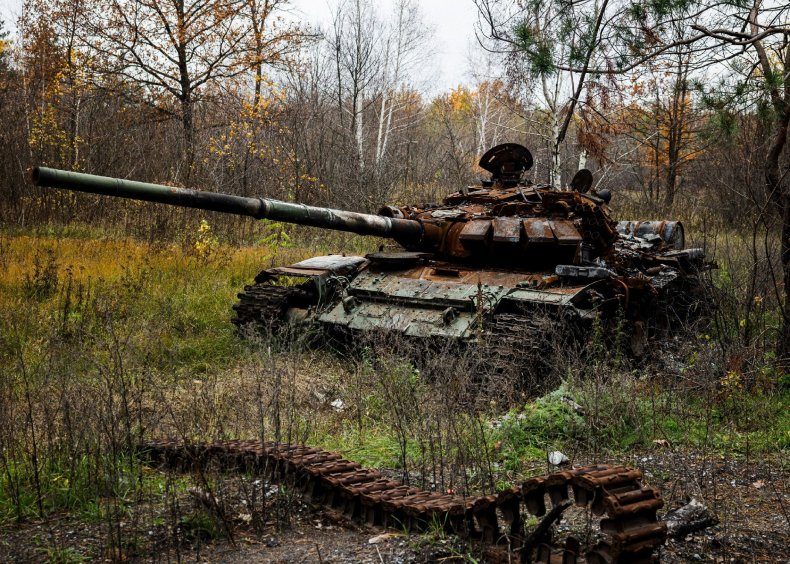 Zelensky said that Ukraine had previously attempted peace talks but that those interested in peace should be focused on stopping Russian aggression. He also emphasized five key conditions for peace talks to take place.
"Once again, restoration of our territorial integrity, respect for the U.N. Charter, compensation for all damages caused by the war, punishment of every war criminal, and guarantees that this will not happen again," Zelensky said.
An adviser to Zelensky has also said that Ukraine is prepared to negotiate with Russia to end the conflict once Russian President Vladimir Putin is out of office.
On Monday, Mykhailo Podolya tweeted that Ukraine has "never refused to negotiate" an end to the conflict, noting the long-standing position that Kyiv would only negotiate after Russia withdraws its troops from the entirety of Ukraine.
Newsweek has contacted Russia's Ministry of Foreign Affairs for comment.