Russia Tells Ukraine Not to Settle Conflict With Force or 'Be Suppressed'
Russia's highest-ranking military member warned the Ukrainian government Thursday that any "provocations" in the war-torn Donbas region would "be suppressed" by Russian forces.
This comes after a buildup of about 70,000 Russian troops near their border with Ukraine, according to U.S. intelligence. General Valery Gerasimov, chief of the Russian General Staff, has denied any plans to attack Ukraine, instead turning his attention to Ukraine's own buildup of troops in the Donbas region.
"Any provocations by Ukrainian authorities to settle the Donbas problems with force will be suppressed," Gerasimov told foreign military attaches at a briefing.
Ukraine has also denied Russia's accusations that it would try to use force to stop the rebels.
In the Donetsk and Luhansk regions, known collectively as Donbas, Ukrainian government forces and Russian-backed separatists have been at war since 2014. Even though Russia, Ukraine, France and Germany signed a series of "Minsk agreements" from 2014 to 2015 to reduce fighting, they never went into effect.
According to the International Crisis Group, the conflict has since turned into a "trench war," with approximately 75,000 troops involved and over 14,000 deaths so far.
Russia has consistently denied the U.S. and Ukraine's accusations that it has been sending troops and weapons to the so-called Donetsk and Luhansk People's Republics.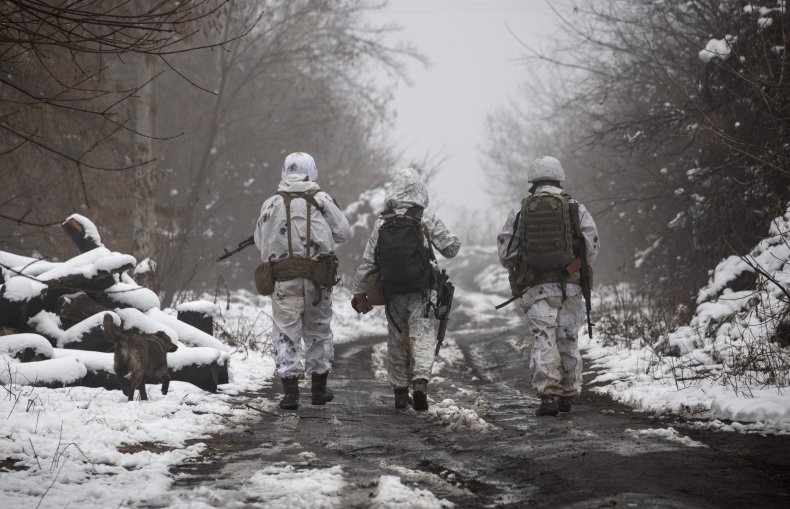 Gerasimov called media reports about Russia allegedly preparing an attack on Ukraine "a lie" and charged that Ukraine is to blame for escalating tensions in Donbas by deploying new weapons there.
Russia and Ukraine have been locked in a bitter tug-of-war since 2014 when Moscow annexed the peninsula of Crimea and threw its weight behind a separatist insurgency in eastern Ukraine. The Kremlin insists that Russia is not a party to the conflict.
Ukrainian and Western officials fear the Russian buildup of troops at the border could indicate Moscow's plan to invade its ex-Soviet neighbor as soon as early next year.
President Joe Biden said this week the U.S. would take a more direct role in diplomacy to address Russian President Vladimir Putin's concerns over Ukraine and Europe at large, part of a broader effort to dissuade the Russian leader from ordering a destabilizing new invasion of Ukraine.
Putin has urged the West to provide guarantees that would preclude NATO from expanding to Ukraine and discussed the tense situation around Ukraine with Biden on Tuesday.
Biden, as well as officials in Europe, warned Putin that Russia could face painful economic consequences if it invades Ukraine.
The Associated Press contributed to this report.