Russia Military Tests Missile Defense as Ukraine Prepares for War Against Its Only 'Enemy'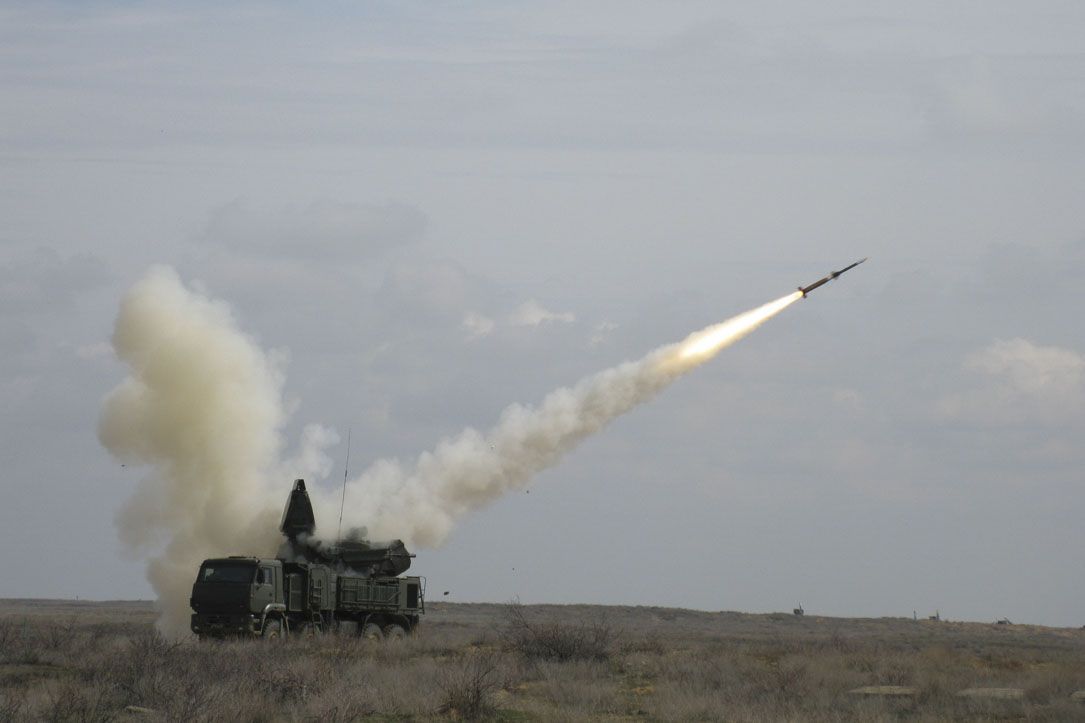 The Russian military sent yet another defensive missile system Friday to the contested Crimean Peninsula, while Kiev's leadership warned that Ukraine is training for what may be an imminent war.
Amid rising tensions stemming from an unresolved and violent maritime dispute Sunday, Russia deployed the Pantsir-S anti-missile and anti-aircraft system to Crimea, which Moscow has exerted control over since a 2014 referendum disputed by Ukraine, the West and their allies. In a statement, Southern Military District—which includes Crimea and other areas bordering Ukraine—said the move came after the systems were test-fired atthe Kapustin Yar training ground in Russia's Astrakhan region.
The statement said that anti-air brigade accompanied the missile complex and that "military personnel underwent special training at the air defense training center in the Krasnodar Territory" in order to use the Pantsir-S, which "surpasses its foreign counterparts."
The drills included thwarting simulated attacks by aircraft, drones and precision weapons as well as elements of electronic warfare. In total, the units "hit about 50 aerial targets."
Newsweek subscription offers >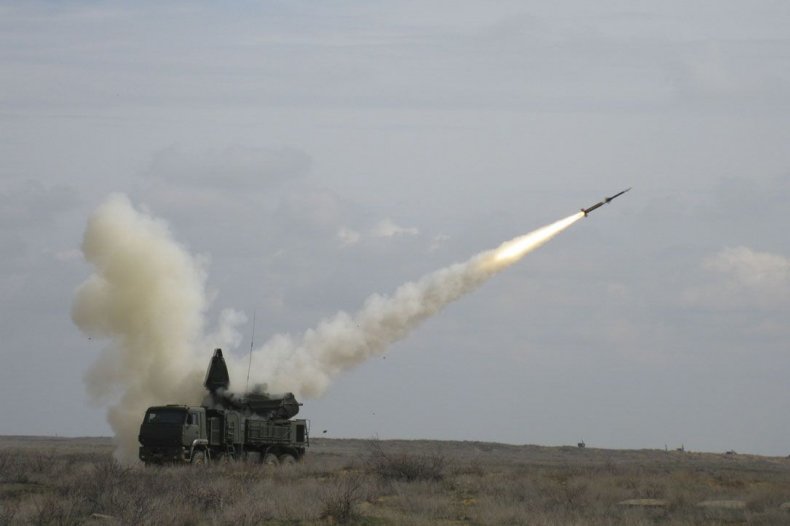 The Pantsir-S deployment followed previous Russian mobilizations of the advanced S-400 missile and air defense system on Wednesday and the Kh-35 Bal coastal defense complex on Tuesday. The Southern Military District also recently announced a snap "readiness" check ahead of the new academic year for the military this upcoming Saturday.
These moves have contributed to the tense atmosphere felt in the region since Russia accused three Ukrainian naval ships—Gyurza-M-class gunboats Berdyansk and Nikopol, and the Yana Kapa tugboat—of violating maritime law as they sailed through the Kerch Strait, a disputed waterway located between the Black Sea and the Sea of Azov near Crimea. Russian warships opened fire on the vessels, wounding three Ukrainian sailors and detaining both the vessels and their crew.
Earlier this week, a Russian court ordered the 24 Ukrainian sailors to be held for two months as Ukrainian President Petro Poroshenko warned of a potential "ground attack" and "full-scale war" with Russia. Kiev has declared martial law on border regions and has the Ukrainian armed forces conducted training Thursday to prepare themselves for a conflict.
Newsweek subscription offers >
Ukrainian forces fired anti-aircraft systems of their own and flew Sukhoi Su-25 fighter planes and Mig Mi-24 helicopters along the Ukrainian coast at Urzuf, close to where Sunday's naval incident took place. Ukrainian commander Serhiy Nayev told the Agence France-Presse that the "presumed enemy is Russia."
"We don't have any other enemies," Nayev said.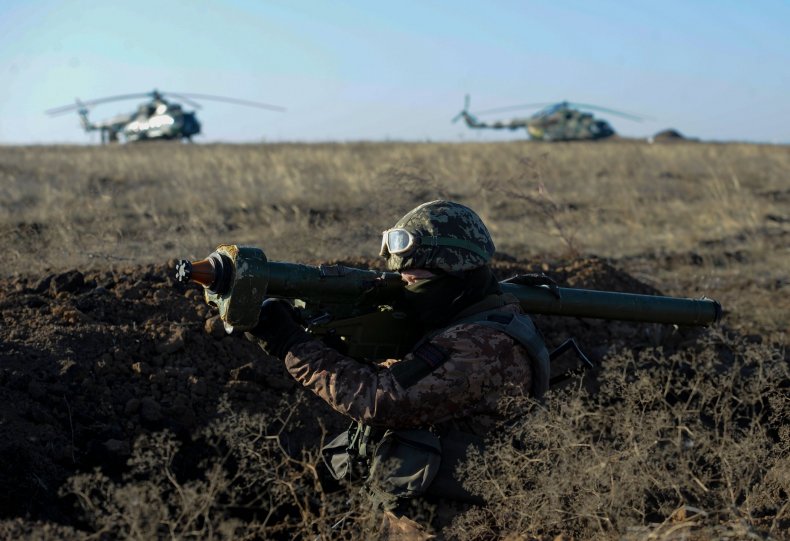 While Kiev has raised concerns toward Moscow's alleged plans to invade the neighboring former Soviet republic, Ukrainian officials and military leaders have been under the impression that they were already actively at war with Russia. Around the same time that so-called "little green men" widely believed to be under Russian command took control of Crimea in 2014, other pro-Kremlin fighters launched an armed insurgency in the eastern Ukrainian region of Donbas. The conflict, largely locked in stalemate, has killed up to 10,000 people.
Russian President Vladimir Putin has argued that the rebellions of Crimea and Donbas—two areas with significant Russian-speaking populations—were the result of local opposition toward the 2014 revolution that ousted former Ukrainian Viktor Yanukovych, seen as a close ally of Moscow. His eventual successor, Poroshenko, has received military support from the United States and has sought membership to the NATO Western military alliance in hopes of securing international backing in the event of a conflict with Russia.
The U.S. and NATO called on Russia to release the sailors, with President Donald Trump canceling in protest his highly anticipated meeting with Putin at the G20 summit currently happening in Buenos Aires.
Russia Military Tests Missile Defense as Ukraine Prepares for War Against Its Only 'Enemy' | World