Russia Threatens to Bomb Zelensky in Retaliation for Ukraine's 'Attack'
Russian military chiefs have threatened to strike "decision-making centers" in Kyiv in retaliation for attacks it alleges Ukraine has carried out within its borders.
The warning came during a briefing on Wednesday reported by Russian news agency Tass, when Defense Ministry spokesman Maj. Gen. Igor Konashenkov said: "We can see that Ukrainian forces are trying to conduct subversive activities and attack facilities in Russia. If such activities continue, the Russian Armed Forces will carry out strikes on decision-making centers, including those in Kyiv, which is what the Russian army has so far been refraining from doing."
His statement marks the first time the Russian military has accused Ukrainian forces of carrying out attacks on Russian soil, according to the Moscow Times.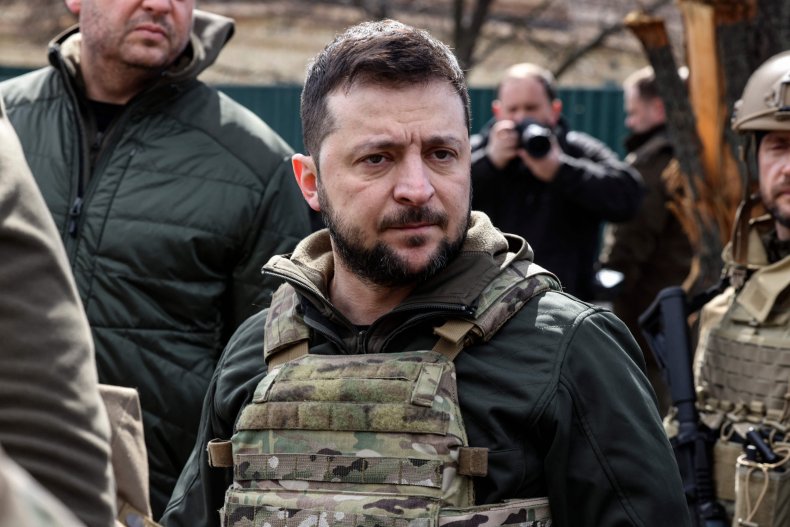 There has previously been speculation that Ukrainian special forces have attacked key sites in a Russian city near the Ukrainian border, such as an oil depot and a railway line. But Ukraine has denied attacking the depot and has not accepted responsibility for destroying the train tracks. There were no victims reported in either incident.
Further muddying the waters, Ukraine's military intelligence chief warned this week of his fears that Russia could stage terrorist attacks against itself in order to blame Kyiv and build support at home for the war against Ukraine.
In a Facebook post on Monday, Major General Kyrylo Budanov, who serves as head of the intelligence department at Ukraine's Ministry of Defense, wrote, "Russian intelligence services are planning a series of terrorist attacks with mining and undermining residential buildings, hospitals and schools in Russian settlements."
Newsweek has contacted representatives of both the Russian and Ukrainian governments to seek comment and clarification.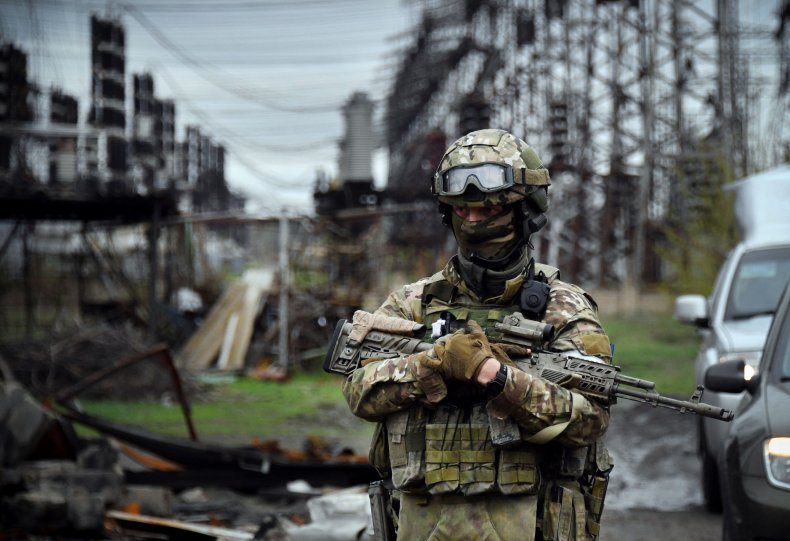 The latest threats against command centers in Kyiv—which could imply a threat against Ukrainian President Volodymyr Zelensky himself—come after Russia withdrew its ground troops from around the capital city to focus on a new offensive in the Donbas region and in territories across the east and south of the country.
Satellite images and reports on the ground suggest Russia has been massing forces close to Kharkiv, Donetsk, and Luhansk.
The conflict has become increasingly bloody since Russian President Vladimir Putin ordered the invasion on February 24. However, it has remained unclear whether Ukraine has conducted any attacks within Russia's borders. This month, two incidents in the city of Belgorod — less than 25 miles from the Ukrainian border — sparked mystery, accusations, and counter-accusations over whether Ukraine was responsible.
Belgorod's Governor, Vyacheslav Gladkov, blamed a huge fire at an oil depot on April 1 on airstrikes conducted by two Ukrainian Air Force helicopters that entered Russian airspace at low altitude.
But, as reported by Newsweek, Ukrainian Security Council Secretary Oleksiy Danilov denied responsibility, saying: "For some reason they say that we did it, but according to our information this does not correspond to reality." A senior Ukrainian intelligence official told Newsweek with "99.9%" certainty that Russia had staged the attack.
Less than two weeks later, on April 12, Newsweek revealed Belgorod's governor had confirmed a railway line leading out of the border city had been damaged, although he did not reveal the cause.
Citizens had reported hearing explosions, according to the Moscow Times. Photographs shared on Twitter showed warped tracks, broken sleepers, and twisted metal running alongside the tracks. Damage to the railway line, which lies to the north of Kharkiv in eastern Ukraine, could potentially disrupt Moscow's ability to transport troops, weapons, or military equipment to the frontlines.
Six Russian regions on the border with Ukraine have raised their terrorist threat levels over the past week.