Russia Training Children to Shoot Nazi Effigies, Photos Appears to Show
A Russian city seemingly celebrated Victory Day by having a child in military uniform shoot the effigy of a Nazi soldier with an air rifle.
On Monday, Russia observed Victory Day, a May 9 commemoration of the USSR's World War II defeat of Nazi Germany.
The annual celebration carries more nationalist weight this year. With Russia's February 22 invasion of Ukraine, the Kremlin has relentlessly justified the attack by portraying its mission as a "de-nazification" campaign.
In the southwestern city of Kislovodsk, Victory Day was marked with a macabre "Shoot the last fascist" event. According to Russian news outlets and social media, a child was made to shoot a hanging Nazi effigy.
Photos of the incident made the rounds on Telegram and VKontakte. One depicts a young blonde girl wielding an air rifle in full military garb. In another, an effigy with a swastika armband is hung upside-down from the side of a building with a visible "Z" symbol.
A third image shows the child aiming the gun beside one man in military fatigues and another filming the scene.
The photos were widely credited to Kislovodsk's city administration, as its mayor Yevgeny Moiseev had shared them to his Telegram channel. The post was since deleted, but can still be viewed through other channels that forwarded it.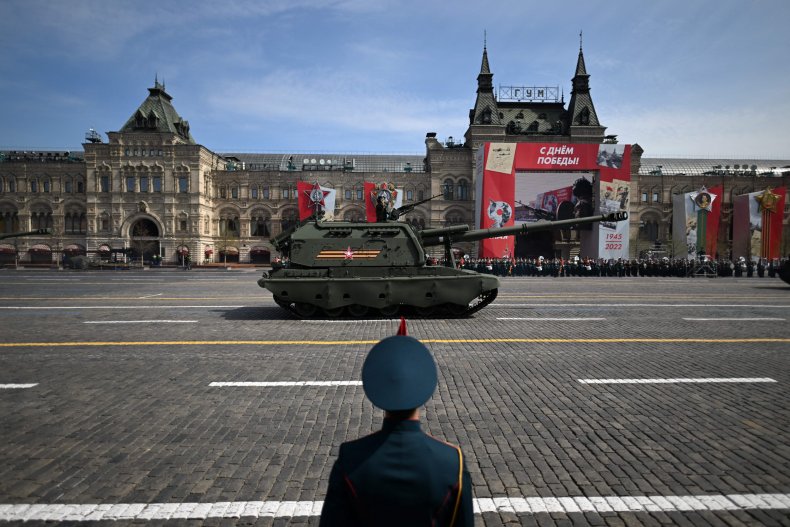 Moiseev's post reads: "The last fascist was shot in Kislovodsk. An effigy of a fascist and an occupier was hung on the gate, whom the children shot from an air rifle.
"From childhood, our younger generation should know about the world evil, whose name is fascism, Nazism, which today is trying to revive again. We will never allow this. We raise our children as patriots and defenders of the Fatherland. Happy Victory Day!"
Russian media reported the mayor took down the post after it had elicited backlash from locals, who demanded an intervention from the governor of Stavropol, the region where Kislovodsk is located.
Kislovodsk's administration denied the city organized or endorsed the event, a spokesperson told Russian news outlet News Tracker.
"This was not our initiative, it is organized by the Kislovodsk citizens every year," they said. "We provided the information about all of yesterday's activities to [Yevgeny Moiseev.] When we saw [the reaction online] we of course deleted it from all of our channels."
Without elaborating on Moiseev retracting his personal approval of the event, the spokesperson told News Tracker: "We do not support [this initiative.] Our chief's current position on this is the right one. And it was the same before."
City officials' backpedaling strategy did not inhibit the swelling controversy, as the stark images carried on circulating across Russian social media. On VKontakte—dubbed the "Russian Facebook"—users criticized the stunt as disturbing.
Newsweek believes the child in the photo below is actually female.
"Only sick people could organize this event for children," one person wrote.
"Is Moiseev alright in the head? This is not patriotism, this is not how children are taught. Let the mayor visit a psychotherapist," said another user.
In Russian capital Moscow, the Kremlin looked to exude its military prowess with its annual Red Square parade.
While delivering a speech marking the holiday, President Vladimir Putin defended the controversial war he initiated without mentioning Ukraine by name.
"NATO countries did not want to listen to us. They had different plans, and we saw it," he said. "They were planning an invasion into our historic lands, including Crimea.
"It was a threat we couldn't accept, it was a threat directly to our border. Everything showed that we are dealing with Nazis and we have to do something about it."