A former U.S. Marine jailed in Russia on what he describes as trumped-up charges has gone on hunger strike in protest at the conditions of his incarceration, his family said in a statement. Russian authorities have rejected the family's comments, however.
Trevor Reed, 30, from Texas, has been in Russian custody since August 2019 after he was charged with assaulting police officers who were driving him to a police station following a drunken night out.
His lawyers said his nine-year jail term was the harshest yet handed down for such charges, CBS News reported.
The U.S. Embassy in Moscow also criticized the trial, noting that the two officers struggled to recall the alleged incident in hearings and contradicted themselves in their account of what happened.
In June, Moscow City Court rejected his appeal and the U.S. ambassador to Moscow, John Sullivan, said the United States would continue fighting for his release.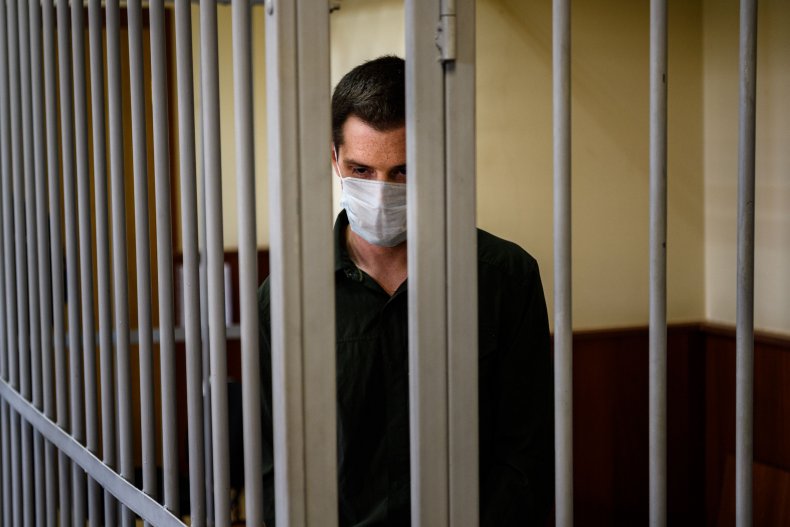 Reed's Russian girlfriend told ABC News that he started his hunger strike on November 4.
Reed's family said it had been informed that he had started a hunger strike "to protest his arbitrary detention and Russian authorities' numerous and flagrant violations of his basic human rights and his rights under Russian law."
The family said Reed was being held in a small room with a hole in the floor for a toilet and had been denied communication with his parents for 116 days. He was also not allowed to receive books or letters.
"While we are immensely proud of our son's strength of character, we are also extremely worried about his health," Reed's parents Joey and Paula and sister Taylor said in the statement to CBS.
They added that their concerns about his well-being were being "magnified by Russian authorities' decision to hold Trevor incommunicado which makes it impossible for us or the [U.S.] Embassy to monitor his health."
Prison authorities in the Mordovia region, where Reed is being held, have denied that his rights are being abused or that he is on hunger strike.
In a statement to Newsweek, Russia's Federal Penitentiary Service said Reed was "serving a sentence assigned to him by the court, in strict accordance with Russian law.
"The employees of the correctional institution did not admit any violations in communication with the convicted person," it said, and "the information published in the media about the hunger strike of convict Trevor Reed does not correspond to reality."
It added that Reed "did not apply to the administration of the institution with an application to declare a hunger strike. He accepts food according to his daily routine."
There has been speculation about Reed being part of a prisoner swap alongside Paul Whelan, another American incarcerated in Russia. Whelan was arrested in Moscow in 2018, convicted of espionage and jailed for 16 years.
Reed's family said it had urged officials in Washington to strike a deal with Moscow that would see Russians held in U.S. jails freed.
Russian media have suggested that possible candidates for a prisoner swap are Konstantin Yaroshenko, a pilot serving 20 years for conspiracy to smuggle cocaine, and Viktor Bout, a convicted arms trafficker.
Newsweek has contacted the U.S. embassy in Moscow for comment.
Update 11/10/21, 4:10 a.m. ET: This article was updated to add a statement from Russia's Federal Penitentiary Service.