Russia Trolls Trump's Visit to 'Useless' NATO, Says It's Watching World Cup Instead
While President Donald Trump rattled U.S. allies and questioned the point of NATO altogether, Russia said it could focus on the World Cup, pronouncing the Western alliance "useless."
The Russian Ministry for Foreign Affairs posted the inflammatory tweet after a testing day for U.S. relations with its closest allies, during which Trump called Germany a "captive" of Russia and suggested NATO allies should double the agreed-upon defense spending target, before asking what "good" the alliance was anyway.
The performance, which Senate Foreign Relations Chairman Bob Corker branded an attempt to "punch our friends in the nose," allowed the alliance's truculent neighbor Russia a chance to take another shot at NATO from afar.
"While the useless military bloc NATO accuses us of provocative actions and continues to grind its teeth in Brussels, we are getting ready to watch the 2018 World Cup," Moscow's top diplomatic body wrote.
The ministry attached a picture of two soccer fans, one sporting the Croatian flag painted on his face, the other bearing the English flag, as the two nations squared off in Moscow.
The tweet came in response to the joint declaration issued by the governments of all NATO members that condemned "Russia's recent activities and policies."
"While NATO stands by its international commitments, Russia has breached the values, principles and commitments which underpin the NATO-Russia relationship," the declaration stated. "We urge Russia to cease all political, financial and military support to militant groups and stop intervening militarily in the Donetsk and Luhansk regions and to withdraw troops, equipment and mercenaries from the territory of Ukraine."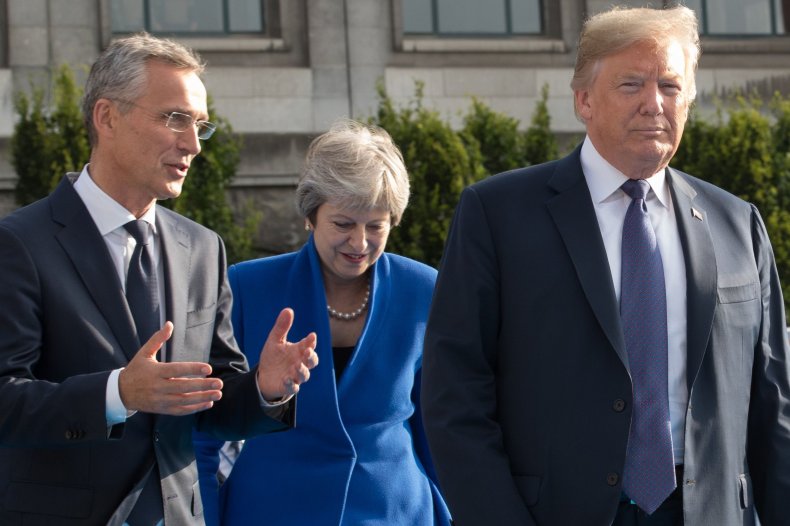 The communique struck a discordant note, along with some of Trump's own comments about the alliance, which initially prompted speculation he may suggest the U.S. leave NATO.
The Russian ministry's spokeswoman, Maria Zakharova, defended the U.S. president's comments, saying on Facebook that Trump had "revealed his NATO strategy long before the [presidential] election," sharing his thoughts on the alliance being "obsolete" and too costly during his campaign and before becoming a politician. "As a result, Trump and his ideas, including those ones, received the votes of 62,984,825 Americans."
Read More: Trump says U.S. should spend "less" on Europe's defense, but he has been spending more than Obama
Trump has since walked back his claim that NATO is obsolete, and in his press conference at the end of the Brussels summit, praised allies for increasing spending, albeit taking the credit for pushing them to do it. Trump will now visit the U.K. before travelling to Finland where he will hold a face-to-face meeting with Russian President Vladimir Putin.
NATO did not immediately respond to a request for comment on the Russian ministry's tweet.