Russia Trolls U.S. on Twitter Over Reports of Ruining Syria Ceasefire in Eastern Ghouta
The Russian government has derided the United States Department of State on Twitter, accusing its top spokesperson of "spamming all of us" with criticism of Moscow's bombings in Syria.
The Russian Ministry of Foreign Affairs tweeted in response to department spokeswoman Heather Nauert's post, in which she called attention to the persistent bombing campaign in eastern Ghouta. The town is besieged by forces under the control of Syria's autocratic President Bashar al-Assad, who is strongly supported by Russia, but increased attacks violate a United Nations–sponsored ceasefire—one that Moscow has publicly endorsed. More than 100 people have died in the enclave because of regime bombardment according to rescue workers.
Related: Jailed escort says she has a scoop on Trump-Russia scandal but Washington is not in a hurry to send diplomats
"We call on Russia & the Assad regime to adhere to #UNSC Res. 2401 & allow the delivery of desperately-needed humanitarian aid to 400,000 innocent civilians," Nauert wrote on Twitter on Wednesday. In a tweet posted about an hour earlier, she questioned Russia's commitment to humanitarian assistance, estimating that in the last week of February, Russian jets carried out 20 raids of eastern Ghouta and nearby Damascus. The Russian-sponsored talks of a ceasefire have "failed," she concluded.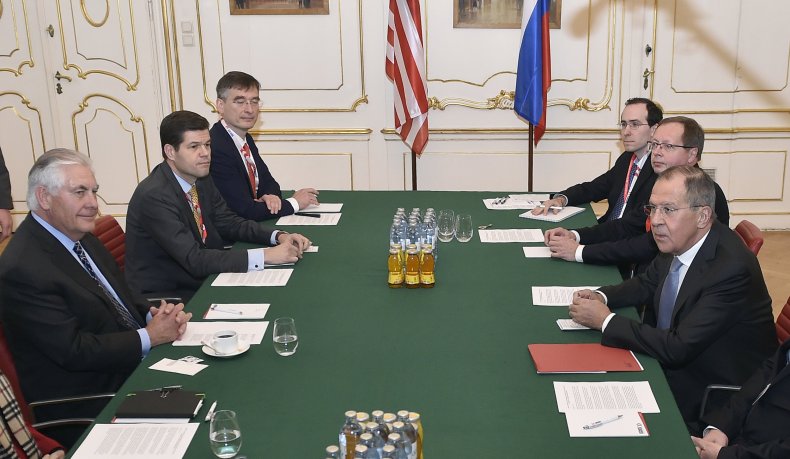 "Calm down," Russia's top diplomatic institution tweeted at Nauert. "Your propaganda machine is out of control." Several Russian embassies have retweeted the ministry's post, which also accuses the U.S. department of spam.
In a longer message on Facebook, the Russian Embassy in the U.S. echoed the ministry's comments about Nauert, adding that "something seems to have broken in her department."
"We hear a stream of 'fake news'—about Russia's atrocities against the peaceful population of East Ghouta," the statement read, while also ridiculing Nauert's tweets praising Ukraine and the Oscars.
Both Russian diplomatic bodies demanded then to discuss the lack of a meeting between its Foreign Minister Sergey Lavrov and U.S. Secretary of State Rex Tillerson, both of whom were in Africa on separate visits, but appear to have missed each other.
Russian officials have repeatedly claimed they have requested to meet officially, however Nauert said earlier this week that Washington had received no such request. The situation echoed the awkward buildup to a second face-to-face encounter between President Donald Trump and Russian President Vladimir Putin last year. Both men were attending a G20 summit in Vietnam at the same time, but as Kremlin officials took turns affirming the likelihood of the two leaders sitting down for a substantial conversation, the line from Washington was different.
Tillerson stressed then that the pair would only meet if there is something "sufficiently substantive to talk about." Former U.S. Ambassador to Ukraine Steven Pifer told Newsweek at the time that it was Russia's strategy to elevate its own claim of being a global power by drumming up attention to a Putin-Trump meeting, even if there was little chance of any political breakthrough. For Trump, whose administration is already plagued by allegations of collusion with Russia or being overly sympathetic to the Kremlin, such a meeting would not be positive.