Trump, Russia and Brexit Revive 'Landmark' Defense Project for Europe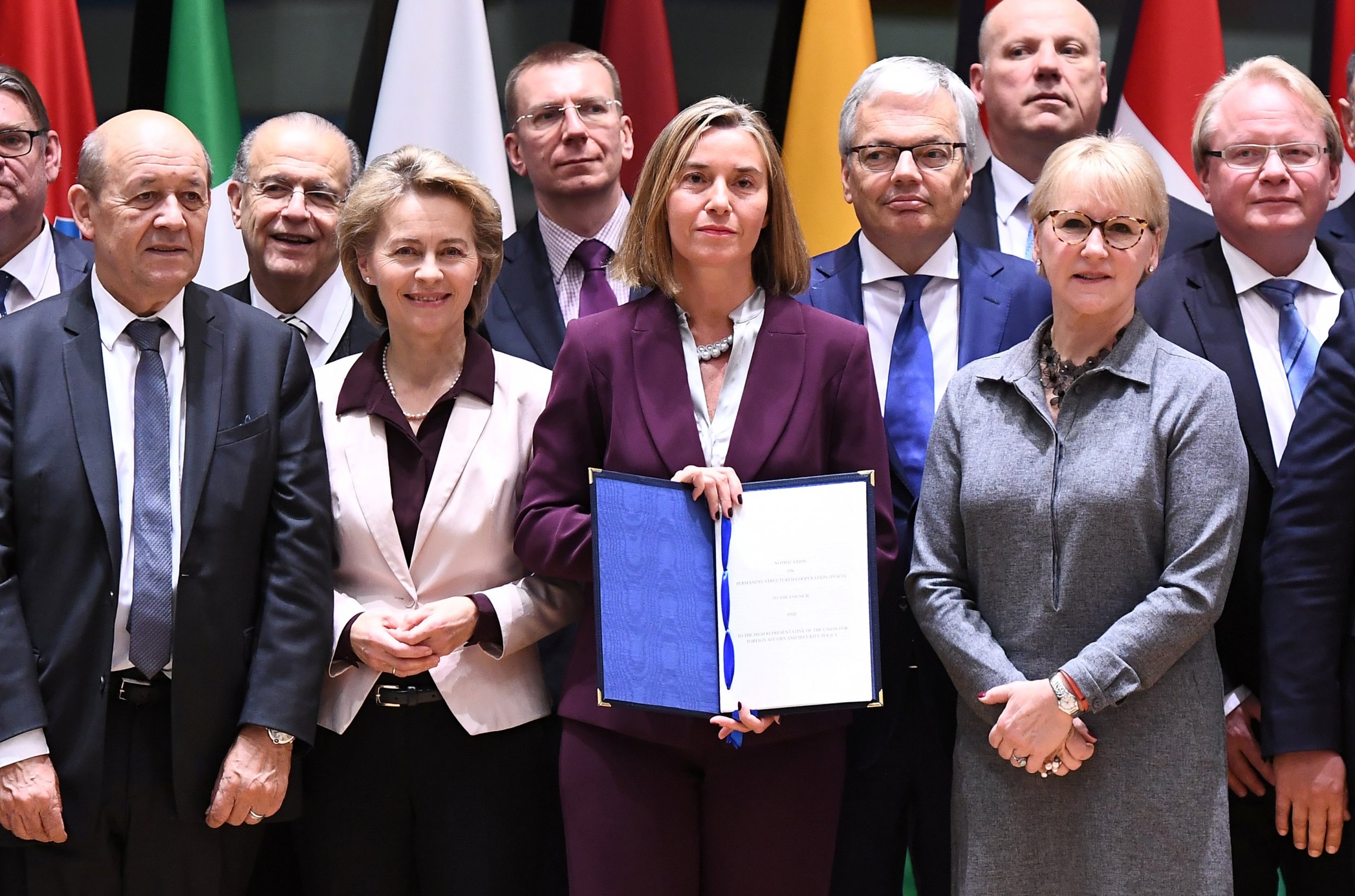 A new initiative spearheaded by Germany and France, aimed at bringing the majority of the European Union closer on defense, is on the verge of becoming a reality.
The deal, endorsed by the ministers of 23 states from the 28-member EU, is the latest twist in a debate over what role the bloc should have in military affairs.
The EU's largest military force, the U.K., voted to leave the union last year, having previously blocked wider joint military measures across the union. Euroskeptics in the U.K. had repeatedly accused the bloc of seeking to take greater control from London. With Britain committed to exiting the EU, France and Germany have wooed the majority of EU members with new measures that do not seek to bring their military under Brussels's command, but which, they claim, will prevent duplication and wasteful funding.
Related: Threatened by Russia, Baltics Want EU Army Set Up in Support of NATO
"Today we are taking a historic step," Germany's Foreign Minister Sigmar Gabriel told reporters Monday, Reuters reported. "We are agreeing on the future cooperation on security and defense issues... It's really a milestone in European development."
The new deal centers on the formation of Permanent Structured Cooperation (PESCO), which looks to increase asset sharing between EU members and bankroll a mutually needed kit. Supported by a $6.4 billion European defense fund for equipment and other costs, the new 23-member club will aim to use a joint review of resources to improve on each individual state's defense lapses.
Gabriel said that joint planning and investment made financial sense, as in cases where two or more countries could benefit from developing the same technology, or where neighboring countries developed or procured the same equipment without coordinating with each other in the process.
"I think that European cooperation on defense questions will rather contribute to saving money; we have about 50 percent of the United States' defense spending in Europe, but only 15 percent of the efficiency," said Gabriel.
PESCO's proponents said the initiative would not seek to replace NATO, the U.S.-led alliance according to which members pledge to respond to an attack on one member as though it were an attack against all. The European Commission's top foreign representative, Federica Mogherini, noted that the new pact sought to address the European issue of not "how much we spend, it's that we spend in a fragmented manner," EU news site Euractiv reported.
The pact also aims to develop new military equipment such as tanks and drones. Implementing the deal now hinges on the vote of confidence that the 23 members' leaders must give next month.
A focus of President Donald Trump's election campaign was the suggestion that he might levy U.S. military support for NATO allies based on whether they fulfilled their financial commitments. A German official speaking on condition of anonymity told Reuters that Trump and new French President Emmanuel Macron's call for Europe to exert more influence on its security added momentum to the decision. PESCO has left open the possibility that members who did not meet their requirements would be kicked out.
A handful of initiatives in the past have been likened to a "European army," with the term used by Euroskeptics as well as hard-line supporters of the EU, like European Commission President Jean-Claude Juncker. Calls to bolster the bloc's ability to respond to military threats reemerged after Russia annexed Crimea from Ukraine in 2014.
Speaking about the comparisons between PESCO and the EU army project, Sophia Besch, research fellow at the Centre for European Reform, said the two are "not very related at all."
"PESCO, if it suceeds, will have very little to do with that idea," she continued, noting that the two dozen ventures center around communication and empowering "the weak industrial base."
"This is about granular, on-the-ground cooperation," Besch said, noting that Juncker's appeals for a wide European command was "counterproductive" to practical cooperation efforts.