Russia's Putin Says Trump's Enemies Will Use 'Any Possible Opportunity' to Attack Him
Russian President Vladimir Putin has said that critics of President Donald Trump criticized the U.S. leader any chance they can get.
Speaking at the Russia Energy Week forum in Moscow, Putin commented Wednesday on the ongoing controversy involving Trump's telephone call to his Ukrainian counterpart Volodymyr Zelensky. Democrats have alleged that Trump pressured Zelensky to investigate Democratic presidential candidate Joe Biden over his past efforts to dismiss a Ukrainian prosecutor investigating a major gas company for which the former vice president's son Hunter Biden served as a board member, but Putin appeared to sympathize with Trump.
"We currently see that any possible opportunity in the United States is used for attacking President Trump and it is now Ukraine and all accompanying issues regarding relations with Ukraine and President Zelensky," Putin said, according to the state-run Tass Russian News Agency.
Referring to ongoing allegations that Trump had attempted to secure Putin's own assistance in his previous election in 2016, the Russian leader added: "What do we have to do with this? It proves once again that we had nothing to do with this since the very beginning and they [Trump's opponents] were simply looking for grounds to attack the newly-elected president."
Newsweek subscription offers >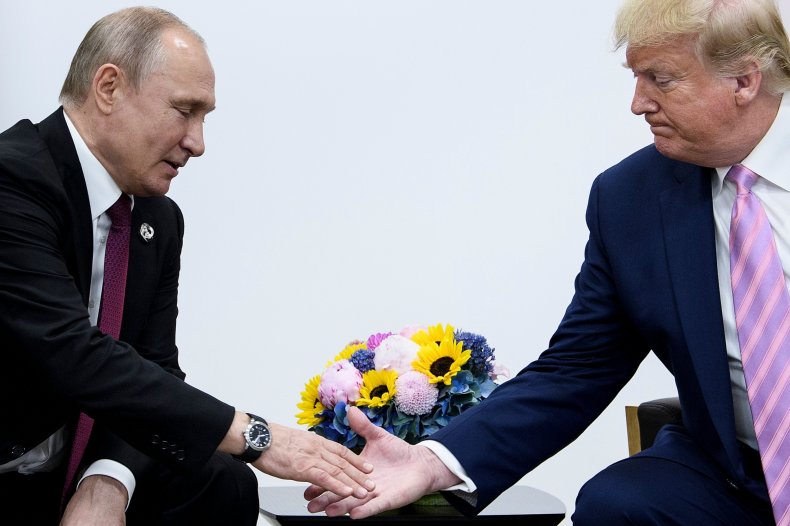 Putin has always denied orchestrating an attempt to influence the last presidential race in Trump's favor via a covert campaign to discredit former Secretary of State Hillary Clinton. While Washington has continued to accuse Moscow of doing just that, the results of a two-year investigation presented earlier this year did not find Trump guilty of any wrongdoing.
In the latest affair, however, Democrats have gone so far as to open an inquiry into impeachment over allegations that Trump threatened to withhold military assistance to Ukraine if Zelensky did not agree to collaborate with Attorney General William Barr and the president's personal attorney Rudy Giuliani in probing Biden. Trump has fiercely denied the accusations, calling them a "hoax" in much the same way he dismissed accusations regarding his suspected involvement with the Kremlin.
At Wednesday's event, Putin joked about U.S. accusations that he would try to interfere in next year's presidential elections. Asked about these claims, Putin quipped: "Let me tell you a secret: yes, we will definitely do that, just to entertain you even more."
Newsweek subscription offers >
Jeanette Manfra, assistant director of the Cybersecurity and Infrastructure Security Agency, took it as no laughing matter, however. Speaking to Voice of America, she said her agency has "got all instruments of our power in our government countering it."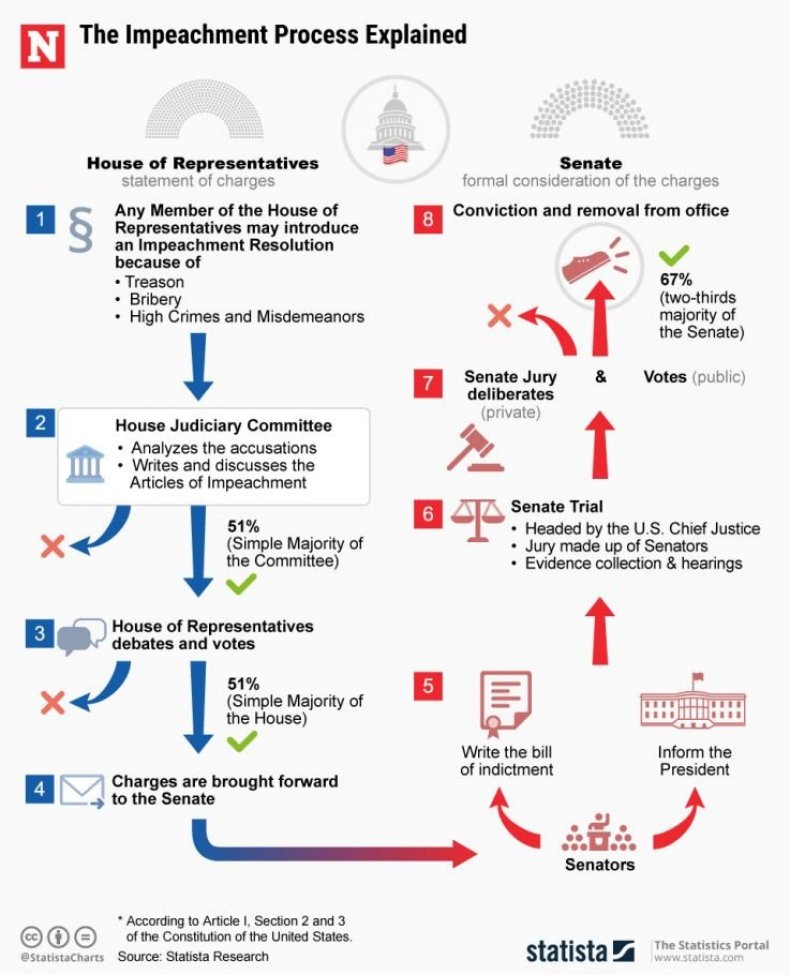 Source: Statista
Putin has previously expressed sympathy for Trump as he accused Democratic lawmakers and mainstream media outlets of unfairly targeting him. The two men vowed to reset their countries' troubled relations as Trump took to the White House in early 2017, but the leaders have since diverged on a number of policy issues, including Ukraine, which has faced a five-year eastern separatist insurgency that the U.S. has charged Russia with supporting.
With Trump facing what may be the biggest challenge to his presidency yet, many liberal-leaning media outlets have accelerated their criticism of the president, while conservative-slanted ones have often defended him. The political situation appeared to be deteriorating on Capitol Hill as well, where the partisan divide was apparent.
Democrats such as Senate Intelligence Committee chair Adam Schiff have sought to look further into contacts between the U.S. and Russian leaders. The California legislator has suggested he would seek transcripts of Trump's conversations with Putin as he did those with Zelensky.
"Of course, to some extent, they can only be published if it is mutually agreed—this is diplomatic practice," Russian presidential spokesperson Dmitry Peskov said Monday. "Overall, the diplomatic practice does not include such publications. However, should there be any signals from Americans, we will discuss them."
Russia's Putin Says Trump's Enemies Will Use 'Any Possible Opportunity' to Attack Him | World