Russia Responds to Donald Trump's Plan for More U.S. Troops in Poland: It Will 'Raise Military Tensions'
Russia has condemned President Donald Trump's plan to send additional U.S. troops to Poland, warning it would destabilize the regional security situation.
In a joint declaration with his Polish counterpart Andrzej Duda, Trump vowed Wednesday to send "about 1,000 additional United States military personnel in the near-term" to the Eastern European country in order to "focus on providing additional defense and deterrence capabilities." The former Soviet satellite has shared a tense relationship with modern-day Moscow, which continued to view with suspicion the expanding presence of the U.S. and its NATO Western military alliance along Russia's borders.
"We are certainly concerned because it reflects attempts to raise military tensions in Europe, particularly on NATO's so-called eastern flank," Russian Deputy Foreign Minister Sergey Ryabkov said Thursday, according to the state-run Tass Russian News Agency. "False excuses are used to implement programs that destabilize and escalate the situation."
"We have an increasing number of questions about how this kind of actions relate to the North Atlantic Alliance's obligations under the NATO-Russia Founding Act on Mutual Relations, which says that the alliance has 'no intention, no plan and no reason to deploy nuclear weapons on the territory of new members.' But now it is not a plan, it is reality," he added.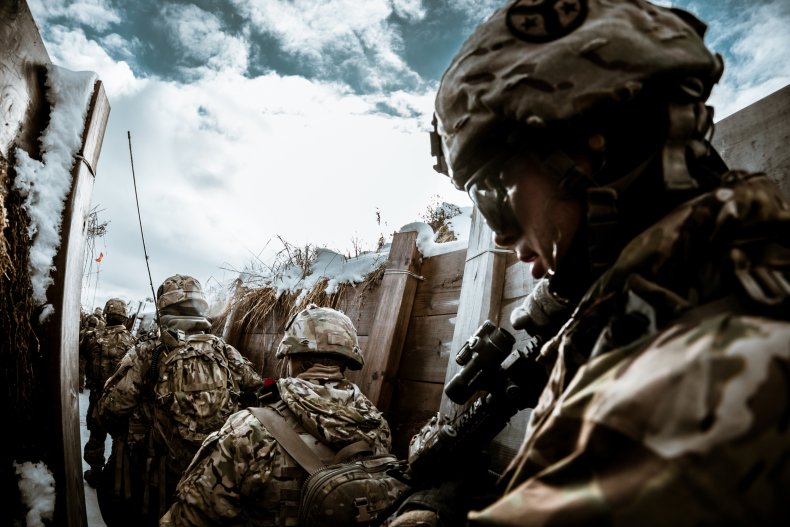 The Russian Foreign Ministry also issued a statement that same day, arguing "a severe blow was struck" to the 1997 NATO-Russia Founding Act, by which the U.S.-led alliance pledged "to carry out its collective defense and other missions by ensuring the necessary interoperability, integration and capability for reinforcement rather than by additional permanent stationing of substantial combat forces."
By striking a bilateral military agreement outside the NATO framework, the ministry warned that "a new factor of military-political tension appears in Europe." It warned that "further dangerous buildup of military capabilities on the continent is carried out by Washington without regard to obligations under multilateral instruments, and now without regard to European allies."
The ministry said it viewed the move as "a sign of preparation for subsequent large-scale deployments" and that Russia "cannot fail to take this into account in its defense planning and practical activities."
NATO Secretary General Jens Stoltenberg, who has frequently criticized Russia, said on Twitter he welcomed the move as "a strong commitment of the U.S. to European security & the strength of the transatlantic bond."
Russia has already long protested the installation of U.S. missile defense systems such as the Aegis Ashore that Moscow alleged could be used offensively. With one Aegis Ashore already operational in Romania, a second was soon set to go online in Poland, which has also bought Patriot missile systems and sought F-35 fighter jets as it and other Washington allies in Eastern Europe accused Moscow of aggressive behavior.
The Trump administration's pullout from the Intermediate-range Nuclear Forces (INF) treaty sparked fears of further militarization of the borders between NATO and Russia. The U.S. accused Russia of having violated the agreement through the development of the Novator 9M729 system, but Moscow denied the charges and has warned Washington against developing weapons banned under the treaty.
The two countries have also found difficulty in coming together for key arms control agreement, the New Strategic Arms Reduction Treaty (START). The deal substantially limits both countries' nuclear arsenals, but Washington has been slow to launch talks to renew the agreement as Trump sought a new deal that would also include China, which has a significantly smaller stockpile than the U.S. and Russia and has refused to join any such deal.