Trump's Syria Troop Withdrawal Is a 'Lottery Win' for Putin, States Kremlin-backed Paper
President Donald Trump has given the upper hand to Russia in the Middle East with his decision to suddenly withdraw U.S. troops from northern Syria. That's according to two prominent Russian newspapers, including the policy mouthpiece of the Kremlin.
In an op-ed for Moskovsky Komsomolets, a Kremlin-friendly tabloid with a circulation of more than one million, journalist Mikhail Rostovsky described Trump's move as "reckless."
Headlined "Putin has won the lottery, the unexpected triumph of Russia in the Middle East," Rostovsky's piece started by saying that "those who are certain that Trump is of no use to Russia, should think again."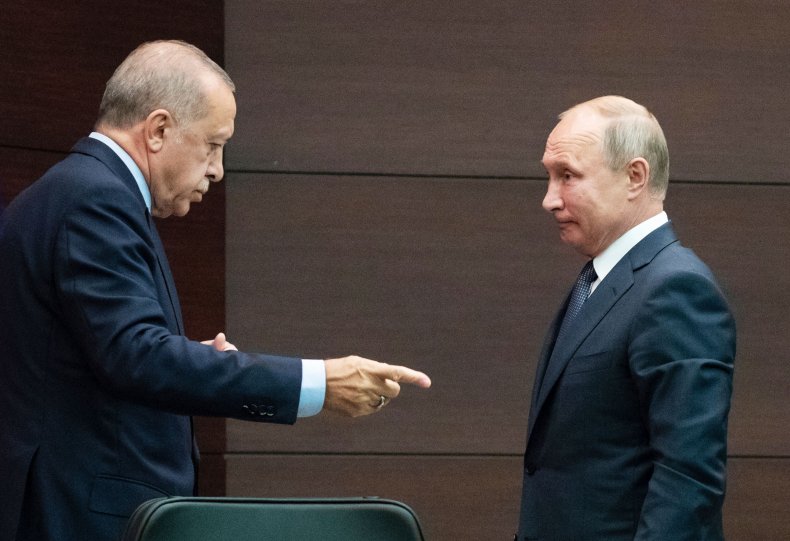 His assessment is that Trump's decision, which was followed by a bombardment by Turkish forces in the north of Syria, has actually strengthened Moscow's "already rather strong political position" in the region.
He said Trump's decision was "totally misjudged, reckless and contradictory," and showed the waning of U.S. influence in the region, which would have been "unthinkable in the days of Henry Kissinger."
"The huge giant called America has got itself lost in broad daylight. Trump's administration can't keep up with events," he wrote, adding that unlike the Kremlin, the U.S. "is trying to work out what political line to take as it goes along."
Turkish President Recep Tayyip Erdogan said on Tuesday that he would not bow to U.S. sanctions in response to the bombardments and that he would never declare a ceasefire, according to CNN.
Newsweek reported this week that after its exit, the U.S. military was helping establish Russia's presence in the northern city of Manbij.
Rostovsky went on to say that Putin had managed to convince Erdogan it would be better for Turkey if the Syrian Kurds were again under the control of Syrian leader Bashar al-Assad.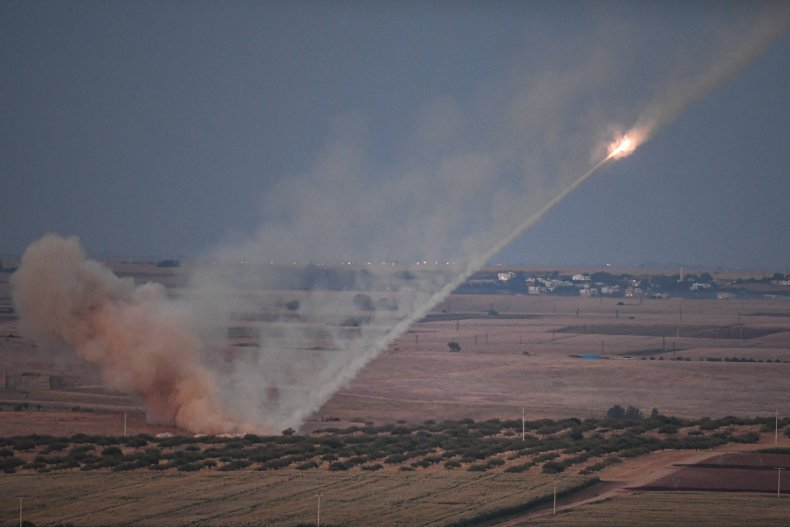 "I have racked my brains trying to understand why Trump made this possible by kindly withdrawing most of his troops from Syria. "
Russia's influence as a power broker with Saudi Arabia, Iran and Syria had now grown stronger, he said, adding: "An unexpected lottery win—that's what Trump's mistake is in Syria."
The sentiment was echoed in Russian government mouthpiece, Rossiyskaya Gazeta, whose columnist Fyodor Lukyanov heads the Presidium of the Council on Foreign and Defense Policy.
He wrote that Trump's move was the most radical change in Syria since the end of large-scale hostilities last year and signified a growing political rift within NATO—of which Turkey is a member.
"There is no need to beat about the bush. Russia is benefiting," he wrote, adding that Moscow was demonstrating it was better not to have long-term strategies in the region but be able to exploit mistakes, such as those made by Trump.
He believed that not stubbornly sticking to ideology and old alliances gave Russia diplomatic flexibility in the Middle East, although this still required "not abandoning old partners."
"That puts Russia in a better situation than America, which abandoned its loyal satellites in the Arab Spring and now the Kurds," Lukyanov said.
Meanwhile, Gevorg Mirzayan wrote in the online newspaper Vzglyad that Trump had fallen victim to a long-standing U.S. belief that the presence of its troops was a "threat to American interests" rather than "a springboard for new opportunities in the region."
He added that while Trump stands accused of "betrayal" of the Kurds, his actions could lead to a clash between Turkey and Russia, which Mirzayan believed was no bad thing, because then Moscow could show Erdogan "the limits of his capabilities" and might even "fall into the trap of his own ambitions."