Russia and Turkey Military Drills Come Amid Fresh Syrian War and NATO Tensions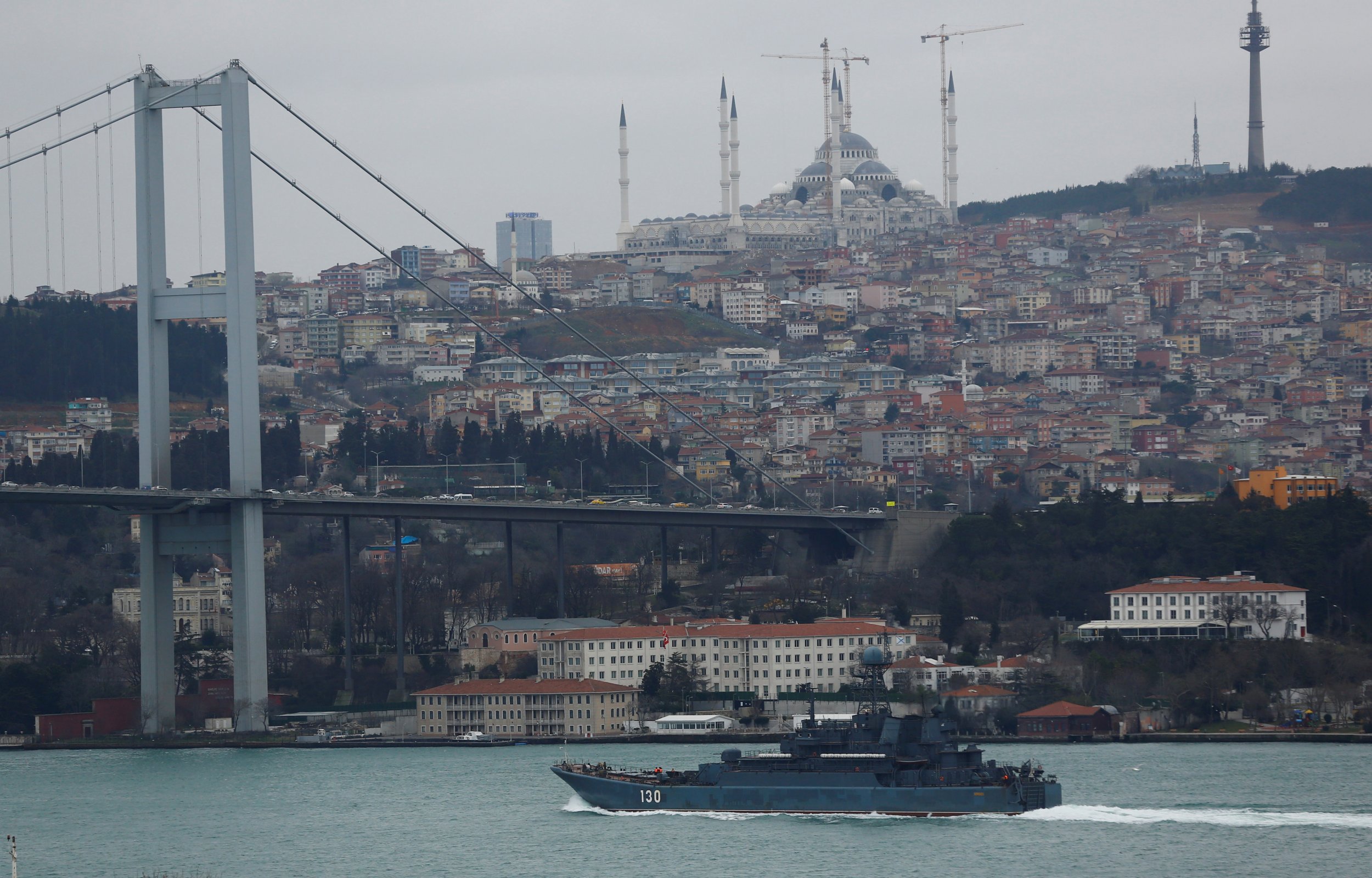 Russia and Turkey held joint naval drills in the Black Sea region Wednesday as the nations found themselves aligned with opposing sides in conflicts in Europe and the Middle East.
Russia's Black Sea Fleet joined the Turkish navy in the strategic body of water, which has been a source of heightened tensions due to parallel military exercises by Russia and members of NATO, of which Turkey was a part. Russia deployed its Kalibr cruise missile-equipped Admiral Grigorovich frigate, Udaloy-class Vice Admiral Zakharin destroyer and Raptor patrol boat to participate in the operations while Turkey sent its Barbados frigate and the Ada-class Buyukada corvette. Vyacheslav Trukhachev, the spokesperson for Russia's Black Sea Fleet, said the vessels trained for joint defense and rescue operations.
"As part of the drill, ships of the two countries practiced… exit from a naval base, joint maneuvering and communication, as well as repelling an attack of a small-sized high-speed target, an inspection operation, search for and rescue of a person in the water," Trukhachev told reporters, according to Russia's Sputnik News.
Russia and Turkey, along with the U.S., are the major international powers directly involved in Syria's six-year civil war. Moscow has assisted Syrian President Bashar al-Assad regain control of most of the country's population primarily through air strikes supporting the Syrian army and allied militias. Ankara intervened in August to back Syrian rebels, who have tried to overthrow Assad since 2011, but have been beset by a number of losses partially due to violent infighting with jihadist groups, Russia's intervention and a decline in Western support.
Both nations have participated in the fight against the Islamic State group, also known as ISIS, but disagree on the legitimacy of Assad's government and the role of U.S.-backed Kurdish militants, which Ankara has labeled as terrorists for their links to insurgents in Turkey. Turkey's foreign ministry said Wednesday it had reminded Russia and fellow Syrian government ally, Iran, of their responsibility to adhere to a ceasefire between the Syrian army and non-jihadist rebel groups after an alleged chemical attack reportedly killed dozens in the rebel-held city of Idlib in northwestern Syria. The U.S., U.K. and France have accused Assad of conducting the attack, while Russia has argued the attack was the result of a Syrian army airstrike on a nearby chemical weapons storage facility used by rebels.