Russia and Turkey Reach New Syria Deal —What It Means for Idlib
Presidents Vladimir Putin of Russia and Recep Tayyip Erdogan of Turkey have reached a new settlement on the insurgent-held northwestern province of Idlib, Syria, seeking to end the escalating violence between the two opposing sides they support in the country's civil war.
Six hours of deliberations between the two men's delegations Thursday produced a new memorandum of understanding establishing a cessation "of all military actions" effective midnight between Syria's Moscow-backed government, Ankara-backed opposition and their respective supporters in Idlib. The agreement also creates a "security corridor" six-kilometers north and six-kilometers south of the contested M4 highway, to be finalized within a week's time.
After a week, the agreement provides for additional joint Russian-Turkish military patrols along the M4 highway from the settlements of Trumba to Ayn al-Hawr to enforce its terms. The deal appears to leave the recently-reclaimed town of Saraqib in government hands, securing access to the nearby M5 highway.
The two countries more generally affirmed their commitment Thursday to Syria's territorial integrity, the international fight against terrorism, a Syrian track to solve the conflict in line with the United Nations and assistance for the scores of civilians displaced by and suffering from shelling and bombardment.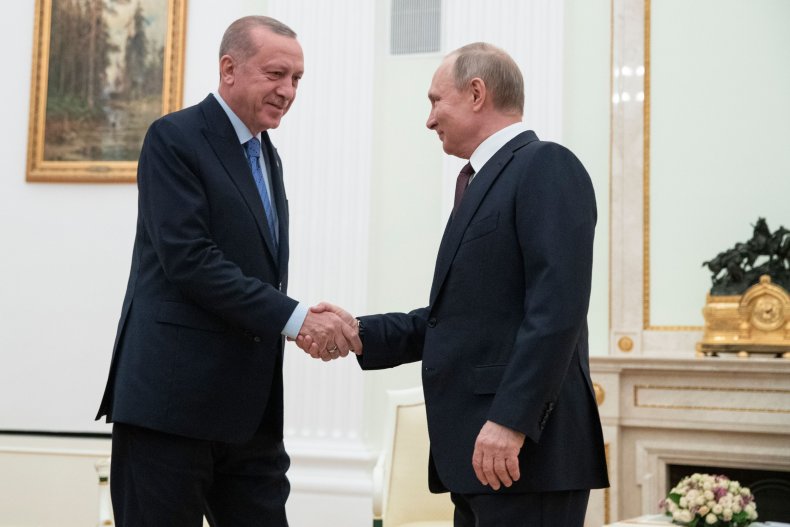 After nine years of conflict, Putin and Erdogan have emerged as the two leading international guarantors. The two men struck their last major deal over Idlib during a September 2018 meeting at Russia's Black Sea resort city of Sochi, but this ceasefire has since unraveled, leading to deadly clashes not only between Syrian troops and insurgents, but Turkish troops as well.
Russia has accused Turkey of failing to live up to its Sochi commitments by not doing enough to facilitate the removal of militant groups such as Hayat Tahrir al-Sham, the former Syrian branch of Al-Qaeda. The jihadi coalition continues to exercise significant control over Idlib and has been excluded from any agreements due to its designation as a terrorist organization.
Syrian troops and partnered forces launched a new Idlib offensive in December, storming past the established lines of control. Backed by both Syrian and Russian airpower, they made lightning gains and quickly surrounded Turkish military observation posts.
As the Syrian offensive reclaimed the strategic M5 highway and neared the nearby M4 highway, Turkey sent additional troops and equipment to the embattled neighboring Syrian province. Damascus and Moscow accused Ankara of directly backing jihadi forces and Syrian and Turkish forces began hitting one another directly in recent weeks, nearing an all-out war between two nations whose ties were already tortured by a difficult history.
Turkey was an early supporter of the 2011 uprising against Syrian President Bashar al-Assad, joining the United States in backing a rebel and jihadi uprising against a leader who stood accused of crimes against humanity. Washington later shifted its strategy toward battling the Islamic State militant group (ISIS) with support from the Syrian Democratic Forces, whose Kurdish militia majority is considered a terrorist organization by Turkey.
Around the same time the U.S. aligned with the Syrian Democratic Forces in 2015, Russia intervened on behalf of Assad, whose embattled forces steadily swept through rebel and jihadi territory in recent years. Successive losses by the opposition forced its last major international backer, Ankara, to join Moscow and Tehran in trilateral peace talks.
The three powers came together to sign their first de-escalation agreement in the Kazakh capital of Astana, now called Nur-Sultan, in May 2017. About a year after the 2018 agreement, Putin and Erdogan gathered again to settle a new cross-border Turkish attack against the U.S.-backed Syrian Democratic Forces.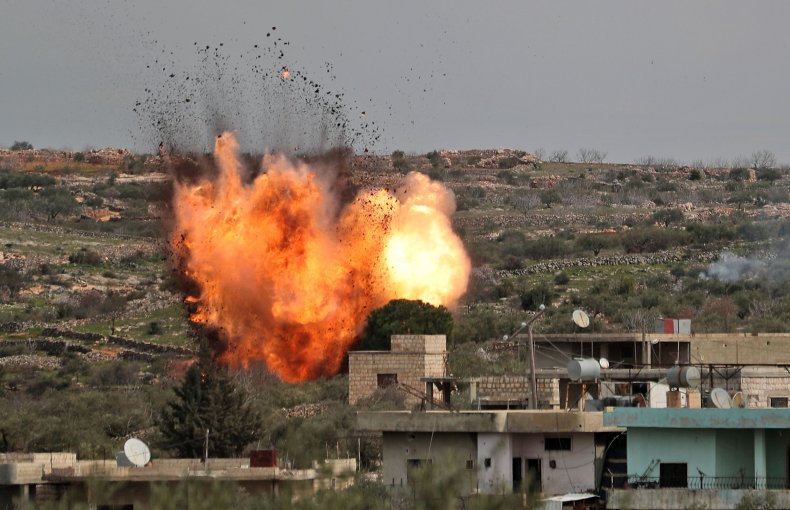 The U.S. also sought a ceasefire deal with Turkey but ultimately repositioned troops further east to focus on securing oil fields. President Donald Trump has expressed a willingness to not further involve the U.S. in Syria's war but his administration has continued to condemn Assad and his allies, especially over the Idlib offensive.
"Our requirement is that they move back to the Sochi agreement back from 2018," Secretary of State Mike Pompeo told reporters early Thursday prior to Putin and Erdogan's meeting. "As we know, hundreds of thousands of Syrians of all faiths but predominantly Muslim are being harmed by what the Assad regime, the Russians and the Iranians are doing inside of Idlib."
The top U.S. diplomat said the State and Defense Departments were "evaluating" Turkish requests for assistance, which include the delivery of Patriot surface-to-air missile systems. "We believe firmly that our NATO partner Turkey has the full right to defend itself against the risk that's being created by what Assad, the Russians and the Iranians are doing," he added.
James Jeffrey, the U.S. special representative for Syria and presidential envoy to fight against ISIS, visited Idlib on Tuesday and vowed to provide military assistance to Turkey. A State Department spokesperson later that day downplayed these comments, telling Newsweek they were "nothing particularly new" and "in the context of what we are already doing."
In remarks aired by the Rossiya-24 outlet also just ahead of the Putin-Erdogan talks, Assad called on his Turkish counterpart to withdraw troops from Syria and "stop supporting terrorism, at which point things can return to normal because there is no hostility between the two peoples." He also urged the Syrian Democratic Forces to break ties with the U.S. and form a united front against the Turkish-led incursion.
The Syrian Democratic Forces, who continue to receive U.S. support despite being in conflict with Turkey and its allies, have closely monitored the events in Idlib, which the group's political wing called a "dirty war" in a statement published Monday.
The statement assigned blame to all other warring sides of Syria's conflict and called on the government to take responsibility "for finding a solution to the Syrian crisis." The mostly Kurdish entity volunteered to be the cornerstone "not only in standing against Turkish aggression and liberating occupied lands, but also in building a new state Syrian state."