Russian State TV Simulates Nuclear Attack on Ireland
An Irish politician has called for a diplomatic response to Moscow after mocked-up images on Russian state television showed nuclear weapons destroying Ireland and the U.K.
During a segment on Russia's Channel One, anchor Dmitry Kiselyov described a nuclear attack as a graphic showed the islands of Ireland and Great Britain being wiped off the map.
"The island is so small that just one Sarmat missile is sufficient to sink it once and for all," said Kiselyov on Sunday, as he boasted about the nuclear-capable weapon Russia tested last month.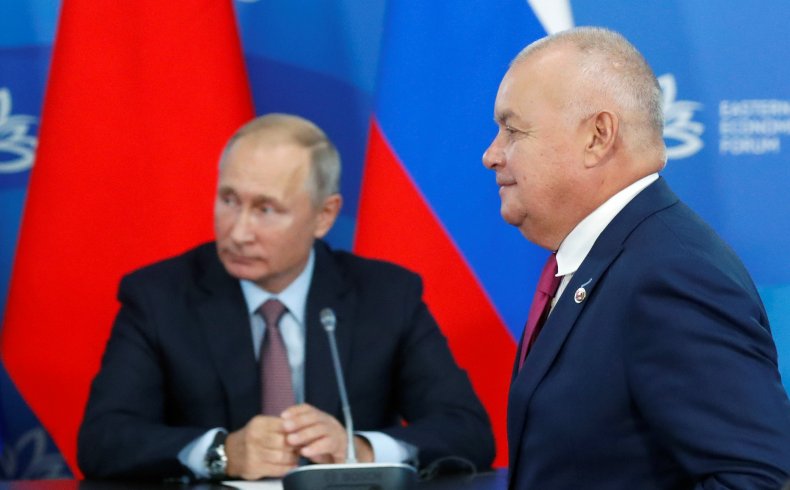 Kiselyov also said that a Poseidon nuclear underwater drone, an experimental Russian weapon, could "plunge the British Isles into the depths of the sea." He said that the 100-megaton warhead could cause a "gigantic tidal wave up to 500 meters (1,600 feet) high," which would also carry "extreme doses of radiation."
Although Ireland was not mentioned in the segments, the graphic shows the island destroyed along with the U.K.
Fianna Fáil MEP for Ireland South Billy Kelleher said that the Irish government should summon Russia's ambassador Yury Filatov, to inform him of "our absolute disgust about the [Russian] broadcast."
"It's a threat advocating violence against Ireland and that's completely unacceptable. It's quite disgusting," Kelleher said.
He said he would not regard Kiselyov's comments as a direct "threat against Ireland" but the audience for this "isn't Irish or British people. It's internal propaganda for Russian people."
He said the segment highlighted "the unfortunate fact that if the U.K. was subject to a nuclear attack, unlikely as that is, Ireland would almost certainly be caught up in it."
An Irish Foreign Affairs Department spokesperson told Newsweek in a statement that "there can be no justification for threatening use of nuclear weapons."
"Ireland has long argued that nuclear weapons offer no security, and their use would result in devastating humanitarian consequences," the statement said.
It added that Dublin "continues to urge maximum restraint, de-escalation and the avoidance of any nuclear rhetoric which will only worsen an already dangerous and unpredictable situation.
"Ireland calls on Russia to agree to an immediate ceasefire, withdrawal of troops to pre 24 February positions and a commitment to a dialogue."
The BBC's Moscow correspondent Steve Rosenberg said that the comments by Kiselyov, considered as one of the Kremlin's chief propagandists, "does not mean Russia is gearing up to wipe out the UK."
"It's another attempt by the Kremlin to demonize the West in the eyes of the Russian public, to get Russians to believe the Kremlin narrative that their country is a besieged fortress surrounded by enemies," Rosenberg tweeted.
However, the rhetoric on Russia's Channel One pushing the Kremlin's narrative about Vladimir Putin's full-scale invasion of Ukraine has repeatedly referred to Russia's nuclear capabilities.
Last week, Duma deputy Aleksey Zhuravlyov, chairman of the nationalist Rodina political party, told the Russian program 60 Minutes that the Sarmat missile should target the U.K. because of its support for Ukraine.
During the discussion, panelists discussed the prospect of European cities being hit by Russian missiles.
Newsweek has contacted the Kremlin's press office.