Russia-U.S. Ties Are Frosty Despite 'Very Warm' Trump-Putin Relationship, Kremlin Spokesperson Says
Russian President Vladimir Putin's chief spokesperson has warned that relations between Washington and Moscow remain "harsh and cold," despite Foreign Minister Sergei Lavrov's meeting with President Donald Trump at the White House last week.
Dmitry Peskov said Sunday that the "very warm" interactions between Trump and Putin have not been able to overcome the dire state of bilateral relations between the two nations, and suggested no one should expect better relations any time soon.
Peskov explained that Moscow reacted to Lavrov's U.S. trip "quite positively," according to Russia's state backed Tass news agency, and noted it was "good that the visit did take place."
This view was not shared by some American lawmakers, who said the visit was evidence that Trump does not take his role seriously.
Lavrov met with Trump behind closed doors on the same day that House Democrats unveiled impeachment articles against the president.
Peskov said in an interview broadcast on Russia's Channel One television station: "In terms of bilateral relations we're in such a profound crisis that even the important visit by such a heavyweight minister as Lavrov cannot revise the tendency and change the sign from minus to plus. I don't think there are grounds for any optimism."
Nonetheless, the spokesperson lauded relations between Trump and Putin, which have left many American lawmakers and intelligence officers fretting.
"Trump and Putin did have a number of very positive conversations, with very positive and good things said," Peskov said.
Trump has shocked officials and the media with his warm public meetings with Putin, for example at bilateral talks in Helsinki, Finland, last year and at the G20 meeting in Osaka, Japan, earlier this year.
Despite allegations of his presidential campaign's collusion with Russia plus Moscow's proven meddling in the race, Trump appears to relish appearing alongside his Russian counterpart.
In Helsinki, the president even said he believed Putin's assertion that Russia did not interfere in the 2016 contest, despite extensive evidence and the conclusions of his own intelligence agencies.
In Osaka, Trump said Putin was "a great guy" and a "terrific person," even calling for greater trade relations with Moscow despite sanctions on Russia due to its invasion of Ukraine, U.S. election meddling and other malign activities.
Peskov said there is a "sharp contrast" between Trump's "very warm" approach to Putin and anti-Russian sentiment within Congress, which has continued to push for new sanctions on Moscow. "The reality is harsh and cold in our bilateral relations," he said.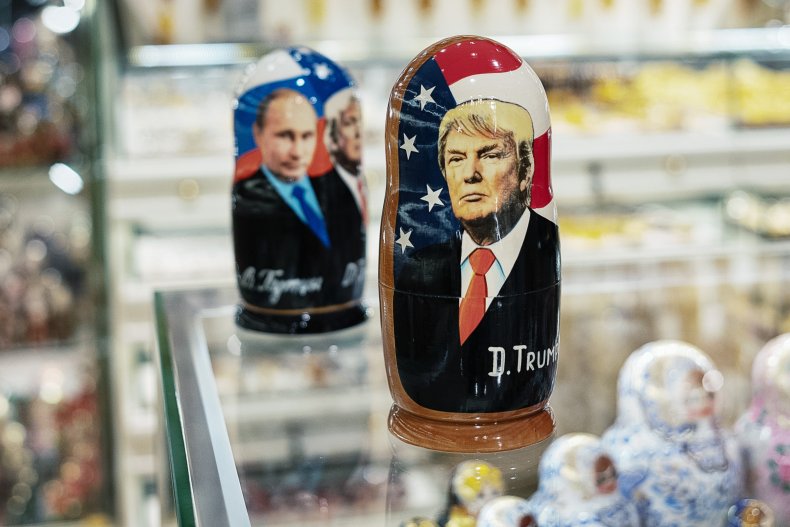 Russia-U.S. Ties Are Frosty Despite 'Very Warm' Trump-Putin Relationship, Kremlin Spokesperson Says | News